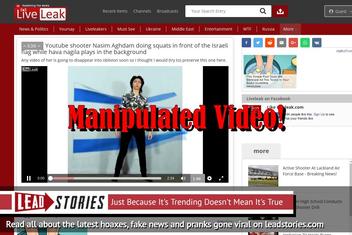 Is the video of YouTube shooter Nasim Aghdam doing squats in front of an Israeli flag to the tune of "Hava Nagila" real? No, it is not: the video was manipulated and uploaded with a fake title.
A video appeared on April 4, 2018 on the website Liveleak under the title "Youtube shooter Nasim Aghdam doing squats in front of the Israeli flag while hava nagila plays in the background" (archived here and here) with following caption:
Any video of her is going to disappear into oblivion soon so I thought I would (try to) preserve this one here.
However it is pretty clear the video was manipulated by looping parts of this original and replacing the blue background with a flag video while simultaneously adding a new soundtrack (should that video be taken down, here is a copy):
Notice how the new video also crops out the edges of the original.
While it could be true the manipulation was done by Aghdam herself we rate this as higly unlikely since we have not spotted any other reports about such a video and it would have been quite newsworthy. Unfortunately YouTube shut down Aghdam's channels so we can no longer verify if such a video existed.