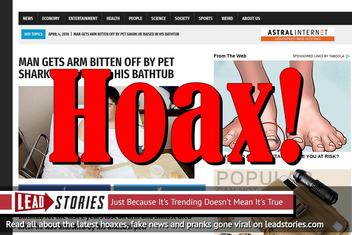 Was the arm of a 49-year old man named Cesario Sancho Gonzales bitten off by his pet shark in Miami, Florida? No, the story about the Cuban-American janitor who raised a shark in his bathtub is completely false. It was a satirical story made up by a website specializing in false stories that only look like real news.
The story originated on World News Daily Report where an article was published on April 4, 2018 titled "Man gets arm bitten off by pet shark he raised in his bathtub" (archived here) that opened:
MIAMI, Florida | A man who raised a shark in his apartment bathtub for the last 2 years lost an arm and almost died after he was attacked by his unusual pet.
49-year Cesario Sancho Gonzales, a Cuban-American janitor in a Miami sports club, found a baby white shark while walking on a beach in 2015.

The poor animal was stuck in a fishing net and badly injured, so he decided to take the fish home and to take care of it until it healed.

Mr. Gonzales named it Snuggly and fed it fresh fish, chicken and hamburger meat three times per day.
The real story behind the man in the picture is actually quite tragical. Emilio Munoz, a 44-year old clerk, was tired of being robbed so he got a rottweiler... that ended up biting his arm off.
Accounting clerk Emilio Munoz had been robbed countless times and in desperation bought a Rottweiler. Over several months, the mutt was trained to attack and even killed two thugs who targeted Mr Munoz's business. But now, his owner is left questioning his decision after the dog turned.
The website World News Daily Report is a well known satire website specialized in posting hoaxes and made up stories. The disclaimer on their website is pretty clear about that even though you have to scroll all the way down the page to find it:
World News Daily Report assumes all responsibility for the satirical nature of its articles and for the fictional nature of their content. All characters appearing in the articles in this website - even those based on real people - are entirely fictional and any resemblance between them and any person, living, dead or undead, is purely a miracle.
It is run by Janick Murray-Hall and Olivier Legault, who also run the satirical Journal de Mourréal, a satirical site spoofing the (real) Journal de Montéal. Very often their stories feature an image showing a random crazy mugshot found in a mugshot gallery on the internet or on a stock photo website superimposed over a background of flashing police lights or crime scene tape.
Articles from the site are frequently copied (sometimes even months or years later) by varous fake news websites that omit the satire disclaimer and present the information as real.
We wrote about worldnewsdailyreport.com before, here are our most recent articles that mention the site: