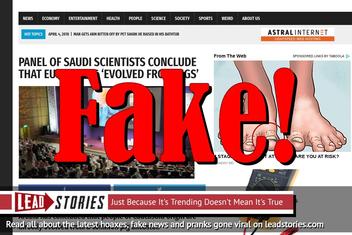 Did a professor Abdul Al-Numair and a panel of scientists in Jeddah, Saudi Arabia find that Caucasian people evolved directly from a common pig ancestor? No, that's not true: the professor and his theory are not real, they evolved from the mind of a satire writer who made the whole thing up.
The theory and the professor appeared in an article published on April 4, 2018 on World News Daily Report titled "Panel of Saudi scientists conclude that Europeans 'evolved from pigs'" (archived here) which opened:
Jeddah | A panel of top scientists of the Kingdom of Saudi Arabia has concluded that people of Caucasoid origin are directly evolved from a common pig ancestor.

It had been previously accepted in Saudi scientific literature that people of Negroid origin came from a common ape-like ancestor, yet the origins of the Caucasoid race remained a mystery to this day.

"The mystery of the Caucasoid race, with its protuberant nose, pink skin, and immoral sexual behavior can now be explained by science" explained Professor of Biology, Abdul Al-Numair.

Professor Abdul Al-Numair's suggested that pigs and Caucasians may actually share a hidden evolutionary relationship.

"The sexual depravity of pigs could also explain the Caucasoid people's indulgence with homosexuality and its estrangement from the one true God," he added.
The picture used with the story indeed seems to be taken at a conference in Saudi Arabia: the Saudi Science and Creativity Festival. But that's about the only part of the story that is remotely connected to reality.
According to science's most recent understanding all humans (not just Caucasians) shared a common ancestor with pigs about 95 million years ago when the paths of the species diverged.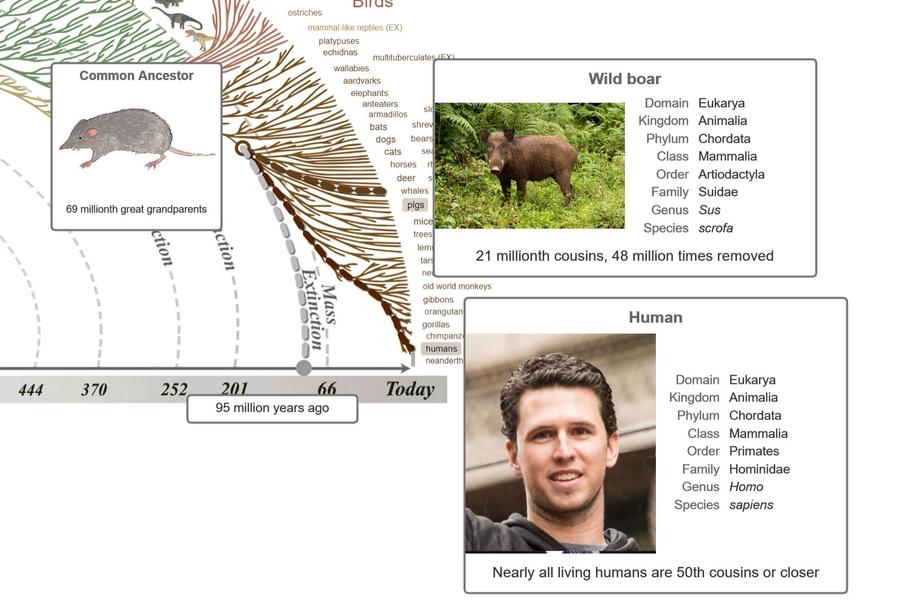 (source: https://www.evogeneao.com/explore/tree-of-life-explorer#pigs)
The website World News Daily Report is a well known satire website specialized in posting hoaxes and made up stories. The disclaimer on their website is pretty clear about that even though you have to scroll all the way down the page to find it:
World News Daily Report assumes all responsibility for the satirical nature of its articles and for the fictional nature of their content. All characters appearing in the articles in this website - even those based on real people - are entirely fictional and any resemblance between them and any person, living, dead or undead, is purely a miracle.
It is run by Janick Murray-Hall and Olivier Legault, who also run the satirical Journal de Mourréal, a satirical site spoofing the (real) Journal de Montéal. Very often their stories feature an image showing a random crazy mugshot found in a mugshot gallery on the internet or on a stock photo website superimposed over a background of flashing police lights or crime scene tape.
Articles from the site are frequently copied (sometimes even months or years later) by varous fake news websites that omit the satire disclaimer and present the information as real.
We wrote about worldnewsdailyreport.com before, here are our most recent articles that mention the site: