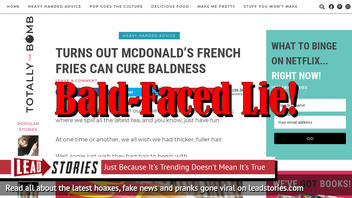 Can McDonald's french fries cure baldness? No, that's not true: Researchers have found that an ingredient used in the making of McDonald's fries -- in a very small amount -- might also be used as a "culture vessel" in the mass production of hair follicle germs for hair loss treatments. This does not mean that eating fries, which have a very small amount of the chemical Dimethylpolysiloxane, would have any positive impact on your hairline.
The story originated from an article (archived here) where it was published by TotallytheBomb.com under the title "Turns Out McDonald's French Fries Can Cure Baldness". It opened:
At one time or another, we all wish we had thicker, fuller hair.
Well, some just wish they had hair to begin with.

If you are bald or have thinning hair, get ready to DoorDash McDonald's because it turns out, McDonald's French Fries Can Cure Baldness.

CAN HEAR THE CHOIR SINGING.
Users on social media saw this title, description and thumbnail:
This part of the story is basically accurate:
Researchers from Yokohama National University in Japan found that one of the chemicals used in the oil McDonald's cooks their fries in, can mass produce hair follicle germs.
Dimethylpolysiloxane, the chemical used by McDonald's to prevent its fry oil from frothing, helped create new hair growth in mice.
You can read all about the research at Yokohama National University by clicking here. The summary of the study of "practical hair regeneration technology" says:
Researchers have developed a method for the mass preparation of cellular aggregates, also known as 'hair follicle germs (HFGs)', that may lead to a new treatment for hair loss.
One key to success of the research was finding that Dimethylpolysiloxane worked as a "culture vessel" for the mass production of the HFGs.
"The key for the mass production of HFGs was a choice of substrate materials for culture vessel," says the corresponding author Junji Fukuda, Professor, Yokohama National University. "We used oxygen-permeable dimethylpolysiloxane (PDMS) at the bottom of culture vessel, and it worked very well."
But it does nothing for your hair if you consume it through fries. And, yes, McDonald's confirmed on its website that the chemical is in its fry oil:
Yes, minute quantities of dimethylpolysiloxane are present in our oil. Dimethylpolysiloxane is a food-grade additive that is deemed safe by the World Health Organization. As you rightly mentioned, it acts as an anti-foaming agent to protect our crew from excessive foaming, splashing or bubbling, which occurs when food is added to very hot oil.
If you still want to try exposing your scalp to dimethylpolysiloxane in a hair-raising experiment, it would be much easier just to use shampoo. Its a chemical used in a many shampoo brands, and other products:
Dimethicone (also called polymethylsiloxane or dimethylpolysiloxane) is a silicon-based polymer used as a lubricant and conditioning agent. It functions as an anti-foaming agent, skin conditioning agent, occlusive and skin protectant. It is found in many cosmetic and hygiene products like nail polish, conditioners, make-up, contact lens solutions, sunscreens, deodorants, and shampoo. Examples of products that contain dimethicone include Aveeno Moisturizing Lotion and Johnson's Baby Cream.
Or just get a ball of Silly Putty and stick it to you bald spot. Turns out, dimethylpolysiloxane is the main ingredient in the bouncy, squishy toy.