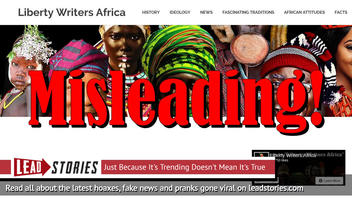 Are African-American women inmates in Caifornia prisons sterilized to cut welfare costs in California? No, that's not true: The claim is a distortion of an investigative report that documented how some doctors at two state prisons bypassed approval procedures to perform sterilizations on 148 women -- including White, Asian, Hispanic and Black -- between 2006 and 2010. Surgeons failed to get proper consent from 39 of the women and they also violated state policy for the others, but there is no evidence of a connection to a governmental desire to reduce welfare costs in the state. A state law was enacted in the wake of the investigation that ended the practice.
The story originated from an article published by LibertyWritersAfrica.com on April 6, 2019 titled "How Black Female Prisoners Are Sterilized To Cut Welfare Costs In California" (archived here) which opened:
It is shocking, the kind of treatment that is handed out to black people in America in this 21st century. Many of us have read of the sterilization of African American people in the early and mid-1990s, but we didn't imagine it would still be going on now.

In California of all places, it has been reported that prison doctors have sterilized over 150 Black women.

Their reason has been that the American system doesn't want to have to provide welfare funding for any children these women may have in the future.
Users on social media only saw this title, description and thumbnail:
It is shocking, the kind of treatment that is handed out to black people in America in this 21st century. Many of us have read of the sterilization of African A
The Center for Investigative Reporting published the revelation in 2013 that doctors at two prisons were not following state rules that required sterilization procedures only to be performed after approval from officials at the highest level of the corrections department. A NBC News report titled "California Bans Sterilization of Female Inmates Without Consent" showed the practice was outlawed a year later:
California Governor Jerry Brown signed a bill that bans prisons from sterilizing inmates without their consent, after media reports and a later audit showed officials failed to obtain consent from dozens of incarcerated women.

The bill, signed Thursday, prohibits sterilizations of inmates as a means of birth control in correctional facilities -- except when a patient's life is in danger or when there is a medical need and no less drastic alternatives are available.
This false reporting on a real story (six years later) appeared to be designed as click bait for an African-American audience. The claim that all of the 148 sterilized women were Black is false. The investigation identified two African-American women, but it offered no racial breakdown of the total. Black women make up just 7 percent of the total inmate population in California. An ABC News story titled "California Prisons Caught Sterilizing Female Inmates Without Approval" published in 2013 read:
Johnson told ABC News-Univision he did not have any demographic data for the 148 women who were sterilized between 2006 and 2010. However, he noted that all the women he spoke to were women of color.

"I can tell you that the women in the story consisted of one Asian (Crystal Nguyen), two Hispanics (Christina Cordero and Nikki Montano) and two African Americans (Michelle Anderson and Kimberly Jeffrey)", Johnson explained.

Women of color are generally overrepresented in California's prisons. African-American women make up roughly 7% of California's female population, but they constitute 29.8% of female prison population in the state, according to 2005 prison Census data analyzed by the California Coalition for Women Prisoners. While white females make up about 47% of females in California, they are only 39% of the state's female prison population. Latinas constitute 27% of California's female prison population.
The false story offered no evidence that the sterilization practice was ordered by state officials to save welfare costs.
While forced sterilizations of inmates was long ago outlawed in the United States, some instances of or coerced procedures continued until recently -- such as when a judge agrees to shorter prison terms for males and females who agree to the surgery. That practice has been found to be illegal, according to a Vice.com story published in May 2019 titled "A Tennessee County Wanted to Sterilize Inmates for Shorter Sentences. That's Over Now":
A Tennessee judge offered dozens of inmates about a month off their sentence if they'd undergo surgical sterilization, and many agreed to it, in what critics argued amounted to a eugenics program and a blatant violation of constitutional rights.

Now, nearly two years after a local district attorney first made his concerns about the program known, inmates sued to end deals to get vasectomies or birth control implants, and nationwide outrage grew, sterilization deals are officially quashed after a federal court order Monday night.
We wrote about libertywritersafrica.com before, here are our most recent articles that mention the site: