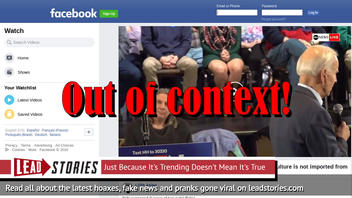 Did former Vice President and presidential hopeful Joe Biden say American culture is European, and not imported from an African or Asian nation? No, that's not entirely true: clips from a speech Biden gave in New Hampshire on December 30, 2019, were selectively edited to suggest that Biden rejects the influence of other cultures on American society.
The real story is that Biden was suggesting a shift away from old English traditions of common law that he said allowed for perpetrators, some extremely dangerous and including violence against women, to skirt American laws.
The claim originated from a post (archived here) where it was published on Facebook. The video was surrounded by text in the post that said:
Yalls supposed 'Lesser of two evils' Biden





White nationalists think all European people have the same culture and must all be white. That is why what Biden said is white nationalist, regardless of whether he was talking about rape culture or not. Don't let neolib media tell you otherwise.





#FarRightFifthColumn




#InternationalFarRightFifthColumn
Users on social media saw this on Facebook: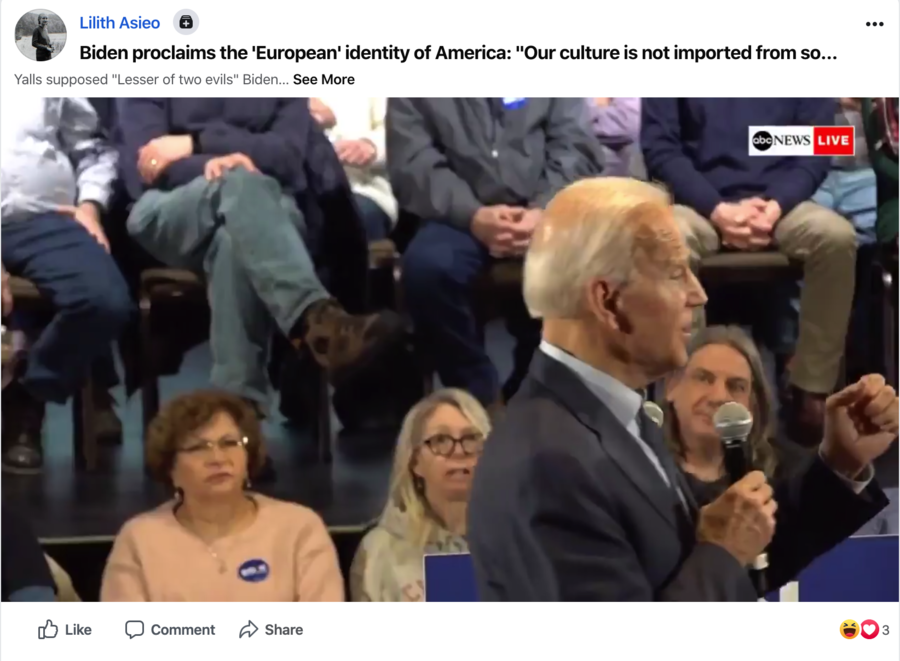 The misleading video circulating on social media pulls snippets of Biden's comments on the culture surrounding gender violence to make his speech appear racist.
Here's a tweet containing the edited video:
Now that it's established Biden wasn't doing simple racism of praising British law as better than African law (almost doing reverse), let's note his comment reflects deeper racism in broader assumptions that "European culture" is easily separated from "Oriental" cultures /1 https://t.co/bsBR9zYX0N

-- Nathan Newman 🧭 (@nathansnewman) January 3, 2020
Meanwhile, Biden said in the full video:
"Folks, this is about changing the culture, our culture, our culture, it's not imported from some African nation or some Asian nation. It is our English jurisprudential culture, our European culture that says it is all right."
He was talking in the context of changing the cultural traditions that allowed for gender violence to persist in modern society. Multiple sources including AP and Politifact also contextualized the claims being misconstrued by the false video.
A series of tweets was sent out by @mooncult, including the 17-second clip that was edited out of an answer that ran more than 10 minutes during the hour-long event in Derry, New Hampshire, on Dec. 30, 2019. The single edited clip drew some 1.8 million views.
Some have even taken to Twitter to provide the full scope of Biden's speech to discredit any deceitful editing.
A wildly out of context Biden clip is circulating on Twitter.

He spoke for 10+ minutes in NH about his history of work against domestic violence and sex assault, which he repeatedly described as a "cultural problem" he argued goes back to permissive English common law. 1/3

-- Daniel Dale (@ddale8) January 2, 2020
Biden, who has a history of standing up for women's rights, has been a subject of recent scrutiny by the public and other media outlets. Biden has been a target of conservatives not only in his run against Trump for president, but also because Biden's son, Hunter, came under fire for his ties to a Ukrainian gas company.
This video, and its false editing, are particularly dangerous because the presidential seat is up for grabs in 2020. With voters being able to reach campaign material over social media, deep fakes and video editing can easily be mistaken, and shared, as legitimate information when it is not.