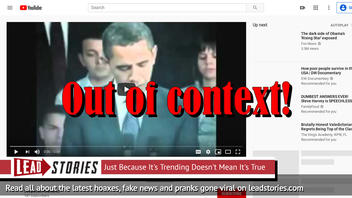 Did former President Barack Obama admit that he was born in Kenya? No, that's not true: a YouTube video pulled clips selectively from another video of Obama giving a speech in Turkey in 2009 and presented them out of context to suggest the former president wasn't an American citizen.
The original speech was given at the Tophane Cultural Center in Istanbul on April 7, 2009. The Obama White House YouTube page posted a full video of the original speech from which the edited version pulls footage.
The story originated from a video (archived here) where it was published by the user Deepsouth Starseed on February 9, 2016, under the title "Barack Obama Admits He Was Born in Kenya Speech." Text surrounding the video said:
"Barack Obama telling that he is not an American citizen and That American have become very Nieve. Also, if anyone is willing to lie and deceive, he can accomplish anything today."
Users on social media only saw this title, description and thumbnail:
The original speech was given to address issues between the U.S. and the Muslim world in hopes of setting the tone for future relations.
But the edited version of the original only presents bits and pieces from the actual speech. The larger claims about Obama's citizenship have long since been debunked by news outlets and even President Donald Trump himself. But our team looked into some of the smaller claims the doctored video makes.
At one point, the fabricated video makes it seem like Obama says "Well, first of all, it's true, I'm not an American":
But in actuality, Obama said:
"First of all, it's true, I'm not a member of -- the United States is not a member of the European Union, so it's not our decision to make.
Then, the video claims Obama said he was not born in Hawaii nor in the U.S.:
But, again, in reality Obama said:
" I was not born into wealth. I wasn't born into fame."
Furthermore, the video presents Obama saying that he comes from Kenya:
Obama did mention Kenya in the original speech, but only to say that his father was from there:
"That's how my father, who was from Kenya, from Africa, came to the United States and eventually met my mother."
The faux video also claims Obama said the the U.S. is a place where anyone has a chance to make it "through misleading and dishonest practices":
That appears nowhere in the real transcript of the talk that Obama gave.
The video immediately follows that with Obama's falsified quote that said "if that wasn't true, then somebody named Barack Hussein Obama, from Kenya, from Africa, would not be elected president of the United States":
But that, too, proves to be a mashup of two of Obama's separate quotes in the real speech:
"That's how my father, who was from Kenya, from Africa ..."

"And we are still a place where anybody has a chance to make it if they try. If that wasn't true, then somebody named Barack Hussein Obama would not be elected President of the United States of America. That's the America I want you to know."
Though Obama's citizenship was shut down early on as a hoax, the highly manipulated footage of this video is still dangerous as the nation is operating in an election year for president. Trust of the Office of the President, as well as of Trump who looked to discredit Obama's presidency, is often threatened by deceitful editing.
Deepfakes like these can mislead voters into believing falsified information that is presented as truth.
We wrote about youtube.com before, here are our most recent articles that mention the site: