STORY UPDATED: check for updates below.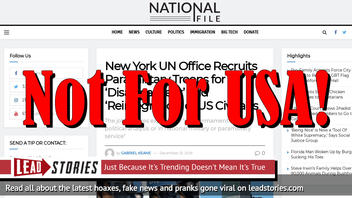 Is the United Nations office in New York recruiting paramilitary troops for disarmament and reintegration of U.S. civilians? No, that's not true: The claim is part of a conspiracy theory that "globalists" are planning a takeover of America as part of the "Deep State" war against President Trump. It purportedly would begin in Virginia with a marshal-law declaration and a massive confiscation of guns. But the job posting used as evidence that the United Nations is recruiting troops for the U.S. mission is actually a posting for a managerial job working with existing peacekeeping missions, which are mostly in Africa, a UN spokesperson told Lead Stories.
Those claiming it is about the United States overlook that President Trump has a veto over all UN missions. Also, the posting is not for "paramilitary troops," but for an administrative position.
The claim originated from an article published by NationalFile.com on December 31, 2019, titled "New York UN Office Recruits Paramilitary Troops for 'Disarmament' and 'Reintegration' of US Civilians" (archived here), which opened:
The job requires experience "in disarmament affairs, political analysis or in national military or paramilitary service"

The United Nations is now accepting job applications in New York City, New York for Disarmament, Demobilization, and Reintegration officers to "contribute to security and stability in post-conflict environments."

The job listing was posted to the U.N. careers homepage on Dec. 26, and notes that "female candidates are strongly encouraged to apply for this position" because "the United Nations Secretariat is committed to achieving 50/50 gender balance in its staff."
Users on social media only saw this title, description and thumbnail:
The job requires experience "in disarmament affairs, political analysis or in national military or paramilitary service"
A United Nations spokesperson confirmed in a statement to Lead Stories that the position is for an officer to work on the existing 14 UN peacekeeping missions, which do not include an invasion of the United States:
The job posting is for a specialist in Disarmament, Demobilization and Reintegration of former combatants. While the posting in New York where the UN is headquartered, the work takes place in some of the 14 UN Peacekeeping Missions. The UN does not operate any Peacekeeping or Political missions in the United States. As reference, UN Peacekeeping or Political missions have to be authorized by members of the Security Council. The United States is a permanent member of the Council with a right to veto any resolution.
To be clear, the United Nations could not initiate a disarmament - or gun confiscation - mission in the the United States without the approval of Trump, who has a veto over all UN resolutions. The governor of Virginia cannot invite UN troops into his state, as some perpetuating the conspiracy rumors claim.
The job title is listed as "DISARMAMENT, DEMOBILIZATION AND REINTEGRATION OFFICER, P4" in the UN's Department of Peacekeeping Operations in New York, which is where the United Nations is headquartered. The job's responsibilities include:
Within delegated authority, the Disarmament, Demobilization and Reintegration Officer will be responsible for the following duties:
• Acts as a Focal Point for Disarmament, Demobilization and Reintegration (DDR) components for two to three missions, responsible for planning, support to implementation and evaluation;
• Participates in DPO and Integrated Task Force planning meetings for the establishment of a new peacekeeping mission with a potential DDR component;
• Provides technical assistance to peace negotiations;
• Participates in technical assessment missions;
• Advises, develops and reviews (as appropriate) initial DDR functional strategy and concept of operations for further development into a full programme by the DDR component and the National DDR Commission;
• Drafts and reviews DDR inputs to SG report, code cables, and talking points;
• Develops initial result-based framework and budget for new DDR components in new mission;
• Liaises with UNDP and donor community to raise voluntary contributions for DDR programmes;
• Presents and/or defends new and subsequent DDR budgetary requirements in the ACABQ and the 5th Committee of the General Assembly;
• Develops staffing structure and terms of reference for a DDR component, including terms of integration with other UN agencies, funds and programmes;
• Provides technical clearance for applicants to DDR units in new and ongoing missions;
• Provides Headquarters support in planning the civilian and military logistics support for DDR;
• Continually reviews DDR programme strategy and implementation through relevant documents, reports and code cables;
• Conducts field missions to assess implementation of established DDR programmes;
• Identifies potential problems and issues to be addressed and suggests remedies to DDR units in the field;
• Liaises with Member States, UN actors and other DDR interested partners to represent the mission's DDR component at the Headquarters level;
• Establishes and maintains an outreach network with CSOs and IGOs active in the area of DDR.
• Supports the doctrine development work in the area of DDR in the department, with the Inter-Agency Working Group (IAWG) on DDR and other relevant national and international actors working on DDR issues;
• Contributes to Department-level or Policy Committee-level policy development work on DDR and related issues;
• Maintains and further develops the Integrated DDR Standards - a set of inter-agency policies, guidelines and procedures on DDR;
• On behalf of the Chief of the DDR Section, co-chairs the IAWG on DDR, contributes to bringing coherence to the interaction of the UN system and its partners on DDR;
• Supervises the Associate Expert (Junior Professional Officer) in the development and maintenance of the web-based United Nations DDR Resource Centre;
• Liaises with others (UN, regional organisations and Member States) providing DDR.
Other duties as required.
An indiction that these responsibilities would not include disarming U.S. citizens is the sentence that says experience in Africa is important:
Experience working on DDR related programmes in Africa is desirable.
Conspiracy theories about a United Nations takeover of the United States are not new, but Lead Stories has found a surge of such claims surrounding the impeachment of Trump and gun control proposals, particularly in Virginia. See our story titled Fake News: Virginia Governor Does NOT Plan To Use Roadblocks And U.N. Troops To Seize Guns.
NewsGuard, a company that uses trained journalist to rank the reliability of websites, describes nationalfile.com as:
A website that has repeatedly published conspiracy theories and other false information and does not disclose its agenda.
According to NewsGuard, the site does not maintain basic standards of accuracy and accountability. Read their full assessment here.
2020-01-08T16:02:25Z

2020-01-08T16:02:25Z

Update 11aET Wednesday, January 8, 2020: UN spokesperson confirms the UN is not hiring troops to invade the USA.