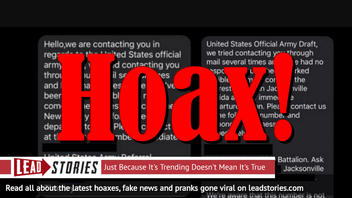 Is the U.S. Army sending text messages informing people they have been drafted for "immediate departure" to Iran? No, that's not true: The U.S. Army has issued a "fraud alert" and is warning people that these messages are fake. Despite heightened tensions with Iran, the draft has not been in effect since 1973, two years before the end of the Vietnam War.
The text messages have been circulating across the United States. One says:
Hello, we are contacting you in regards to the United States official army draft, we tried contacting you through your email several times and have had no response. You've been marked eligible and must come to the nearest branch in the New Jersey Area for immediate departure to Iran.
The messages are completely fabricated, filled with grammatical errors and are not official U.S. military communiques.
After President Trump ordered the January 3, 2020, killing of Iranian Revolutionary Guards Maj. Gen. Qassem Soleimani last week, tensions have escalated between the two countries. Iran struck back January 7,2020, firing a series of ballistic missiles at two military bases that house U.S. troops.
The news has raised concerns for military families who worry their loved ones may get called up for a deployment to the Middle East. Last week, the website for the Selective Service System, which would organize any draft should it be enacted, crashed.
In response to the fraudulent text messages being circulated, the U.S. Army issued its own "fact check" via Twitter:
Fact check: The U.S. Army is NOT contacting anyone regarding the draft. If you are receiving texts, phone calls or direct messages about a military draft, they are not official communications from the U.S. Army pic.twitter.com/3S32De8ekP

-- U.S. Army CGSC (@USACGSC) January 8, 2020
The Army said it is investigating the source of these texts, according to The New York Times. The messages apparently use a fake phone number, which would violate the Truth in Caller ID Act.
To reinstate the draft, Congress would have to pass a new law, and the president would have to sign off on it. Such a move would require bipartisan political support, which is something of a rarity these days in Washington.