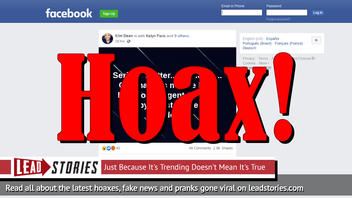 Was a Redmond Urgent Care in Rome, Georgia, placed on lockdown due to a possible case of the novel coronavirus? No, that's not true: The post is false, and the medical facility has issued a statement saying there has not been a confirmed case, nor has any location been placed on lockdown.
The claim originated from a post (archived here) published by Kim Dean on February 11, 2020. It opened:
Serious matter... Rome Ga... Coronavirus maybe here Redmond Urgent Care by Zaxbys East Rome on lockdown
Users on social media saw this:
The Facebook post has been fabricated. Dean repeatedly claimed in the comments section that a nurse stopped her son at the door and refused to let anyone inside the urgent care facility in Rome, Georgia.
However, Redmond Urgent Care posted this note on Facebook denying that there were any cases of the coronavirus at their facilities:
Redmond Regional Medical Center operates six locations in the Rome area, which is about 70 miles north of Atlanta.
On February 10, 2020, the Rome News-Tribune reported that a local man who had been working in China had placed himself in voluntary self-quarantine. However, he showed no symptoms of the coronavirus, which has killed at least 1,113 people as of February 12, 2020, according to The New York Times.