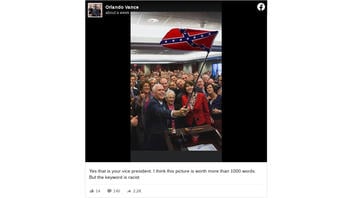 Did Republican Vice President Mike Pence recently stand with GOP Congressional members waving a Confederate flag, proving he is racist? No, that's not true. A simple reverse image check reveals the then-vice president-elect stood before a large group of Republican House members, taking a selfie with them. There is no truth to the claim, as the real photo has been digitally altered to insert a Confederate flag where the phone taking the selfie was.
The claim appeared in a post (archived here) on Facebook on April 14, 2020. The post read:
Yes that is your vice president. I think this picture is worth more than 1000 words. But the keyword is racist"
This is what the post looked like on Facebook at the time of writing:
The picture dates to November 2016, just after the November elections that saw Donald Trump defeat Hillary Clinton for the White House. Here is the original tweet containing the photo:
UNIFIED. pic.twitter.com/QqXrIClMtX

-- House Republicans (@HouseGOP) November 17, 2016
Here is the opening to the CNN story on November 17, 2016, that contains the tweet, with this explanation of Pence -- the head go-between for Congress and the president -- saying the United States was in for a fast-moving period of Republican-leaning legislation:
Vice President-elect Mike Pence told his former colleagues in the House Thursday to "buckle up" for an ambitious open to the new administration, marked by efforts to roll back Obamacare and regulations and tackle tax reform.

"I'm very confident that as we move towards inauguration, bring together a great team, work in concert with leaders in the House and Senate, and we're going to move an agenda that's going to rebuild our military, revive our economy, and -- in a word -- make America great again," Pence said Thursday after he left his meeting with the House Republican Conference -- a group he used to chair when he was in Congress four years ago.

Pence, embracing his role as a chief liaison to Congress for the new administration of Donald Trump, was clearly happy as he headed to the Hill. He has multiple meetings with Congressional leaders throughout the day Thursday, including with House Speaker Paul Ryan, House Democratic Leader Nancy Pelosi, Senate Majority Leader Mitch McConnell and Senate Minority Leader Chuck Schumer.
The Trump-Pence ticket won the November 8, 2016, general election, which also saw the Senate stay a GOP majority while the House went to the Democrats.
As for the post, many commenters weren't buying that Pence was showing racist colors by waving a Confederate flag, which is so associated with racism in America: