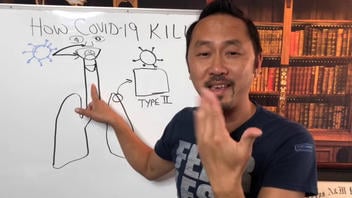 Does a video on YouTube purporting to describe the role of Acute Respiratory Distress Syndrome in COVID-19 accurately depict how one can die from the disease? Yes, that's true, experts say, as the video's overarching message -- that people must observe social distancing guidelines if they hope to limit the spread of the disease -- is true.
The claim appeared as a YouTube video (archived here) on March 23, 2020, titled "HOW COVID-19 KILLS--I'm a Surgeon--And Why We Can't Save You."
This is how the video appeared:
Dr. Duc Vuong, who describes himself as the "world's weight loss surgeon," is "on topic with his description" about the impact on human bodies of acute respiratory distress syndrome (ARDS), according to a pulmonologist from near Pittsburgh, who asked not to be named.
But this expert added that he could not agree with Vuong's assertion that ARDS is what necessarily kills coronavirus patients. "I don't really think we know the pathophysiology in the disease yet," the pulmonologist said in an email. Pathophysiology refers to the study of changes in the way the body works that result from disease.
In a news conference on April 7, 2020, the coronavirus response coordinator for the White House Coronavirus Task Force concurred. "We don't know all the pathophysiology," Dr. Deborah Birx told reporters. "I wish we did."
An article in Nature from April 9, 2020, puts it this way:
How does COVID-19 kill? Uncertainty over whether it is the virus itself -- or the response by a person's immune system -- that ultimately overwhelms a patient's organs, is making it difficult for doctors to determine the best way to treat patients who are critically ill with the coronavirus.

Clinical data suggest that the immune system plays a part in the decline and death of people infected with the new coronavirus, and this has spurred a push for treatments such as steroids that rein in that immune response. But some of these treatments act broadly to suppress the immune system, stoking fears that they could actually hamper the body's ability to keep the viral infection in check.

"My greatest fear is that this gets taken to an extreme, where people are using whatever they can get their hands on to turn off the immune response," says Daniel Chen, an immunologist and chief medical officer at IGM Biosciences in Mountain View, California. "You can't knock down the immune system at a time when it's battling an infection."
But there is no dispute that ARDS can be a major complicating factor in treating patients with COVID-19, the disease caused by the coronavirus, according to the U.S. Centers for Disease Control and Prevention.
In its clinical guidance for the management of patients with COVID-19, it notes that 3%-17% of all COVID-19 patients developed ARDS compared with 20%-42% of hospitalized patients and 67-85% of patients who had been admitted to an intensive care unit.
Though the video runs more than 34 minutes, "I thought it was effective," said a radiologist at a St. Louis hospital who performs CT scans on the lungs of coronavirus patients. He declined to identify himself publicly because his hospital does not approve of staff physicians speaking to the media.
"Clearly, what we are seeing is a lot of people are dying of pneumonia, and viral pneumonia," said the radiologist. But, he added, secondary bacterial infections and are an even more profound problem for many patients. Such patients, he noted, risk becoming septic (contracting widespread infections) and getting multi-organ failure.
Vuong's LinkedIn page describes him as a retired bariatric surgeon in the Houston area who specializes "in creating, leading, and facilitating patient support groups." The page adds, "I am currently a thought leader in weight loss surgery."
Vuong's residency bona fides are legitimate. A spokeswoman for St. Joseph Medical Center in Houston confirmed that he completed his residency there in 2005.
Vuong says he produced the video for his patients -- many of whom were candidates for weight-loss surgery -- because such patients are at higher risk for complications from coronavirus infection. He decided to release it to a general audience once he realized it could have wider application.
As of early April 13, 2020, COVID-19 has resulted in nearly 115,000 deaths around the world. In the United States, which leads in cases and deaths globally, there have been more than 560,000 cases and more than 22,000 deaths.