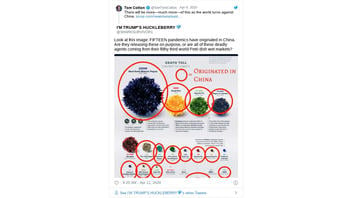 Did 15 of the deadliest pandemics in global history originate in China? No, that's not true: Internet users are sharing an original infographic that has been altered to claim that most of the world's deadliest pandemics can be traced back to China. However, some of the outbreaks did not actually derive from that country.
The claim appeared in a post (archived here) published on Twitter by @SHARKSURVIVOR1 on April 11, 2020. It opened:
Look at this image: FIFTEEN pandemics have originated in China. Are they releasing these on purpose, or are all of these deadly agents coming from their filthy third world Petri dish wet markets?
This is what the post looked like on Twitter at the time of writing: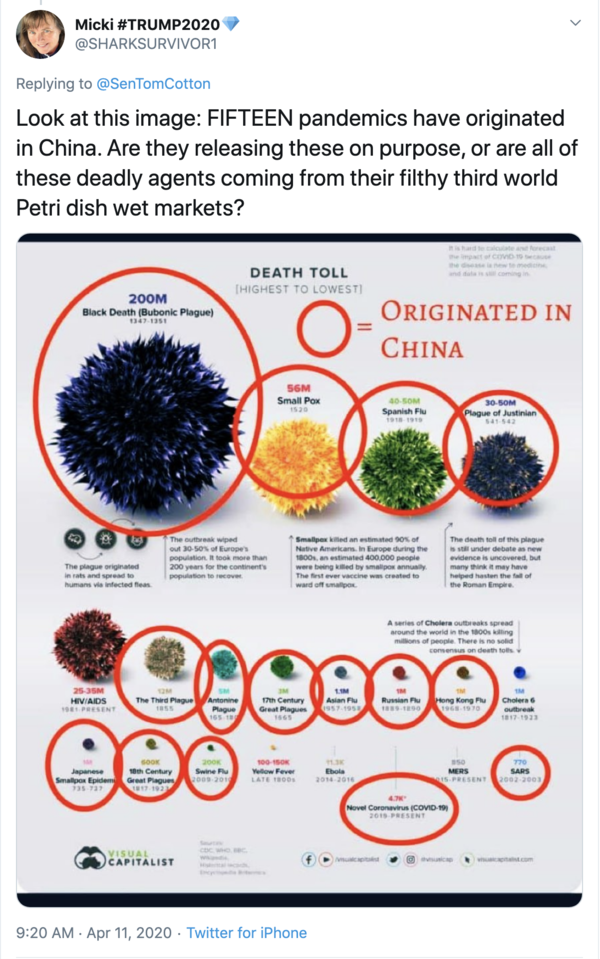 The original infographic was published online by Visual Capitalist, a site that creates data-driven visuals to tell stories.
However, another Internet user applied computer drawing tools over the original graphic to add circles along with the caption, "O=Originated in China." The new claim is that 15 of the deadliest pandemics in world history started in China.
This is not entirely true. Lead Stories will break down each outbreak that was circled on the graphic:
As our reporting demonstrates, the post is partly false in suggesting that all 15 of the global pandemics circled on the infographic originated from China. At least seven, possibly more, of the outbreaks can be traced to other parts of the world.
Also, it is worth noting that hate crimes against people of Asian descent have increased since the term "Chinese virus" started being used, including by President Trump, to describe the novel coronavirus, or COVID-19. The president received much backlash for use of the term, and it has resulted in charges of racism against him and others.