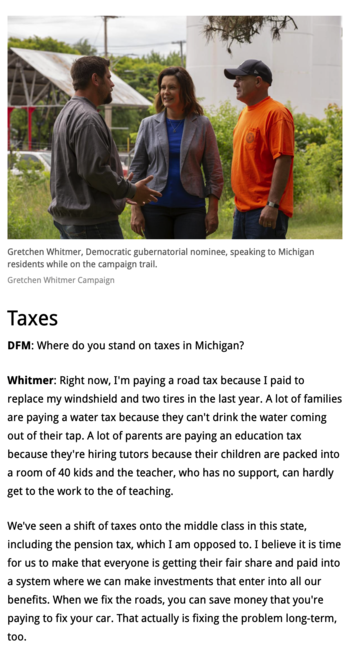 Was Michigan Gov. Gretchen Whitmer caught on camera violating mask and social-distancing and rules on on Mackinaw Island in May 2020? No, that's not true: The photo of the Democratic governor talking with two men was published in a 2018 news story -- nearly a year and a half before she imposed rules for Michigan residents to protect against the spread of the novel coronavirus.
The image was misrepresented in a meme (archived here) shared widely on Facebook in May 2020. The text of the post read:
GOV. TWITMER ON MACKINAW ISLAND TODAY IGNORING MASK AND SOCIAL DISTANCING RULES. SHARE BEFORE IT'S TAKEN DOWN!!!
This is what the post looked like on Facebook at the time of writing:
The 2018 photo shows her talking with citizens during her election campaign, according to an October 31, 2018, story in The Oakland Press:
After a lifetime spent around Lansing, Gretchen Whitmer is seeking to turn the Michigan governor's office blue after eight years of Republican leadership.

Whitmer, 47, of East Lansing, is the Democratic nominee for the state's highest elected office.

She was born in Lansing and both of her parents had deep state political roots.
Here is a capture of the original photo in the 2018 Oakland Press story: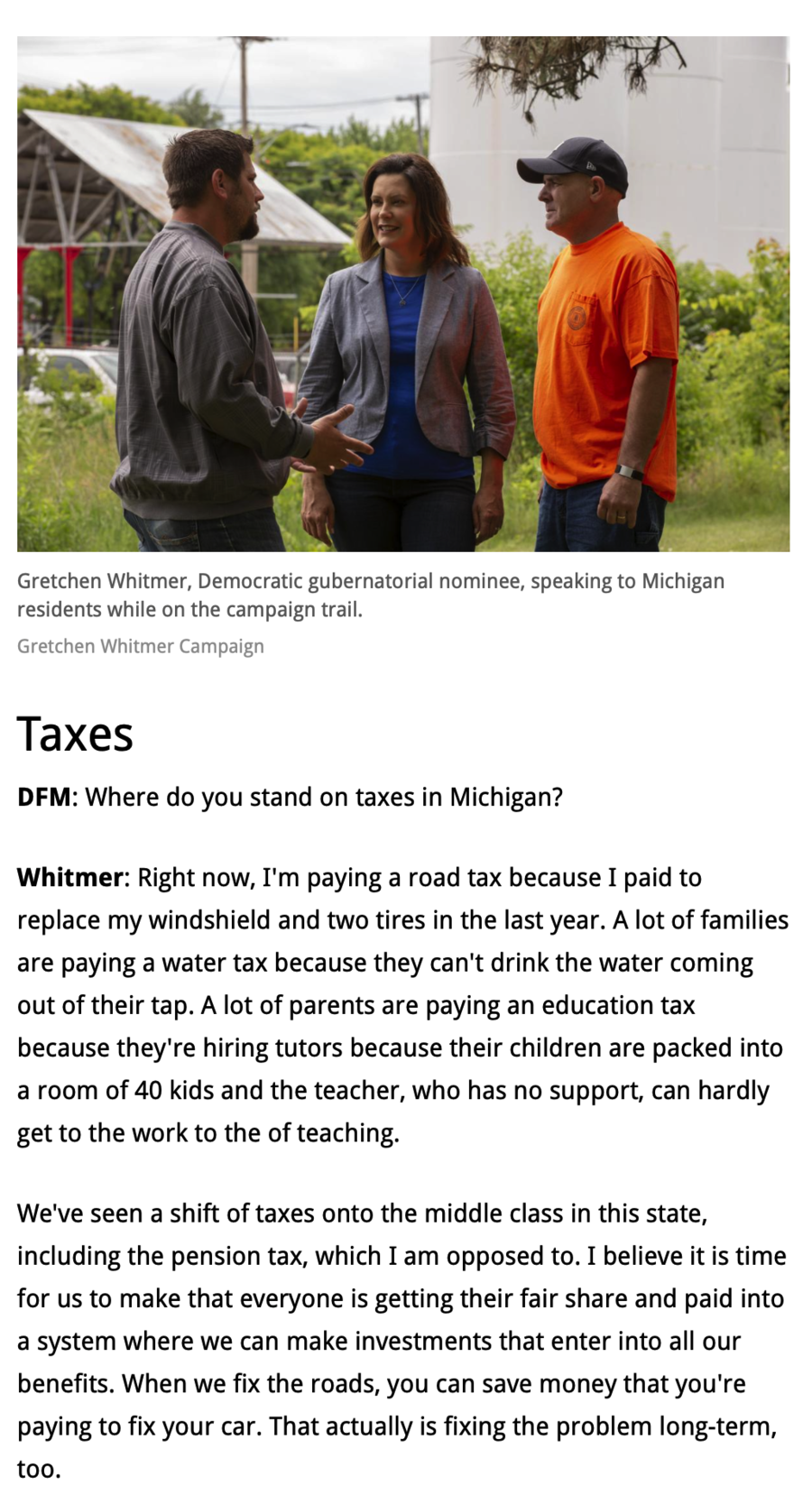 Another clue that the photo caption is false is the presence of automobiles in the background. Cars, which are clearly seen in the original photo from 2018, are not allowed on the island, a resort area that is pronounced "Mackinaw" but spelled Mackinac. The island in Lake Huron boasts historic sites and bans autos:
Perhaps the most noticeable first impression visitors get of Mackinac Island is the absence of automobiles! Visitors and residents travel by foot, bicycle or horse drawn carriage. This tempo is more comparable to the 19th century. Tour carriages and taxis will take you wherever you want to go and it's not long before you adjust to a slower pace most visitors have never known.
Gov. Whitmer has been the target of much criticism and anger from residents who challenge the seriousness of COVID-19 and are demanding the measures intended to slow the pandemic be lifted.
Michigan's laws and restrictions due to the COVID-19 pandemic can be found here.