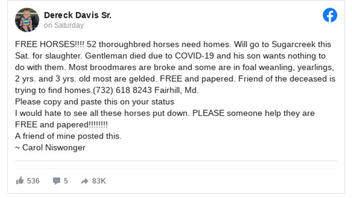 Did a man die of COVID-19 and leave 52 thoroughbred horses urgently in need of homes? No, that's not true: This "Free Horses" ad was once true, in 2011. The ad became obsolete within days of posting because all of the horses found homes. Since then, the Free Horses ad has been circulated both by well-meaning people and by people who intentionally push the old ad back into circulation as a prank. This edition was updated for 2020 with a detail that the owner had died of COVID-19.
The fake ad reappeared in a post (archived here) where it was published by Dereck Davis Sr. on June 6, 2020, under the title "FREE HORSES!!!! 52 thoroughbred horses need homes. Will go to Sugarcreek this Sat. for slaughter." It opened:
FREE HORSES!!!! 52 thoroughbred horses need homes. Will go to Sugarcreek this Sat. for slaughter. Gentleman died due to COVID-19 and his son wants nothing to do with them. Most broodmares are broke and some are in foal weanling, yearlings, 2 yrs. and 3 yrs. old most are gelded. FREE and papered. Friend of the deceased is trying to find homes.(732) 618 8243 Fairhill, Md.




Please copy and paste this on your status




I would hate to see all these horses put down. PLEASE someone help they are FREE and papered!!!!!!!!




A friend of mine posted this.




~ Carol Niswonger
This is what the post looked like on Facebook at the time of writing:
(Source: Facebook screenshot taken on Mon Jun 8 12:40:59 2020 UTC)

This 2020 edition of the Free Horses ad has clearly crossed the line from well-intentioned but outdated, to an unquestionable hoax with the addition of the COVID-19 detail.
The ad for the 52 free horses originated in January of 2011, at the time it was true. All of the horses, located in Ohio, quickly found homes but the ad's virality spiraled out of control. Snopes wrote up an article (here) explaining the situation, deeming the story "outdated" on February 3, 2011. THEHORSE.COM also wrote an article (here) on February 3, 2011 titled, "52 Thoroughbreds Find Homes Via Facebook."
The 2020 version has changed the location of the horses from Barnesville, Ohio; to Fairhill, Maryland, and added a phone number with a New Jersey area code. This post includes the name of a woman who got caught up in the 2020 edition of the hoax by sharing it early on. She took her post down after many people asked her to, but the cat was out of the bag. Now her name has been added to the text of the hoax that could possibly circulate for another decade.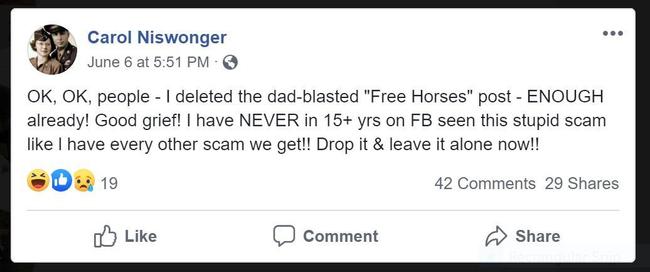 Dereck Davis Sr. has the commenting on his post turned off -- a tactic that will prevent people trying to expose and stop the spread of the hoax from being able to warn others.
There is a Facebook group (here) "End the 52 THOROUGHBRED virus!!!" dedicated to trying to spot and stop the spread of the hoax before it goes viral for another round. This is their most recent effort to stop this "Covid-19" version of the post.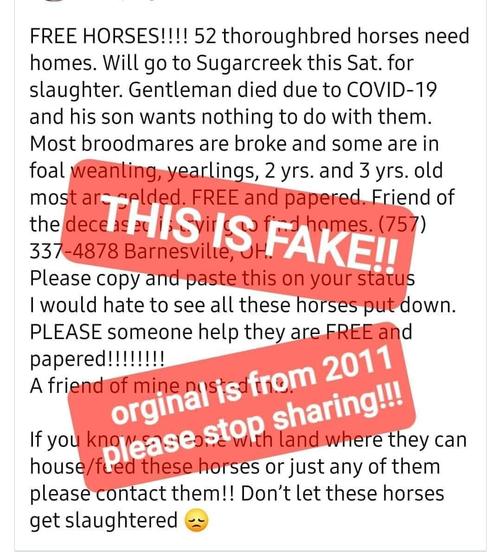 This old ad is so notorious there is even a series of memes and a drinking game dedicated to it.
In 2018 the post went around with the horses allegedly in Glendale, Arizona: