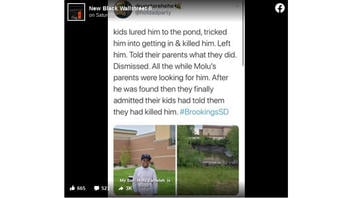 Has it been determined that 10-year-old Molu Zarpeleh died after being tricked into getting in a pond by older kids who killed the boy in the city of Brookings, South Dakota? No, that's not true. While the claim that he was lured to the pond and left to die has gained traction online, police have yet to determine if the boy's death was an accident or intentional. Also, Brookings city spokeswoman Chelsie Bakken said that a reported tipster who claimed to have seen "something" near the 10-year-old prior to his death has taken back that statement.
The claim is made in a post (archived here) on Facebook on July 11, 2020. The post, which was put up by the page New Black Wallstreet II, is a picture of a tweet by Twitter user drugstorehehe (@hotdadparty). It read:
kids lured him to the pond, tricked him into getting in & killed him. Left him. Told their parents what they did. Dismissed. All the while Molu's parents were looking for him. After he was found then they finally admitted their kids had told them they had killed him. #BrookingsSD"
This is what the post looked like on Facebook at the time of writing:
(Source: Facebook screenshot taken on Tue Jul 14 17:28:04 2020 UTC)
Police are aware of the allegations in the post, but nothing has been substantiated at this time, according to Brookings Police Chief David Erickson. Police have not specifically addressed the post's claim that other youths "told their parents what they did" and then after the boy's body was found the parents "finally admitted their kids had told them they had killed him."
In an emailed statement to Lead Stories on July 13, 2020, Erickson wrote:
Please know that we have had two detectives assigned to the case from the beginning and have had contact with the family every day. We are exploring and investigating every possible scenario in an attempt to find the truth.

Please remember that everything you see on social media and the internet is not always the truth and the lies can be very damaging to a family and a community.

We value every member of our community and will always do our jobs to the fullest to investigate crime in our city.

The investigation is on-going at this time.
The other online posts Erickson referred to include these tweets, also posted to Facebook by New Black Wall Street II. One claims that Brookings police are attempting to cover up the boy's killing, while another pleads with readers to "Say his name":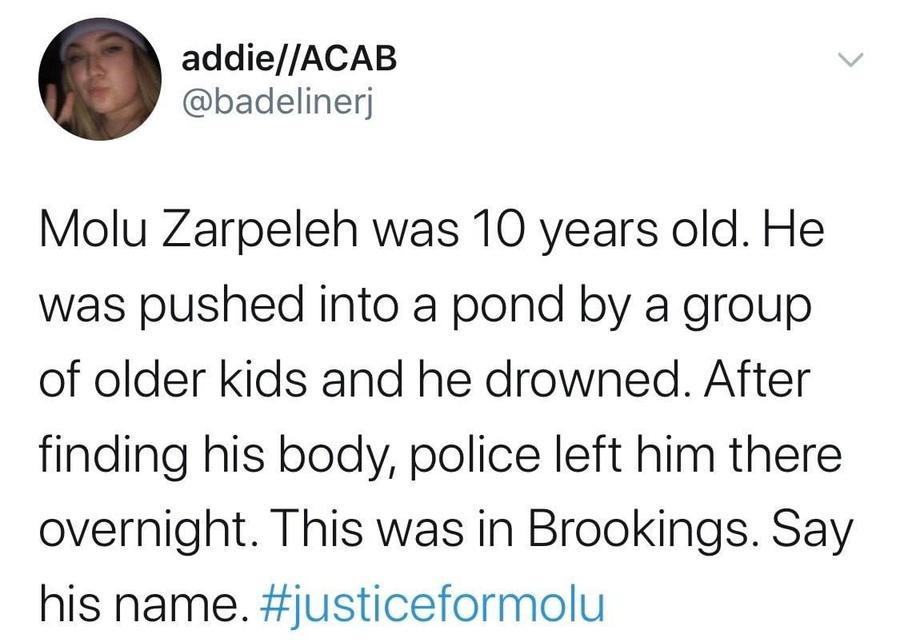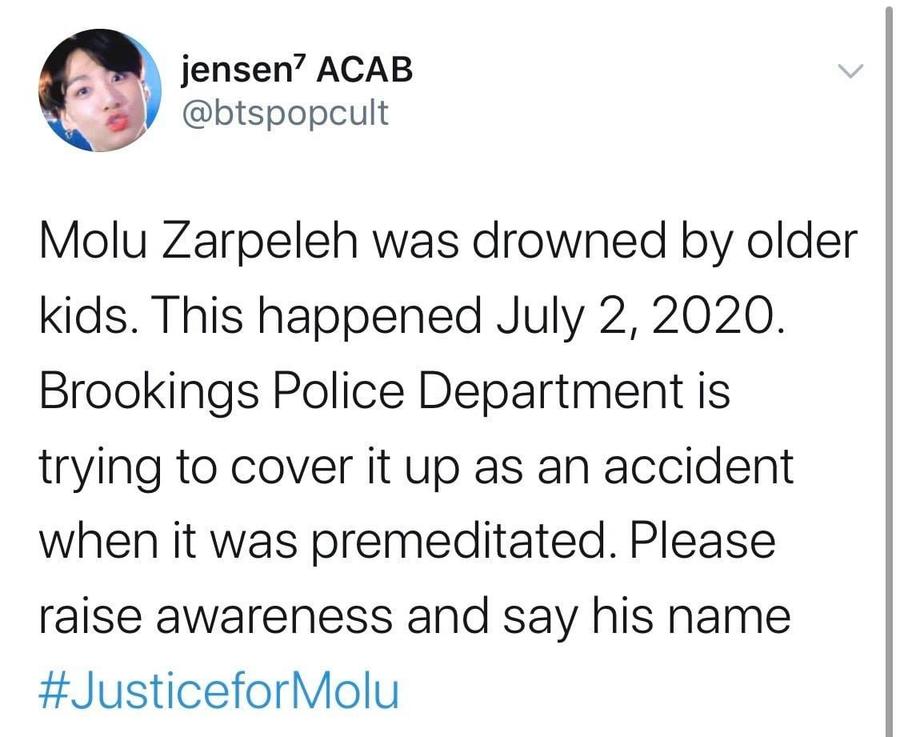 But nothing has been determined at this time. The investigation has not wrapped up.
Lead Stories attempted to reach the coroner in Brookings to get the cause and manner of death, and we will update this story if and when we hear back. We will also update the story when a determination in the case is made by investigators.
Molu, who came to the United States from Liberia, Africa, when he was 4, was reported missing late on July 2 and his body was recovered "from a privately-owned retention pond" in Brookings about 8:40 p.m. (local time) the next night, according to the Argus Leader newspaper. The paper added:
...soon after police found his bicycle and sandals near the retention pond. Police said there have not been tips that anyone was around at the time Molu went into the water, or anyone to give insight into what happened."

A tip and rumor that Zarpeleh had been pushed into the pond that circulated on social media has been redacted by the tipster.
Molu was remembered as having an infectious personality, a boy who tried hard in school and wanted to be a football player, according to
the Argus Leader.
The paper said that Molu's death has stunned the South Dakota community -- about 58 miles north of Sioux Falls. Reaction to the posts on Facebook and other social media shows that, with users offering prayers, some saying "kids are evil" and others pleading for justice for the boy and his family.
But the last statement by police, posted the night of July 13 on Facebook, was this: