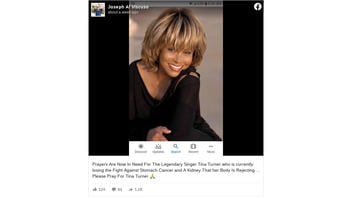 Is singer Tina Turner dying from stomach cancer and rejection of a kidney? No, there are no reliable reports that she is deathly ill. Turner did struggle with intestinal cancer and she underwent a kidney transplant in the past decade, but there is no evidence she is currently suffering from those issues.
The claim appeared in a Facebook post of a photo of Turner (archived here) published on August 11, 2020, with the caption:
Prayers Are Now In Need For The Legendary Singer Tina Turner who is currently losing the Fight Against Stomach Cancer and A Kidney That her Body Is Rejecting.... Please Pray For Tina Turner

🙏
This is what the post looked like on Facebook at the time of writing:
(Source: Facebook screenshot taken on Thu Aug 20 13:27:16 2020 UTC)
Turner, singer-songwriter and 12-time Grammy award-winner, revealed in her 2018 memoir, "Tina Turner: My Love Story," that she suffered a stroke, fought intestinal cancer, and underwent a kidney transplant during the past decade.
But there is no evidence that Turner is currently suffering from stomach cancer or rejection of a kidney, and neither she nor her representatives have made any statements to that effect.
On her 80th birthday in November, 2019, Turner tweeted a video celebrating her health and she said:
Well, I look great. I feel good. I have gone through some very serious sickness that I am overcoming. So it's like having a second chance at life. I'm happy to be an 80-year-old woman."
To celebrate turning 80 years old, Tina has recorded a special birthday video message just for her fans.💜 #Tina80 pic.twitter.com/dUFEUawQ7r

-- TinaTurner (@LoveTinaTurner) November 26, 2019
In July, 2020, Turner came out of retirement to collaborate with Kygo on a remix of her megahit, "What's Love Got To Do With It."
False claims about Turner's health have cropped up previoiusly -- Snopes wrote a fact-check debunking similar claims in May 2019.