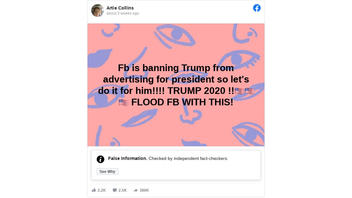 Did Facebook ban all Trump campaign ads? No, that's not true: Facebook has banned Trump ads with a symbol used by Nazis, that contained a newspaper photo used without permission that was untruthful in what it depicted, that had misleading information about the U.S. Census; and a video that gave incorrect information about the coronavirus but other ads have not been removed.
The claim appeared in a post shared on Facebook on August 22, 2020, (archived here) with following text:
Fb is banning Trump from advertising for president so let's do it for him!!!! TRUMP 2020 FLOOD FB WITH THIS!
This is what the post looked like on Facebook at the time of writing:
(Source: Facebook screenshot taken on Wed Aug 26 16:30:27 2020 UTC)
Far from being banned from advertising on Facebook, President Trump´s political spending on the social media platform is very much alive and well.
Millions of dollars alive and well in the past month alone, in fact.
Facebook confirmed in an email to Lead Stories that the platform is not banning all Trump ads, just some content that violate its policies.
The misconception started after Facebook said it banned on June 18 Trump ads that featured three upside down red triangles, which was a symbol the Nazis used in World II to identify political opponents. Other Trump ads that did not have the triangles were not removed, Facebook said.
"We removed these posts and ads for violating our policy against organized hate," a Facebook spokesperson told Lead Stories. "Our policy prohibits using a banned hate group's symbol to identify political prisoners without the context that condemns or discusses the symbol."
The Trump campaign said the symbol was merely "an emoji."
The most recent Facebook ad library report, which details how much campaigns have spent and how many ads they each have on file with the social network, shows that for the period of August 23-29 the Trump campaign spent $6.19 million.
On just August 29 alone, Trump spent more than $955,000, the Facebook report states.
This is not the first time Facebook has removed a Trump political ad the platform deemed offensive or inaccurate. On August 5, Facebook removed a Trump campaign video that claimed children are immune to the coronavirus.

"This video includes false claims that a group of people is immune from COVID-19 which is a violation of our policies around harmful COVID misinformation," the Facebook spokesperson told Lead Stories.
Facebook notes it also removed a Trump campaign ad in early August due to a copyright violation report filed by an Iowa newspaper. According to The Gazette, the Trump campaign used a photo the newspaper made in December 2019 when Biden visited a local mayor. The Trump campaign said the photo, which showed Biden sitting on the floor among a handful of people, depicted him hiding in the basement of his Delaware home.
Facebook also removed advertising from the Trump campaign in March that the platform said contained misleading information about the U.S. Census. A link in the ad sent readers to a Trump re-election campaign survey not related to the official Census.
"There are policies in place to prevent confusion around the official U.S. Census and this is an example of those being enforced," the Facebook spokesperson told Lead Stories.
(Editors' Note: Facebook is a client of Lead Stories, which is a third-party fact checker for the social media platform. On our About page, you will find the following information:
Since February 2019 we are actively part of Facebook's partnership with third-party fact checkers. Under the terms of this partnership we get access to listings of content that has been flagged as potentially false by Facebook's systems or its users and we can decide independently if we want to fact check it or not. In addition to this we can enter our fact checks into a tool provided by Facebook and Facebook then uses our data to help slow down the spread of false information on its platform. Facebook pays us to perform this service for them but they have no say or influence over what we fact check or what our conclusions are, nor do they want to.)