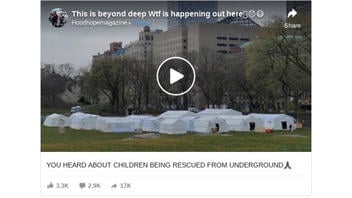 Does a video show evidence of children being rescued from tunnels by members of the U.S. military? No, that's not true: The video in question is chock-full of fabricated claims, some of which Lead Stories has previously debunked. It uses pictures and videos from unrelated news stories and offers zero proof in support of its main points.
The video appeared in a Facebook post (archived here) on August 28, 2020. The post included the following text:
YOU HEARD ABOUT CHILDREN BEING RESCUED FROM UNDERGROUND
This is what the post looked like at the time of writing:
(Source: Facebook screenshot taken on Tue Sep 1 14:51:35 2020 UTC)
The roughly 40-minute video opens with shots of tents and workers in New York's Central Park. A narrator explains:
Here's the deal with the little kids and what's coming up out of, underneath those tents in Central Park ... They're bringing children up, but the problem is the babies and the children are dying when they get to the top. It has something to do with oxygen.
In reality, those tents have nothing to do with rescued children. They are part of the Samaritan's Purse Emergency Field Hospital, which opened in April to help care for COVID-19 patients. (You can read more about that hospital here.) When asked about video's claims concerning Samaritan's Purse, a spokeswoman for the organization wrote to Lead Stories:
These are totally false rumors. Samaritan's Purse opened an Emergency Field Hospital in New York City to treat patients suffering from COVID-19. We worked hand-in-hand with Mount Sinai Health System to bring desperately needed surge capacity.
The video continues with clips of U.S. President Donald Trump talking about ventilators. The insinuation is that he's talking about them in the context of helping rescued children. Like the field hospital, however, his comments are connected to COVID-19. They have absolutely nothing to do with trafficked children.
Later, the video cuts to images underground, where children and babies were purportedly being held. One such image (shown below) shows what looks to be a member of the U.S. military in a tunnel.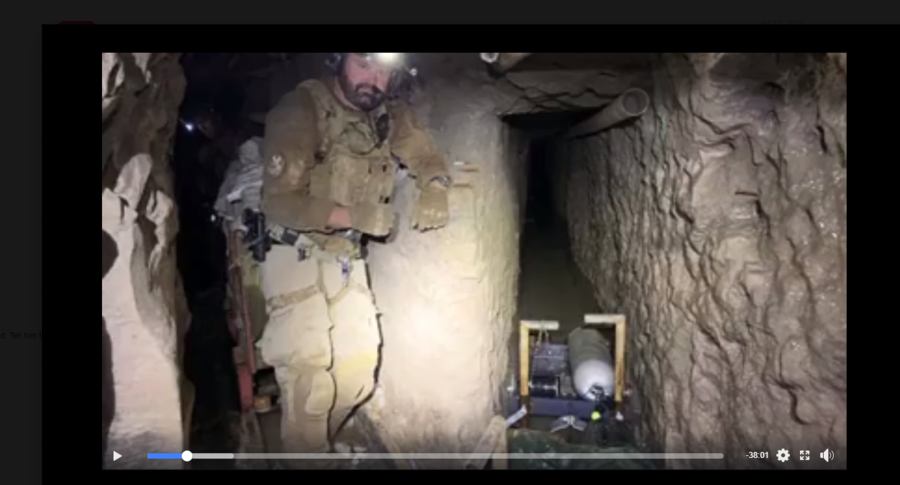 A quick reverse image search turned up the real story behind that photograph, which was included in an ABC report on a drug-smuggling tunnel.
Earlier this year, law enforcement officials announced that they had found the "longest illicit cross-border tunnel ever discovered along the Southwest border." Stretching between Tijuana, Mexico, and the outskirts of San Diego, California, the tunnel was used by cartels to smuggle drugs. Authorities made no mention of children being held underground; there is no proof to support that claim.
Similarly, the video includes allegations about "how they get a lot of these babies and kids and children," claiming that it involves CPS, or Child Protective Services. It cuts to a clip of a small child, with a British accent, talking about social services.
Lead Stories has previously looked into related videos of two British siblings and found them to be wildly inaccurate. (You can see that reporting here.) We have also previously reported on the video's narrator, Timothy Charles Holmseth. He identifies himself shortly before the seven-minute mark as belonging to the Pentagon Pedophile Task Force.
The things is, there is no such task force, according to the Pentagon.
Also, the video is not the first instance of Holmseth making unsubstantiated claims about children being rescued. He reported in April that the U.S. military had rescued more than 35,000 "malnourished, caged" children out of tunnels.
Just like the claims made in the video, Lead Stories found this allegation to be a complete fiction.