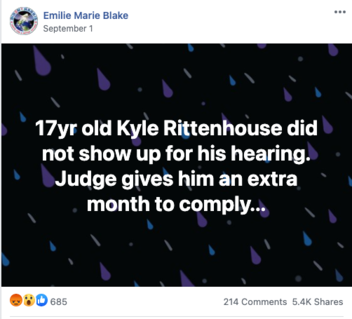 Was accused Kenosha shooter Kyle Rittenhouse required to show up for his first hearing after allegedly killing two people and wounding a third during a racial justice protest in August 2020? No, that is not true. Rittenhouse did not have to be at the extradition hearing; he was represented by a lawyer -- a public defender -- making his presence as defendant unnecessary at an initial hearing. Also, continuing a court date for a month -- in this case to allow Rittenhouse to find a private attorney and prepare --is not unusual in criminal court cases.
The claim is included in a meme (archived here) posted to Facebook on September 1, 2020. The meme read:
17yr old Kyle Rittenhouse did not show up for his hearing. Judge gives him an extra month to comply...
This is what the post looked like on Facebook at the time of writing: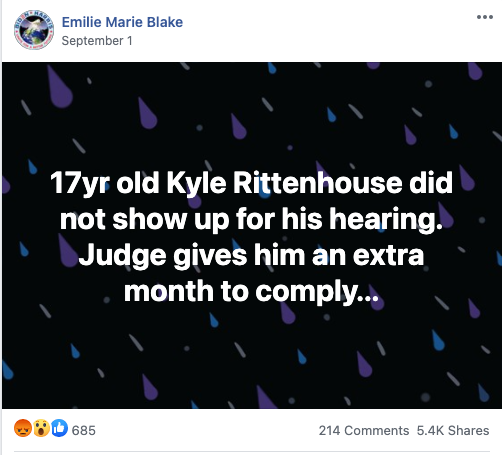 (Source: Facebook screenshot taken on Tue Sep 22 13:00:07 2020 UTC)
Rittenhouse's first court date was Aug. 28, 2020, in Lake County, Illinois, where he turned himself in after allegedly using an AR-15 to open fire during an Aug. 25, 2020, protest in Kenosha, Wisconsin, killing Anthony Huber and Joseph Rosenbaum. The protest was over the police shooting on Aug. 23, 2020, of Jacob Blake, who was shot seven times while approaching his car and is now paralyzed from the waist down.
Rittenhouse, who was represented in court by Lake County Public Defender Jennifer Snyder during the 10-minute proceeding on Aug. 28, is now scheduled for a Sept. 25 hearing in Lake County. Kenosha County's request for extradition to Wisconsin is expected to be taken up by a judge.
Rittenhouse is now represented by the Los Angeles-based firm Pierce Bainbridge and attorney John Pierce.
Pierce could not be reached for comment at the time of this writing, but a Lake County state's attorney's office representative confirmed Rittenhouse was not at the initial hearing on Aug. 28. The absence of a defendant who has legal representation -- in Rittenhouse's case, a public defender -- is not at all unusual for an initial hearing.
Rittenhouse did not need to be in court August 28. Still, some commenters on the Facebook page "Leimer Park Beat" stated that his no-show, and the judge allowing for a continuance, amounted to "white privilege." But -- like the situation of a defendant with legal representation not needing to be personally at an initial hearing -- a continuance being granted at a first hearing in a criminal case is not at all unusual in the American legal system.
In addition to allegedly killing Huber, 26, and Rosenbaum, 36, Rittenhouse was charged with shooting and wounding Gaige Grosskreutz, 26.
This is video of the August 28 hearing on the site of Fox32 Chicago: