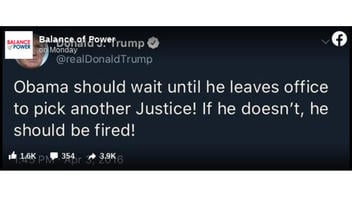 Did Donald Trump tweet "Obama should wait until he leaves office to pick another Justice! If he doesn't, he should be fired!" in April 2016 about an election year Supreme Court vacancy? No, that's not true. This is a fake tweet that Trump never sent, according to the archive of his tweets. The fake tweet is gaining traction amid the controversy over Trump's expected nomination of a new Supreme Court justice following Ruth Bader Ginsberg's death but just weeks before the election.
The claim appeared as a post (archived here) where it was published on Facebook on September 21, 2020. It read:
'Obama Should Wait Until He Leaves Office To Pick Another Justice! If He Doesn't, He Should Be Fired!'
This is what the post looked like on Facebook at the time of writing:
(Source: Facebook screenshot taken on Tue Sep 22 16:16:21 2020 UTC)
This tweet is completely made up. The Trump Twitter Archive shows there are no Tweets from Trump that say this on April 3, 2016.
A search for the entire quote does not yield any results. Trump sent 14 Tweets on April 3, 2016, and none of them said what the fake tweet claims.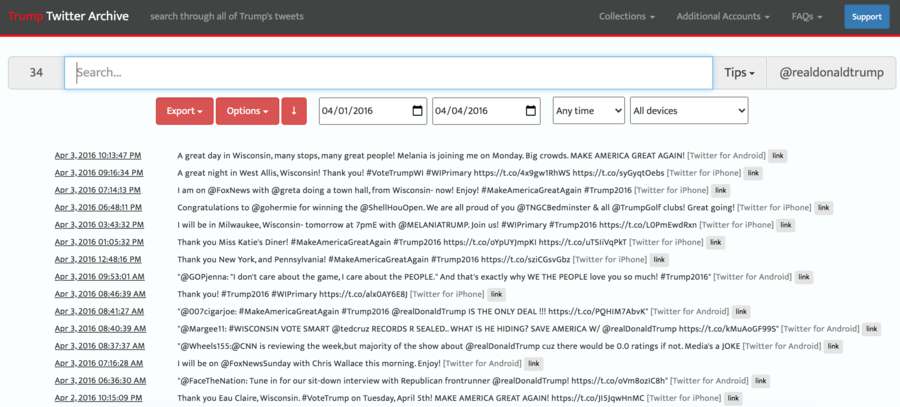 The wording of the tweet also makes absolutely no sense. A president does not pick a justice after they leave office.
The controversy over the timing of a president nominating someone to fill a Supreme Court vacancy began when Supreme Court Justice Antonin Scalia died on February 13, 2016. After Scalia's death, President Barack Obama nominated Merrick Garland but Sen. Mitch McConnell (R-KY) refused as Senate majority leader to let the nomination move forward, stating that the president should not appoint a new justice during an election year.
McConnell released a statement on February 13, 2016, the day of Scalia's death:
The American people should have a voice in the selection of their next Supreme Court Justice. Therefore, this vacancy should not be filled until we have a new president."
He said the same thing on the floor of the Senate on February 23, 2016.
February 23, 2016--Sen. Mitch McConnell on #SCOTUS nomination process: "The Senate will appropriately revisit the matter after the American people finish making in November the decision they've already started making today." pic.twitter.com/DFOBNHpX0T

-- CSPAN (@cspan) September 19, 2020
Obama was succeeded by Trump, who nominated Neil Gorsuch. The nomination was approved by the Senate and Gorsuch began serving on April 10, 2017.
After Ginsberg died on September 18, 2020, McConnell stated that the Senate would proceed with the vote for Trump's nominee before the election.
President Trump's nominee will receive a vote on the floor of the United States Senate."
On September 21, 2020, Trump said he would reveal his nomination for the Supreme Court, the Wall Street Journal reported.
Trump spoke about his future nomination at a campaign rally in North Carolina on September 19, 2020.