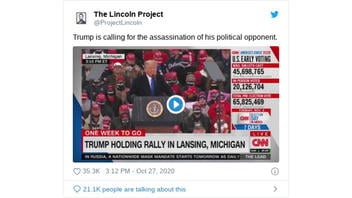 Did President Trump call for the assassination of his political opponent, Joe Biden? No, that's not true: While it may have been a poor choice of words, President Trump's comments in a speech Tuesday, October 27, 2020, in which he suggested Biden would be "shot" three weeks into his presidency was not a call for Biden to be shot. Another reference in a speech in Omaha, Nebraska, later that day made it clear that he was referring to his claim that Biden lacked the mental and physical stamina to do the job. Even if he was predicted Biden would be assassinated, it was not a call for it to happen.
The claim appeared in a tweet (archived here) posted by the Lincoln Project on October 27, 2020. It included a video of Trump's comments in Lansing, Michigan, with the message:
Trump is calling for the assassination of his political opponent.
This is what the post looked like on Twitter at the time of writing:
(Source: Twitter screenshot taken on Wed Oct 28 15:44:29 2020 UTC)
This is the segment of Trump's Lansing speech in question:
Joe Biden, Kamala, do you like Kamala? Do you like her to be your vice-president? I don't know. If he gets elected, three weeks into his presidency, they'll say, "Kamala, you're ready? Let's go." That's why they're talking about the ... That's why they're talking about the 25th amendment, right? Three weeks. Three weeks in, Joe's shot, "Let's go Kamala, are you get ready?" Most liberal person in the Senate.
If the president was suggesting Biden would be killed, it would make no sense to reference the 25th Amendment, which relates to the president being replaced by the vice president when the president is sick or disabled, not dead.
Later in the day when speaking at a rally in Omaha, President Trump again addressed his prediction that Kamala Harris would have to take over the job after several weeks.
Joe Biden's agenda, and I'm not sure it's only Biden's agenda, let's face it. It's not his agenda. It sounds nice, Biden's agenda. The guys shot. He's shot. He's so gonzo. You saw him yesterday, they took him away... So the Democrats, let's say the Democrats, the radical left Democrats, they have an extreme agenda. He's just a vehicle. He'll be there for about four weeks or so. Then you'll have Kamala, Kamala. That will not be the first woman president.
While Trump's choice of "shot" to describe his prediction for Biden weeks after he is elected is obviously poor, it does not constitute a call for his political opponent to be assassinated.