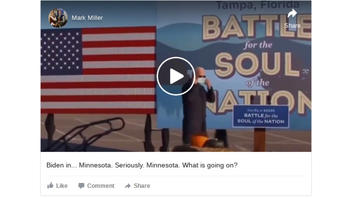 Did Joe Biden say "Hello, Minnesota" after walking onto a campaign rally stage in Tampa, Florida? No, that's not true: Video showing the Democratic presidential nominee with "Tampa, Florida" written on the stage backdrop as he said "Hello, Minnesota" was digitally altered to support the claim that Biden was disoriented and forgot where he was at a rally.
The claim appeared in a video shared in a number of social media posts, including a post (archived here) shared on Facebook on November 1, 2020, with the introduction text that read "Biden in... Minnesota. Seriously. Minnesota. What is going on?" The 16-second clip has Biden saying:
Hello, Minnesota! Jessica, thank you for being here, for sharing your story.
This is what the post looked like on Facebook at the time of writing:
(Source: Facebook screenshot taken on Sun Nov 1 20:14:26 2020 UTC)
Here is the real video of Biden's October 30, 2020, rally in St. Paul, Minnesota, which was manipulated to make it appear as if he was in Florida:
This is a photo of the stage at the Minnesota rally: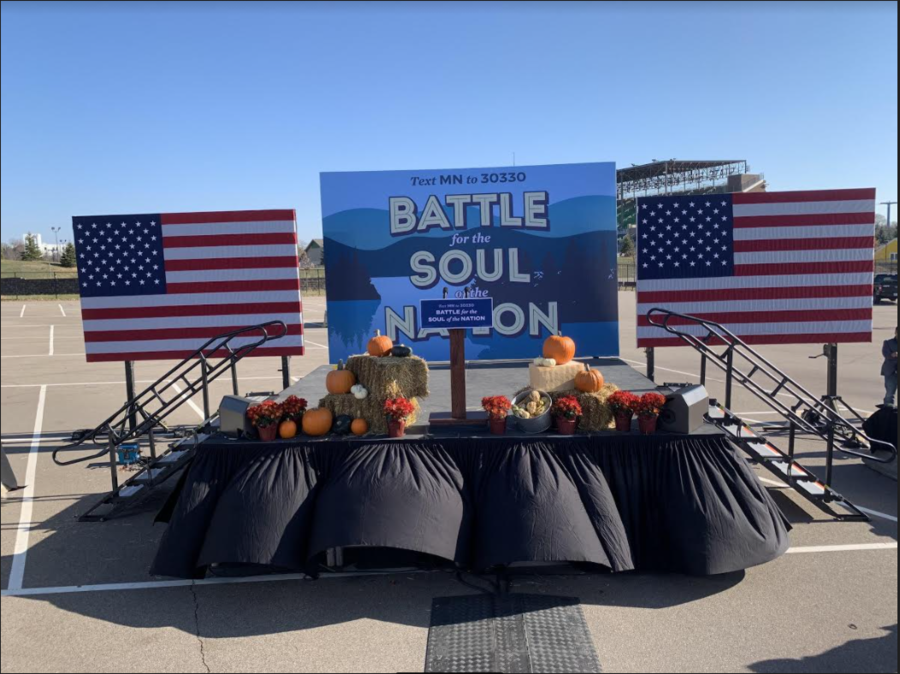 Note the pumpkin is the same in the Minnesota stage.
One hint this was faked is Biden's overcoat. It was 88 degrees on the afternoon Biden visited Tampa. He was not wearing the same heavy clothing he wore in Minnesota the next day where the high was 47 degrees.
Another clue is the pumpkin is the same in the Minnesota stage as in the manipulated video.
This is how Biden's Tampa, Florida, rally began a day earlier, October 29, 2020. No pumpkin and no overcoat: