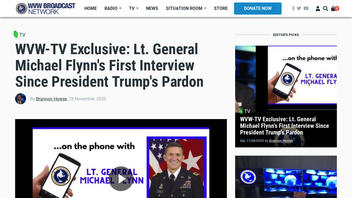 Did the U.S. Army's Special Forces seize a CIA server farm in Frankfurt, Germany, resulting in deaths of U.S. soldiers? No, that's not true: A U.S. Army spokesperson told Lead Stories the claim is false. Lead Stories has previously debunked claims that American forces seized a computer server in Frankfurt that was owned by a company that provided voting machines for U.S. elections.
The claim appeared a video (archived here) on purported voter fraud in the 2020 U.S. elections published by Worldview Weekend Broadcast Network on November 28, 2020. The segment included interviews with Michael Flynn, a former national security adviser recently pardoned by President Donald Trump; and Thomas McInerney, a retired U.S. Air Force lieutenant general. McInerney said:
The U.S. Special Forces Command seized a server farm in Frankfurt, Germany, because they were sending this data from those five states, or six states, through the internet to Spain and into Frankfurt, Germany. Special Operation Forces seized that facility, so they have those servers.
Users on social media saw this title, description and thumbnail:
Asked whether the alleged seizure at the CIA facility took place without incident, McInerney added:
I want to be careful on that. It's just coming out, but I understand, my initial report is that there were U.S. soldiers killed in that operation.
Lead Stories reached out to Army Public Affairs in Washington, D.C., via email, for comment on McInerney's claim. We received a call back from a spokesperson, who spoke on the condition of being identified as such. The spokesperson said:
These allegations are false.
Indeed, there have been no confirmed reports of a server raid in Germany -- nor of any deaths resulting from such a raid. McInerney did not provide evidence to support his statement, one of many false claims propagated during his interview.
Some of McInerney's statements were unsubstantiated. For example, there's no proof that China and Iran were involved in manipulating votes in the 2020 election, as he alleged. There's no evidence that "hundreds of thousands of votes" were falsified. And there's nothing to back up the idea that votes are recorded and stored overseas.
Other statements made by McInerney were verifiably false. For example, he claimed:
The state of Pennsylvania mailed out 1.8 million votes ... 2.5 million came back. Someone had to have a printing press and were cranking them out.
That's not true. More than 3 million people in Pennsylvania applied to vote by mail in the 2020 election, while some 2.6 million ballots were returned by the deadline. Pennsylvania Department of State spokeswoman Wanda Murren described McInerney's allegation as "completely inaccurate." She said the 1.8 million figure represented the number of ballots sent from the primary election, back in June, not the general election in November.
Lead Stories previously debunked claims that the U.S. Army seized a computer server in Frankurt. Read Fact Check: US Army Did NOT Seize Dominion Servers In Germany.
We also debunked a claim by McInerney that the CIA was involved in rigging the voting machines to help Biden. Read Fact Check: NO Evidence Democrats Are Colluding With CIA To Alter Voting Machines. In that story, we looked at McInerney's military experience, which did not include being a high-level official in the U.S. intelligence community. His U.S. Air Force biography said he was a deputy chief of staff for the Ait Force's Pacific headquarters nearly 40 years ago:
In February 1981 he was assigned as commander of the 313th Air Division, Kadena Air Base, Japan. The general then served as deputy chief of staff for operations and intelligence, Headquarters Pacific Air Forces, Hickam Air Force Base, Hawaii, from June 1983 to July 1985, when he became commander of 3rd Air Force, Royal Air Force Station Mildenhall, England. In October 1986 General McInerney was assigned as vice commander in chief, Headquarters U.S. Air Forces in Europe, Ramstein Air Base, West Germany.
For his part, Flynn declined to comment on the purported "hard evidence," provided by the supposed server seizure in Germany. He did, however, offer his thoughts on voter fraud. Flynn said:
I do not believe for a second that the country will accept Vice President [Joe] Biden as the next president, based on what we know to be probably the greatest fraud that our country has ever experienced.
That is, at best, disputed. Earlier this month, the Cybersecurity and Infrastructure Security Agency issued a statement describing the 2020 election as "the most secure in American history." It also said that there was no evidence "any voting system deleted or lost votes, changed votes, or was in any way compromised."
Lead Stories has written about voter fraud and the 2020 election before. Here's a look at our latest coverage: