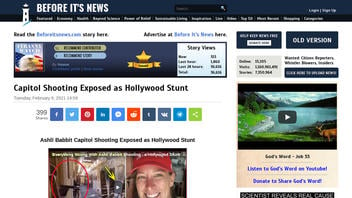 Was the fatal shooting of a woman at the U.S. Capitol on January 6, 2021, exposed as a Hollywood stunt? No, that's not true: The death of Ashli Babbitt during last month's riots is very much real. It was confirmed by authorities and her family. The suggestion that the event was staged relies entirely on conjecture and speculation; it has no basis in publicly available evidence.
The claim appeared in an article (archived here) published on February 9, 2021, by Before It's News. The article, titled "Capitol Shooting Exposed as Hollywood Stunt," opened:
Compelling analysis of video clips reveal a botched attempt at a Hollywood-style capitol shooting drama.
Users on social media saw this title, description and thumbnail:
Compelling analysis of video clips reveal a botched attempt at a Hollywood-style capitol shooting drama.
The article continued:
Is Ashli Babbitt alive and well?
It added:
The smoking gun is the failure of law enforcement to be prepared when it was known by U.S. Capitol Police, that alleged 'insurrection' at the capitol was planned for weeks by people and groups claiming to be Trump supporters but now revealed to be hired actors.
To be fair, the police response to the storming of the Capitol has been widely criticized. Authorities did appear to be caught off guard, and the head of the Capitol Police resigned under pressure in the wake of the rampage. Far from being a "smoking gun," however, the failure of law enforcement to protect the Capitol does not prove the event was staged. It just shows that police weren't prepared.
The article included a 21-minute video that attempts to make the case the riots and shooting were staged. We'll address the video's claims in chronological order.
It opens with the claim that there were paid actors. It plays a clip, showing a man saying that he was paid to pretend to protest. Lead Stories has written about that man before. See our story here. He followed up his first video with another in which he made fart and penis jokes and admitted that his claim of being a paid protester was a joke.
The video makes that claim that there was "Hollywood tear gas." That's also not true. As we've reported before, real tear gas was used on the mob.
The video points to the presence of "controllers," defined as people who tell other people what to do, and "professional photographers" as evidence that the event was staged. Their presence would not prove this theory. In any group, some people may tell other people what to do, and photographers would have been on scene anyway that day to capture Congress' ceremonial certification of the 2020 election.
Next, the video moved to its main argument, which is that the shooting death of Babbitt was not real. For context, Capitol Police have confirmed Babbitt's death. A statement released one day after the riots read:
As protesters were forcing their way toward the House Chamber where Members of Congress were sheltering in place, a sworn USCP employee discharged their service weapon, striking an adult female. Medical assistance was rendered immediately, and the female was transported to the hospital where she later succumbed to her injuries. She has been identified as Ashli Babbitt.
Her death has also been confirmed by her family. Speaking to CNN, Babbitt's mother identified her daughter as an Air Force veteran, an ardent supporter of former President Donald Trump and someone "passionate enough to die for what she believed in."
The video played clips from the shooting and the moments immediately before and after. The narrator describes the rioters as actors playing parts, going so far as to give a number of them names. He points out details he found strange or unusual -- such as people making hand movements, a move he interpreted as signaling -- but none of what the narrator said proves the shooting the staged. Here are some of his quotes about Babbitt:
You can see our star looking in the direction of the weapon. She seems amped up or nervous.

Notice when she falls back, her backpack looks fairly plump -- a perfect breakaway for a fall.

It's just an interesting face to make, no suffering. It's like, boom, instant death. She's basically using that backpack as a pillow.
He spoke about what he described as the sudden appearance of fake blood on her face, saying that someone put it there. Although he points to the video clips as evidence for that claim, they don't support it. The clips don't show what the narrator describes.
Finally, toward of the end of the video, an unidentified rioter is caught on camera saying: "They all acting. They actors."
The narrator responds: "That's amazing. It completely validates everything we're doing here."
Of course, it doesn't. It's just one person saying something, which -- as we know here at Lead Stories -- doesn't make it true.
NewsGuard, a company that uses trained journalist to rank the reliability of websites, describes beforeitsnews.com as:
A website that publishes content submitted by users and regularly publishes false information and conspiracy theories, including about COVID-19 and the 2020 U.S. presidential election.
According to NewsGuard the site does not maintain basic standards of accuracy and accountability. Read their full assessment here.