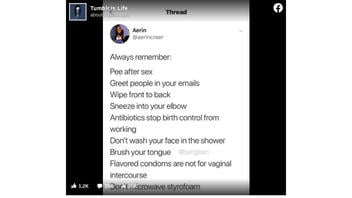 Do antibiotics stop birth control from working? No, that's not true: Most antibiotics do not hinder the effectiveness of birth control. There is only one antibiotic known to reduce steroid levels in women taking oral contraceptives.
The claim appeared in a Facebook post (archived here) published on November 18, 2018. The post was a Twitter screenshot turned meme that states nine practices regarding hygiene and sanitization. It read:
Always remember:
Pee after sex
Greet people in your emails
Wipe front to back
Sneeze into your elbow
Antibiotics stop birth control from working
Don't wash your face in the shower
Brush your tongue
Flavored condoms are not for vaginal intercourse
Don't microwave styrofoam
This is how the meme looked on May 26, 2021:
(Source: Facebook screenshot taken on Mon May 26 01:43:04 2021 UTC)
Although this post lists multiple claims, this fact check addresses only the central claim regarding antibiotic interference with contraception.
According to a study cited on the National Center for Biotechnology Information website, rifampin is the only antibiotic to date that is known to reduce plasma estrogen concentrations. Rifampin is an antimycobacterial prescription primarily used to treat tuberculosis. A woman cannot rely on oral contraceptives like birth control while taking this antibiotic.
Dr. Caitlin Bernard, assistant professor of clinical obstetrics and gynecology with the Indiana University School of Medicine, told Lead Stories in a May 26, 2021, email that the claim is false.
The only antibiotic that has been shown to interfere with birth control (by lowering the level of the birth control hormone estrogen in your blood), is rifampin. There have been studies of other antibiotics and none of them have been shown to decrease the level of the hormone significantly enough to cause pregnancy. Therefore, people taking these types of medications we recommend other types of birth control, like the intrauterine devices, which do not rely on the blood hormone levels to be effective because they work locally within the uterus.