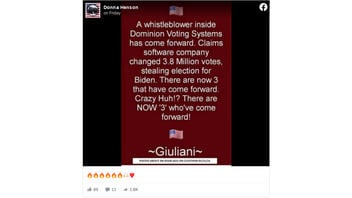 Did a whistleblower claim that Dominion changed 3.8 million votes in the 2020 election? No, there's no evidence that's true: A post making the allegation against Dominion Voting Systems did not identify the alleged whistleblower and did not offer any proof to substantiate its claim. Previous claims about purported vote flipping have been repeatedly disproven. A spokesperson for Dominion dismissed the latest allegation as a "recycled attempt to drum up false hope."
The claim appeared in a Facebook post (archived here) published on May 22, 2021. It read:
A whistleblower inside Dominion Voting Systems has come forward. Claims software company changed 3.8 Million votes, stealing election for Biden. There are now 3 that have come forward. Crazy Huh!? There are NOW '3' who've come forward!
This is what the post looked like on May 24, 2021:
(Source: Facebook screenshot taken on Mon May 24 17:59:27 2021 UTC)
The post appeared to source Rudy Giuliani, the former New York City mayor and personal attorney for Donald Trump, as it included his last name at the bottom of the post. It also stated: "POSTED ABOUT AN HOUR AGO ON CLOUTHUB 05/21/21."
Lead Stories checked Giuliani's account on CloutHub, a social media platform, to see if he had shared information about the alleged Dominion whistleblower on the day in question. There was no such public post.
The claim on Facebook did not name any of the three purported whistleblowers and did not offer any proof to substantiate its statement that 3.8 million votes were switched.
Previously, we've written about Melissa Carone, a purported whistleblower and Dominion staffer who allegedly saw voter fraud in Detroit. See here for that story, in which we found that Carone was not a "staffer;" she was contracted as a freelancer to work for the company on election day. She did file an affidavit claiming she saw voter fraud in Detroit, but Chief Judge Timothy Kenny of the Third Judicial Circuit Court in Michigan dismissed her claims in a November 13, 2020, court ruling, stating her "allegations simply are not credible."
Lead Stories has also disproven claims about purported vote flipping. See here and here for examples of those stories and see here for our coverage of election fraud claims. Independent experts and election officials have all, repeatedly, defended the integrity of the 2020 election, which has been described as the "most secure in American history."
Dominion has also dismissed allegations of fraud. It has a section on its website dedicated to addressing rumors and speaks to the specific allegation of vote switching. The site reads:
IS THERE ANY EVIDENCE OF DOMINION SYSTEMS VOTE SWITCHING OR SOFTWARE ERRORS?

No, all baseless claims have been debunked by election officials, subject matter experts and third-party fact checkers. No evidence whatsoever has been offered to support claims that there was a systemic problem with vote-counting machines. A hand recount of all paper ballots in the State of Georgia completed on November 19 verified that machine vote totals were reliable and accurate. Certified results in Arizona, Georgia, Florida, Michigan, Nevada, Ohio, Pennsylvania, plus other states all validate the accuracy of official tallies.
Lead Stories contacted Dominion to ask about the latest whistleblower claim. In an email dated May 24, 2021, a spokesperson wrote that it "seems like a recycled attempt to drum up false hope that there is 'new information' to support false claims which have been widely debunked for months."
Dominion has filed a $1.3 billion defamation lawsuit against Giuliani over his election claims. He denies defaming the company.