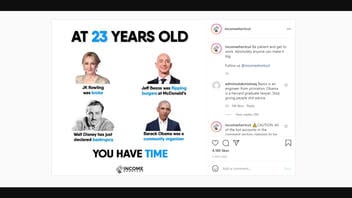 Was Amazon.com founder and CEO Jeff Bezos flipping burgers at McDonald's at 23 years old? No, that's not true: at that age, Bezos was a Princeton University graduate who turned down various job offers to work for a start-up telecommunications company.
The claim appeared in an Instagram post (archived here) published on June 23, 2021. The post was a graphic that featured images of author J.K. Rowling, Bezos, former U.S. President Barack Obama and entrepreneur Walt Disney. The text in the graphic read:
At 23 Years Old

J.K. Rowling was broke

Jeff Bezos was flipping burgers at McDonald's

Walt Disney has just declared bankrupcy

Barack Obama was a community organizer

You have time
The caption of the post read:
Be patient and get to work. Absolutely anyone can make it big.
This is how the post looked on Instagram on June 29, 2021:
(Source: Instagram screenshot taken on Tue Jun 29 16:53:22 2021 UTC)
WIRED published a profile of Bezos in 1999 that mentioned Bezos' work as a McDonald's cook -- at 16 years old. There, Bezos studied the company's workflow technology and brainstormed improvements. The next summer, he launched an entrepreneurial venture with his high school girlfriend.
Bezos graduated from Princeton in 1986, the year he turned 22 years old. According to the WIRED profile, during his senior year at the university, he already had job offers from other companies including Intel. He decided to join Fitel, a telecommunications startup, where he worked for about two years.
The details of the other public figures listed in the graphic are murkier.
Although there is not much information about J.K. Rowling's financial situation at 23 years old, it appeared that she worked a variety of jobs in London, including one at Amnesty International, after studying at the University of Exeter in the mid-1980s.
In 1984, the year he turned 23 years old, Obama was living in New York City after graduating from Columbia University and was working for Business International Corporation as a research assistant.
Disney filed for bankruptcy in 1923, the year he turned 22 years old. The same year, he moved to California and launched Disney Brothers Studio with his brother. In 1924, his business was doing well enough to hire artists for the studio and he met his future wife.