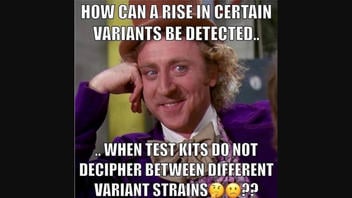 Can a rise in COVID-19 variants be determined by "test kits" that don't detect variants? No, that's not true: Routine tests for COVID-19 indicate whether a person is infected by the virus; they don't determine which variants have been detected. However, it's entirely possible to determine which variant caused a person's infection through genomic sequencing tests. The U.S. Centers for Disease Control and Prevention (CDC) helps track variants by using this process on samples collected from state health departments and other public agencies and then estimating the percentages of cases caused by each variant.
The question was posed in a meme (archived here) on Instagram published on July 25, 2021. The caption read: "Asking for a friend.....". The meme asked:
HOW CAN A RISE IN CERTAIN VARIANTS BE DETECTED .... WHEN TEST KITS DO NOT DECIPHER BETWEEN DIFFERENT VARIANT STRAINS??
Users on social media saw this at the time of writing:
Lead Stories reached out to the Association of Public Health Laboratories (APHL) to ask about the post, which clearly implies that it's not possible to detect a rise in variants. While it's true that routine tests for COVID-19 don't pick up variants, it's not true that variants can't be detected. They are found through a different process. Here's how APHL explained it an email, dated July 27, 2021:

COVID-19 variants are detected through genomic sequencing. Laboratories, including state and local public health labs sequence a subset of COVID-19 positive specimens and sequence the genome of the virus. The genome is compared to other COVID-19 sequences in public databases to identify minor genetic changes in the viral genome consistent with variants of concern or variants under investigation.
The CDC offers a similar, much longer, explanation on its website. The agency leads the National SARS-CoV-2 Strain Surveillance (NS3) system, which means that since November 2020, it has regularly received samples of SARS-CoV-2, the virus that causes COVID-19, from state health departments and other public agencies for sequencing and further evaluation. According to the CDC:
Routine analysis of genetic sequence data enables CDC and its public health partners to identify and characterize variant viruses -- either new ones identified in the U.S. or those already identified abroad -- and to investigate how variants impact COVID-19 disease severity and the effectiveness of vaccines, treatment, and diagnostic tests.
In sum, it's not possible to detect a rise in variants based on routine, individual COVID-19 tests. But scientists can use genomic sequencing on select specimens and then estimate the percentages of cases caused by each variant, and that is, in fact, what they're doing. At the time of writing, the CDC estimates that more than 80% of new COVID-19 cases are caused by the Delta variant, followed by the Alpha and Gamma variants.
At this link, the CDC has collected a full list of variants known to be circulating in the United States.