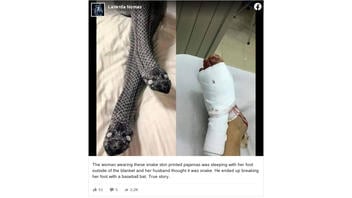 Did a woman's husband break her foot with a baseball bat when he saw what he thought was a snake come out from under the blanket? No, that's not true: These two photos are not related. The photo of a bandaged foot was published in a medical article in 2016; the injured was a man who dropped a cutter on his foot while helping his family. It is not the bandaged foot of a woman whose husband mistook her legs for giant snakes because of the novelty snake-print pajamas she was wearing.
The pictures, paired with this narrative, have been circulating since 2018. They recently resurfaced in a July 18, 2021, Facebook post captioned:
The woman wearing these snake skin printed pajamas was sleeping with her foot outside of the blanket and her husband thought it was snake. He ended up breaking her foot with a baseball bat. True story..
This is what the post looked like on Facebook at the time of writing:
(Source: Facebook screenshot taken on Fri Jul 23 14:07:03 2021 UTC)
The bandaged foot photo is one of the less graphic of four appearing in a Vietnamese Surgical Internship blog on January 17, 2016. The report on this case outlines how to clean, suture and bandage a wound. As the case is introduced, the patient is identified as a 36-year-old male and the accident is briefly described:
Reason for admission : The patient was helping his family when the cutter fell on the left instep, bleeding => Enter the hospital ND 115
The fictional story of the woman who was attacked by her husband went viral in late December 2018. An article in pakistanpoint.com titled, "Woman Wears 'Snake Looking' Stockings; Husband Beats Her Mistaking It For Two Real Snakes" describes the incident seen in social media posts and concludes as if this incident stands as a warning:
The tiger and snake prints are common among woman. However, this was a new story as the husband got actually afraid of the print.

Women need to be careful while choosing to wear such clothes or they might end up like this woman who got beaten up by her own husband.