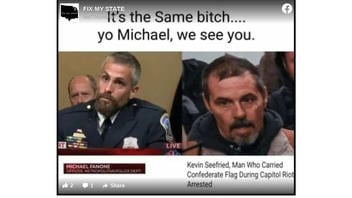 Was Washington, D.C., Metropolitan police officer Michael Fanone the person carrying a Confederate flag during the January 6, 2021, U.S. Capitol insurrection? No, that's not true: Although photos of Fanone and the person carrying the flag bear a strong resemblance, Fanone was working to deter the chaos that day while Kevin Seefried, the man who is alleged to have carried the flag inside the Capitol, is charged with participating in the insurrection.
The claim appeared in a Facebook post (archived here) published on July 29, 2021. It featured a graphic with separate images side by side of Fanone and Seefried, with text that read:
It's the Same bitch...
yo Michael, we see you.
Although the graphic implies that Fanone and Seefried are one and the same, it also includes text with Seefried's name and arrest status underneath his image, which, though correct, undercuts the claim.
This is what the post looked like on Facebook on August 4, 2021:
(Source: Facebook screenshot taken on Wed Aug 4 16:09:02 2021 UTC)
On July 27, 2021, Fanone testified before the House Select Committee to Investigate the January 6th Attack on the United States Capitol about his experience during the insurrection (his testimony begins at 42:58 of the video of the committee meeting here).
Footage from Fanone's bodycam showed the violence against officers by the rioters (the introduction to Fanone's footage during the committee meeting starts at the 1:54:52 mark). In his testimony, Fanone claimed that during the chaos, he was threatened, tased, beaten unconscious and suffered a heart attack and brain injuries. A screenshot from Fanone's bodycam footage showing another officer transporting him to safety as he experienced health complications is included below: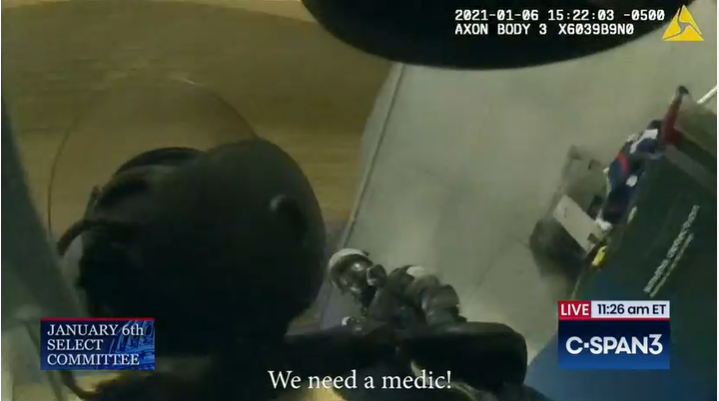 (Source: Video screenshot at 1:56:33-mark taken on Wed Aug 4 15:40:02 2021 UTC)
Seefried, who is from Delaware, has been charged with "Knowingly Entering or Remaining in any Restricted Building or Grounds Without Lawful Authority" and "Violent Entry and Disorderly Conduct on Capitol Grounds." His case documents can be found here (archived here), with the Statement of Facts including pictures of him on page four here (archived here).
Similar to this claim, Lead Stories previously debunked a claim that CNN journalists were arrested for infiltrating the Capitol disguised as Trump supporters.