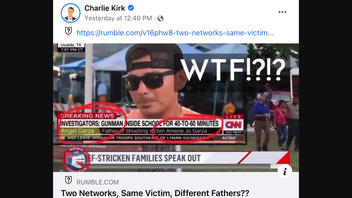 Did two different television networks report on the same Uvalde school shooting victim with two different fathers? No, that's not true: Both the biological father and stepfather of Amerie Jo Garza, 10, gave interviews to different networks but were both initially identified as her father. News reports clarified their relationship with her but a social media post said "same victim, different fathers??" Nineteen children -- including Amerie Jo Garza -- and two adults were shot and killed by a gunman in the Texas school on May 24, 2022.
The claim appeared in a Facebook post published by Charlie Kirk, a conservative activist who co-founded Turning Point USA, on May 30, 2022. It opens:
Two Networks, Same Victim, Different Fathers??
This is what the post looked like on Facebook at the time of writing: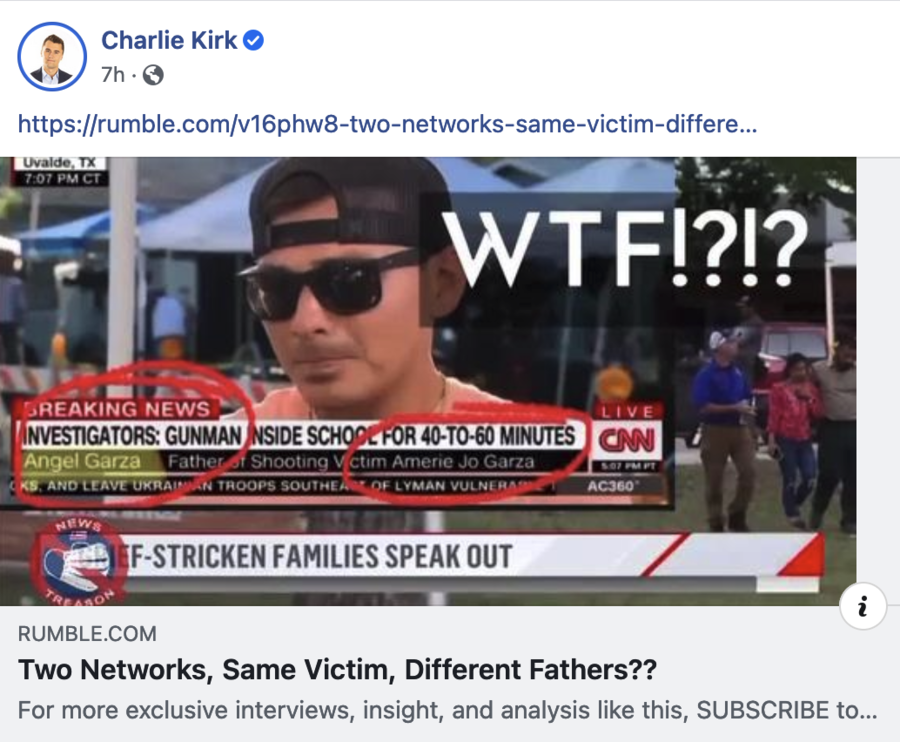 (Source: Facebook screenshot taken on Tue May 31 19:10:21 2022 UTC)
Alfred Garza is Amerie's biological father, Angel Garza is her stepfather. Both men were interviewed by various news organizations in the aftermath of the shooting.
In a May 29, 2022, CNN article -- published a day before Kirk's "different fathers??" post -- the designation of Alfred Garza as Amerie's father and Angel Garza as Amerie's stepfather is clearly written:
In the chaos outside the school on Tuesday, Angel Garza, the med aide, came upon a little girl who was covered in blood. She was crying. Her best friend had been killed.
Angel Garza asked her the name of the dead girl. It was his stepdaughter, Amerie Jo. That's how he learned Amerie was gone.
Amerie's biological father, Alfred Garza, was also outside the school as the massacre unfolded.
Kirk's Facebook post, which links to "The Charlie Kirk Show" page on the Rumble website, shows a screengrab of a CNN video of a man in sunglasses with a chyron that reads, "Angel Garza, Father of Shooting Victim Amerie Jo Garza." The letters "WTF!?!?" are superimposed over the image in the post.
The clip is from an interview Anderson Cooper did with Angel Garzaa outside the Robb Elementary School in Uvalde on May 25, 2022.
While the video taken in the early aftermath of the shooting identified Angel Garza as her "father," CNN later described Angel Garza as "Amerie's stepfather" in a story posted on the news outlet's website on May 27 2022 -- three days before the Kirk "different fathers??" Facebook post:
Yesterday, CNN's Anderson Cooper interviewed Amerie's stepfather, med aide Angel Garza, who described how he learned about the death of the 10-year-old as he arrived to the school during the shooting to help.

'One little girl was just covered in blood head to toe. I thought she was injured, I asked her what was wrong. She said she was OK -- she was hysterical, saying that they shot her best friend, that they killed her best friend, she was not breathing,' Garza told CNN's Anderson Cooper on Wednesday.
The same story published on CNN's website on May 27, 2022, included a photograph interview of Alfred Garza, who was identified as Amerie's father:
Alfred Garza, the father of 10-year-old Amerie Jo Garza, told CNN Friday that while nothing can bring his daughter back after the deadly mass shooting at Robb Elementary in Uvalde, he believes someone should be held accountable over the police response -- in particular regarding the time it took officers to engage with the gunman.

(Source: CNN website screenshot taken on Tue May 31 18:55:34 2022 UTC)
The "TODAY Show" interview with Alfred Garza aired on May 26, 2022, and identified him as her father. The NBC website published an article the same day with the title, "'It was a nightmare': Families of Texas school shooting victims recount tragic day." It noted:
'She was a real good student. She was a very good daughter, friends. Very playful, very silly,' dad Alfred Garza III said.
Amerie's funeral was held on May 31, 2022, as images posted by photojournalist Mikala Compton's Twitter account showed her small coffin being taken into the service:
The family of 10-year-old Amerie Garza is laying her to rest today. Hers is the first of 22 funerals Uvalde will be holding in the next few weeks for the victims of the Robb Elementary mass shooting. pic.twitter.com/gsXrUPoHrX

-- Mikala Compton 🦇 (@MikalaCompton) May 31, 2022
More Lead Stories fact checks related to the Uvalde school shooting can be found here.
Kirk has been fact-checked for false, misleading information by Lead Stories, in other stories that you can find here.