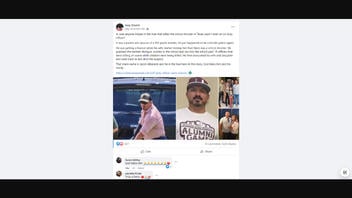 Did Jacob Albarado, an off-duty Border Patrol agent, kill Salvador Ramos, the gunman who killed 19 children and two teachers at a Texas elementary school? There's no such evidence: Albarado, whose wife worked at the school and child attended the school, went to the scene and helped evacuate children during the shooting at Robb Elementary School in Uvalde, Texas. In his retelling of the shooting, he did not state that he killed Ramos, saying in an interview that once he saw other agents who "had their gear and stuff," he "pulled back."
The claim appeared in a Facebook post on May 28, 2022. The post, which included pictures of Albarado, opens:
In case anyone missed it the man that killed the school shooter in Texas wasn't even an on duty officer!!

It was a parent and spouse of a 4th grade teacher, he just happened to be a border patrol agent.

He was getting a haircut when his wife started texting him that there was a school shooter. He grabbed the barbers shotgun, rushed to the school and ran into the school past 19 officers that were sitting on scene while children were being killed. He then evacuated his wife and daughter and went back in and shot the suspect.

That mans name is Jacob Albarado and he is the true hero in this story. God bless him and his family.
The post also included a link to a Newsweek article that detailed Albarado's actions at Robb during the shooting.
This is what the post looked like on Facebook at the time of writing: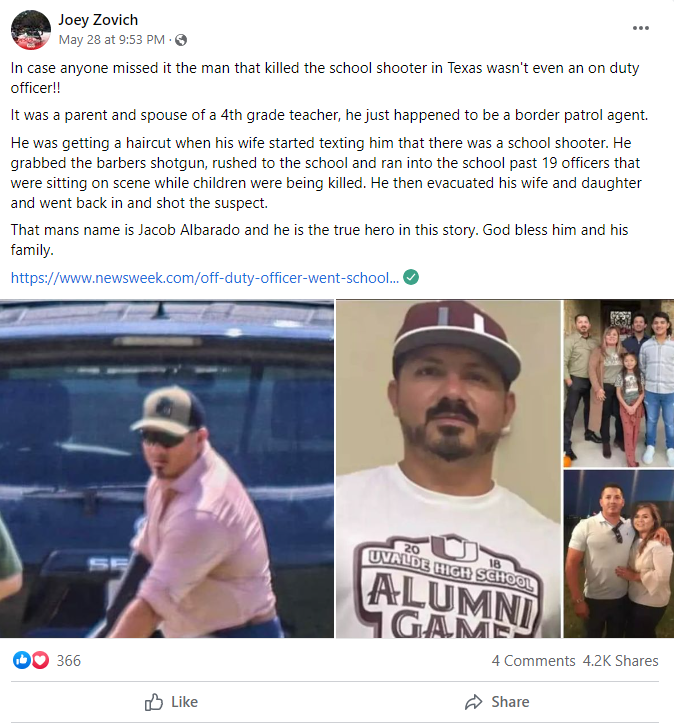 (Source: Facebook screenshot taken on Tue May 31 16:24:07 2022 UTC)
In an on-air interview with the "TODAY Show" posted online on May 31, 2022, Albarado detailed rushing to Robb from a barbershop appointment after receiving a text about the shooting from his wife, a fourth-grade teacher at the school. His barber lent him a firearm. Although he said he helped several children escape the school through windows broken from the outside by law enforcement, he did not say that he joined other Border Patrol agents to confront Ramos.
At the 6:05 mark of the interview, Albarado was asked whether he saw or interacted with officers positioned in front of a door at Robb. He answered:
At one point, I went -- I was there at the door fixing to go in, but once again I didn't have any of my gear. It wouldn't have been a smart move for me. All those guys had their gear and stuff, so like I said, I pulled back.
Albarado said that after he received a text from his wife that she was safe at a nearby funeral home, he went on to find his daughter, who he helped get out of the school. He continued to assist other children located in that area of the school. He did not mention any personal interaction with Ramos.
Besides Newsweek, Albarado's story was featured in several reports by various outlets such as The Hill, Fox News and The New York Times. None of those reports stated that Albarado was the agent who killed Ramos. The Border Patrol agents credited with shooting Ramos reportedly were officers from the specially trained Border Patrol Tactical Unit (BORTAC). Some reports (here, here and here) claim that an unidentified BORTAC agent wearing a baseball cap that was damaged in the exchange of gunfire with Ramos may have been the agent who killed Ramos. But the agents involved in the operation have not been publicly identified at the time of writing.
In a Twitter thread published on May 24, 2022, Marsha (Catron) Espinosa, assistant secretary for public affairs for the Department of Homeland Security, said that on-duty and off-duty border patrol agents and other law enforcement officers put themselves at risk and entered Robb to save the children inside. She did not specify who those agents were and only said that "At least one Border Patrol Agent was wounded by the shooter during the exchange of gunfire."