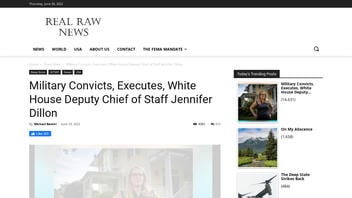 Did the U.S. military convict and execute Jennifer O'Malley Dillon, White House deputy chief of staff? No, that's not true: A Pentagon spokesperson told Lead Stories the claim is "completely false," and O'Malley Dillon was listed among reporters on Air Force One on June 30, 2022, according to the White House. The claim was published by Real Raw News, a site known for writing false claims about public figures. Real Raw News' website has a disclaimer that states, "This website contains humor, parody, and satire."
The claim appeared in an article published on June 29, 2022, titled "Military Convicts, Executes, White House Deputy Chief of Staff Jennifer Dillon" (archived here), which opened:
In the last two weeks the U.S. Navy Judge Advocate General's Corps has tried, convicted, and executed ... Deep State villains, Deputy Chief of Staff Jennifer Brigid O'Malley Dillon ...
Users on social media only saw this title, description and thumbnail:
The deputy chief of staff was on Air Force One the morning of June 30, 2022, according to a White House pool report. President Joe Biden was recently in Spain, and is returning to the United States at the time of writing. Here is a screenshot of that report: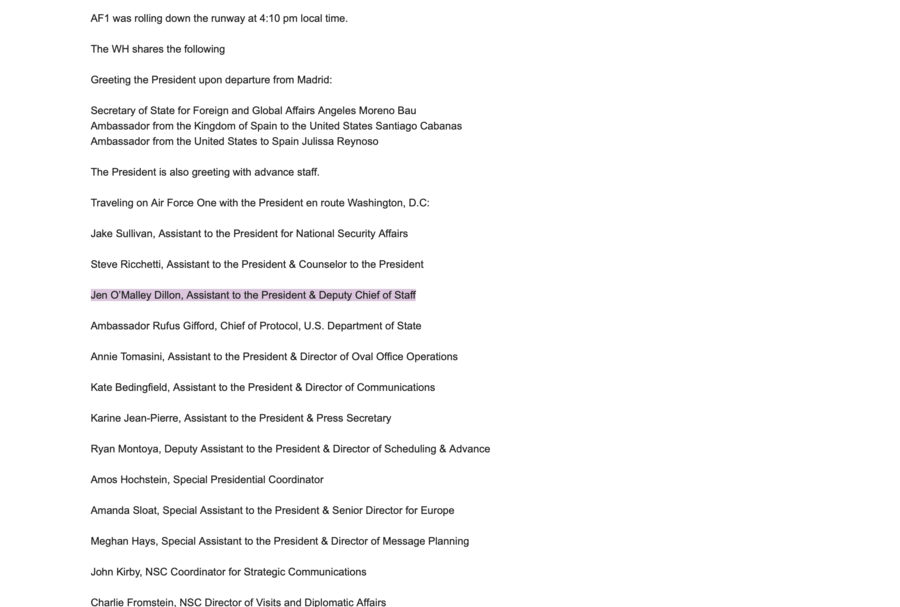 (Source: White House pool report screenshot taken on Thu Jun 30 15:09:24 2022 UTC)
A duty officer from the Pentagon responded to this claim in a June 30, 2022, email to Lead Stories:
That claim is completely false.
Lead Stories has contacted the White House. We will update this article when we receive a response.
Here is another Lead Stories debunk on a Real Raw News story claiming O'Malley Dillon was arrested by the U.S. military.
Real Raw News has a long history of publishing false claims in mock news stories, many of them about convictions and executions of various public figures at Naval Station Guantanamo Bay in Cuba. For example, the site reported former Secretary of State Hillary Clinton was hanged (she wasn't); former White House Chief of Staff John Podesta was executed (he wasn't); and that "the military" convicted former Attorney General William Barr on charges of treason (it didn't).
The website for Real Raw News includes a disclaimer that warns readers not to take its content too seriously. Specifically, it says:
Information on this website is for informational and educational and entertainment purposes. This website contains humor, parody, and satire. We have included this disclaimer for our protection, on the advice on legal counsel.

(Source: RealRawNews.com screenshot taken Tue Aug 3 16:39:48 UTC 2021)
Lead Stories has covered claims published by Real Raw News in the past. Previous Lead Stories debunks of Real Raw News items is collected here.