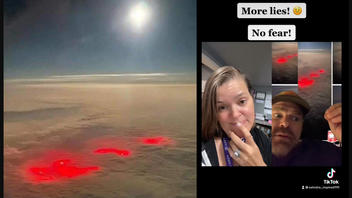 Is there still a mystery surrounding the bright red glow under the clouds seen by a pilot flying over the north Pacific Ocean? No, that's not true: Pilot Dustin Maggard spotted the red glow on July 16, 2022. Although there was initially some question about what caused the glow, experts verified that there were commercial fishing boats in the area at the time fishing for saury. The boats are equipped with lighting systems to attract the fish. Many outlets reported about Maggard's photos of the red glow and the "mystery solved" by July 27, 2022. An attempt to dismiss the verified explanation with baseless conjecture falls flat.
Maggard's photos, shot July 16, 2022, were shared on imgur.com on July 18, 2022. The photos went viral and were featured in news reports around the world. On July 29, 2022, a TikTok duet was uploaded to Facebook. It was posted with no caption by the text on the video margin, which reads:
More lies!
No fear!
This is how the video appeared at the time of writing: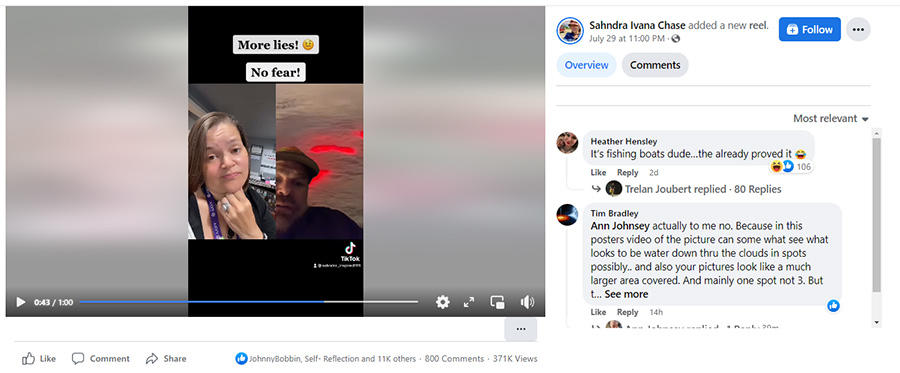 (Image source: Facebook screenshot taken on Fri Aug 05 18:33:18 2022 UTC)
This duet features the reaction of TikTok user @sahndra_inspired1111 to the video made by @implicated12.0. The original video is slightly longer than the duet posted on Facebook.
The video begins with @implicated12.0. stating that the photos of the lights out in the ocean were from July 27, which is not true. They were posted on imgur.com on July 18, 2022, with this caption:
A North Pacific Commercial Flight at 39,000 feet, latitude 50N/167E with no nearby landmass. The pilot reports that he is on that route often and has not seen such an image before
The pictures were posted on Reddit on July 22, 2022. An article published by dailymail.co.uk on July 25, 2022, was titled, "Pilot snaps cockpit picture of mysterious red glow in clouds over Atlantic Ocean that some likened to a 'watergate' portal to the Upside Down in Netflix's Stranger Things" When the Daily Mail article was published, the pilot photographer was still anonymous and the Pacific Ocean was also not yet correctly identified.
In a July 27, 2022, CNN segment on the "Mysterious red glow over the pacific," the pilot is introduced as well as (at 1:08) a weather modeling expert, Neil Jacobs, who used the date and coordinates of the sighting to research what was in that specific area of the Pacific on that night on globalfishingwatch.org -- commercial fishing vessels.
@implicated12 employs two argument tactics, the straw man and the appeal to authority. He says:
... now they're saying that there's an old style of fishing which are LED lights. I ran my own LED business from 2012 until COVID and lost my business, but I can guarantee that these are not LED lights. And let me because back what was the Chinese guy who actually invented the LED lights was right around 2010, 2011? We've had some smaller lights. But check this out. So here's another picture of him as it comes across. OK superbright. OK, no way these are pictures taken from 30,000 feet. There's no way LED lights would do that.
The straw man he introduces is that the news reports are basing the identification of these fishing boats on the oldness of this fishing method -- Lead Stories has seen no evidence that any reporting did that. He then tries to dismiss this identification because LED lights have not been used for this purpose for very long, citing himself as an authority in LED lights. The history of LED technology and the expansion of their uses into new markets is outside the scope of this fact check, but red lights were used in saury fishing before LED lights became available. A document from Japan's Ministry of Agriculture, Forestry and Fisheries mentions the efficiency of the LED technology in 2011 for saury fishing (on page 23):
... efforts have been made to catch fish more efficiently by introducing the latest fish finder (capable of guessing the fish species constituting the fish shoal) and fish pump, to increase efficiency and save power by making information on oceanic conditions visible with the use of a personal computer, and to save energy by using LED fish lamps.
The identification of the source of the red glow by experts like Jacobs was not based on the number of years that LED lights have been used in commercial fishing, it was based on the names of the registered vessels and their recorded positions in the Pacific on that date. A thorough open-source intelligence investigation by @FAKE_Investiga on Twitter published on July 19, 2022, included the North Pacific Fisheries Commission (NPFC) pages on several of the vessels identified in the globalfishingwatch.org data maps. The NPFC page on Yong Fa 5 includes a photo of the fishing vessel with the distinctive lighting system visible, but not illuminated.
Below is a photo of an unrelated fishing vessel that appears in a promotional video of an electronics company that manufactures LED lighting for saury fishing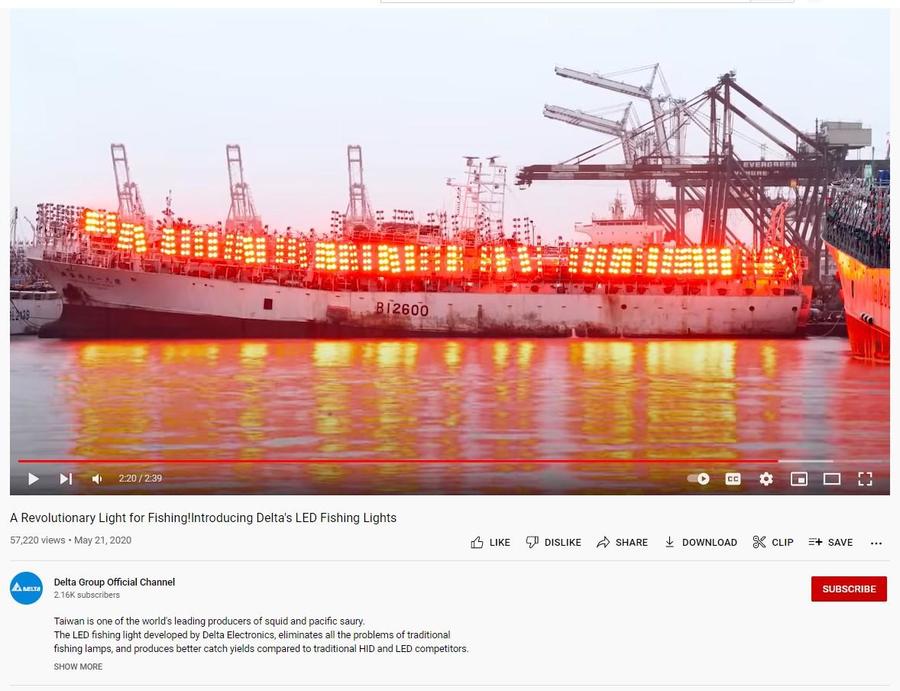 (Image source: YouTube screenshot taken on Fri Aug 05 14:20:35 2022 UTC)
@implicated12 states there is no way that LED lights would be visible from 30,000 feet, but they are visible from the International Space Station (ISS). A 2010 research paper suggested that saury fishing could be monitored with satellite images. A 2018 ISS photo shows green lights of squid fishing fleets off the coast of Bangkok, Thailand, and the video embedded below shows a collection of red saury fishing lights compiled by @Apaiss1 from ISS footage.
These red lights from boats can be seen from the @Space_Station pic.twitter.com/smZoaZW0Jz

-- Apaiss (@Apaiss1) July 19, 2022
Only a portion of the last part of the TikTok video from @implicated12 is included in the Facebook post. At this point, the video background shows a map of the Pacific Ocean with a red circle. Lead Stories was not able to identify the source of this map. @Implicated12 says:
And the US government said Interpol now has 1,000 -- No boats can be driving around it. If they're just fishing. What's the deal? Why is there a thousand miles of area where you can't drive around these red lights? Hold on. I'm not done. Then. Here's the shipping paths as of tonight as of like five minutes ago I took a picture of it and there's absolutely no boats. Usually there's some boats going to Hawaii which is right there. I believe the Cook Islands are right there where the little pink spot is. There's absolutely no boats driving around out here. And no shipping containers, nothing, which is absolutely crazy. So something's going on. And hopefully if everybody keeps digging, maybe we'll figure it out.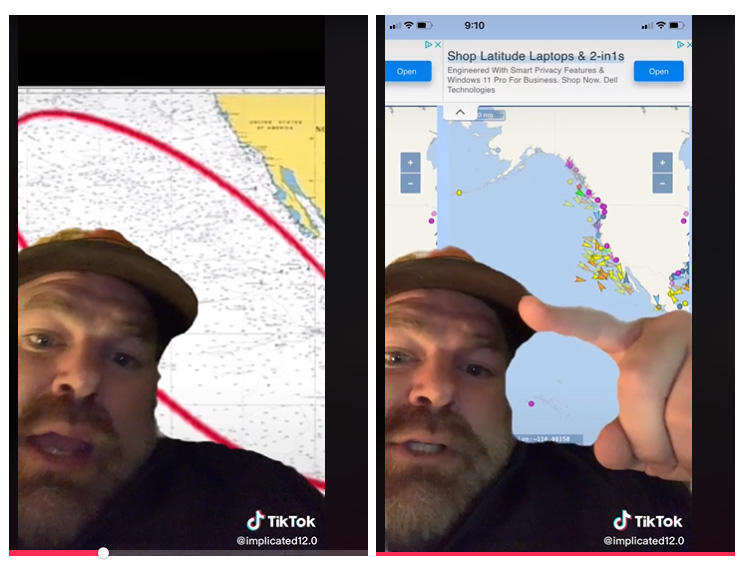 (Image source: TikTok screenshots taken on Fri Aug 05 22:35:56 2022 UTC)
@implicated12 suggests Interpol has made a 1,000-mile area around the red lights where no boats can go. There is no record of such a restriction. The red circle on the map does not even encompass the coordinates (50N/167E) where Maggard took the photos of the lights. The next map purportedly showing the shipping paths (above right) was taken from the mobile format view of marinevesseltraffic.com. Lead Stories notes that the maps are highly customizable in what they display and what can be left out.
In the composite image (below) Lead Stories compares two live maps from the website, one showing marine traffic and one for finding vessels -- this second view looks similar to the "no boats" map in the TikTok video. Marinevesseltraffic.com and other ship tracking websites show there are many ships currently in the Pacific Ocean, even in the zone circled in red.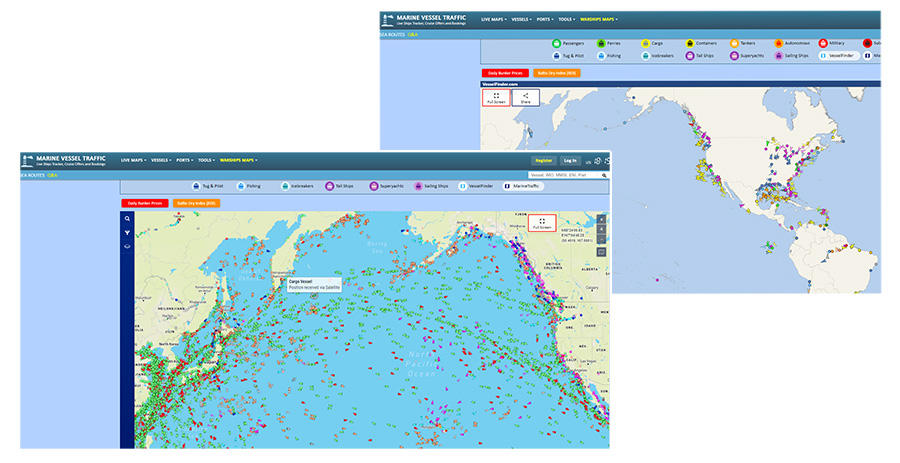 (Image source: Lead Stories composite image of marinevesseltraffic.com screenshots taken on Fri Aug 05 18:37:45 2022 UTC)