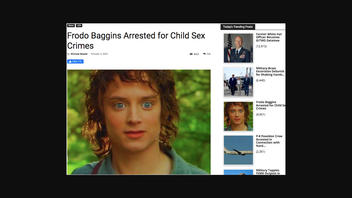 Was actor Elijah Wood, who played Frodo Baggins in "The Lord of the Rings" movies, arrested for child sex crimes? No, that's not true: Contrary to the claim that Wood was arrested by the U.S. Navy Judge Advocate General's Corps, the Posse Comitatus Act forbids the military from enforcing civilian law. The claim was posted on a satirical website that previously has made false claims about the arrests of Hollywood celebrities which Lead Stories has debunked.
The claim appeared as an article published by Real Raw News on October 5, 2022, titled "Frodo Baggins Arrested for Child Sex Crimes | Real Raw News" (archived here) which opened:
Frodo Baggins escaped the perils of Mordor, but he could not elude the all-seeing eye of the U.S. military criminal justice system.
Users on social media saw this title and thumbnail:
Frodo Baggins is the name of the character Wood played in "The Lord of the Rings" film trilogy. The article buried the details of his fake arrest in the second to last paragraph of the story:
On Monday, October 3, JAG investigators arrested Wood at a Los Angeles home he had been renting since early 2022. He reportedly told investigators he had never served in the military and didn't understand why they were levelling charges against him. When shown the arrest warrant and told he was being charged with child sex crimes, Wood said, 'I never did anything that wasn't 100% consensual.'
"It's not true. The U.S. Navy JAG Corps investigators do not exist," a Navy spokesperson told Lead Stories via telephone on October 7, 2022. The spokesperson also noted that, under the Posse Comitatus Act, the military does not enforce civilian law.
Wood has been active on his official Twitter account, @elijahwood, posting messages on October 3, 2022, the date of his alleged arrest, according to Real Raw News, and in the days since.
A Google News search using the keywords "Elijah Wood Frodo Baggins Arrested" returned only two results with the claim from Real Raw News and Bitchute, another website that publishes false claims. The absence of corroborating reports on what would be a major national story indicates the claim is baseless.
Real Raw News has a long history of publishing false claims in mock news stories, many of them about convictions and executions of various public figures at Naval Station Guantanamo Bay in Cuba. For example, the site reported former Secretary of State Hillary Clinton was hanged (she wasn't); former White House Chief of Staff John Podesta was executed (he wasn't); and that "the military" convicted former Attorney General William Barr on charges of treason (it didn't).
The website for Real Raw News includes a disclaimer that warns readers not to take its content too seriously. Specifically, it says:
Information on this website is for informational and educational and entertainment purposes. This website contains humor, parody, and satire. We have included this disclaimer for our protection, on the advice on legal counsel.

(Source: RealRawNews.com screenshot taken Tue Aug 3 16:39:48 UTC 2021)
Previous Lead Stories debunks of Real Raw News items can be found here.