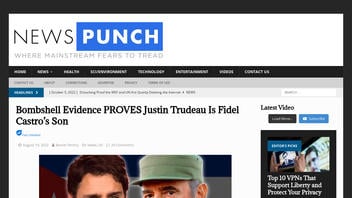 Is Canadian Prime Minister Justin Trudeau the son of the late former Cuban President Fidel Castro? No, that's not true: That's an oft-repeated conspiracy theory that is not supported by any official evidence.
A recent claim appeared in an article (archived here) published by NewsPunch on August 10, 2022, with a headline that read "Bombshell Evidence PROVES Justin Trudeau Is Fidel Castro's Son." The article opened:
Joe Rogan introduced his audience of millions this week to a conspiracy that just goes from strength to strength, with more evidence emerging every year, no matter how much the liberal elite demand we stop talking about. Is the mask-wearing, sock-loving, all-singing, all-dancing Canadian Prime Minister Justin Trudeau actually the son of Fidel Castro?
This is how the article looked at the time of writing: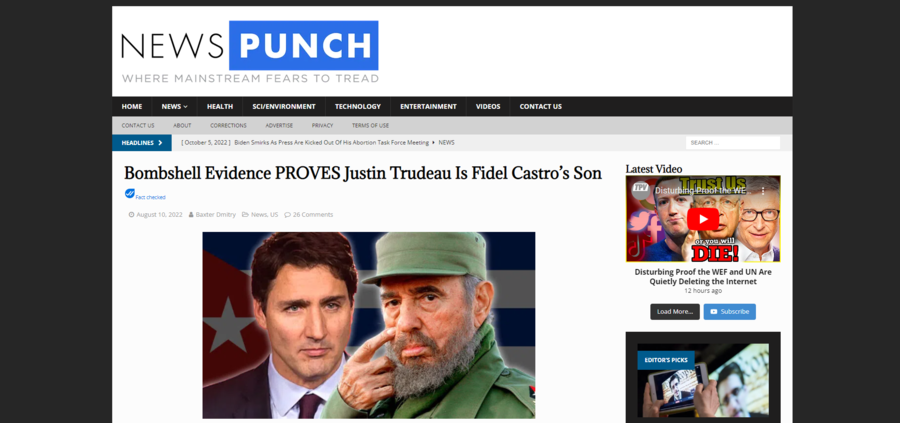 (Source: NewsPunch screenshot taken on Wed Oct 5 __ 2022 UTC)
Like other instances of this claim (examples here and here), the article cites speculative evidence to make the case that Trudeau is Castro's son. The first documented visit of the Trudeaus to Cuba was in 1976, well after their son's birth. There is no credible report of Margaret Trudeau, Justin Trudeau's mother, visited Cuba in the nine months before her son was born on December 25, 1971.
Another justification of the claim states that Fidel "Fidelito" Castro, Castro's oldest son, referred to Trudeau as his "half-brother" in a suicide note he supposedly wrote. However, neither government has validated this quote nor that there was a suicide note to begin with and this post does not show the note.
Proponents of the claim also suggest that Castro and Trudeau bear a striking resemblance to one another. Looks are subjective, and others may make the argument that Trudeau and former Canadian Prime Minister Pierre Trudeau -- who is Justin Trudeau's actual father -- resemble one another.
Other news and fact-checking outlets have debunked the claim as well: The Associated Press reported in 2018 that the Canadian government denied the rumor. More debunks of the claim can be found here and here.
Other fact checks related to Trudeau can be found here.
NewsPunch (formerly YourNewsWire) has published hoaxes and fake news articles in the past so anything they write or publish should be taken with a large grain of salt. Their Facebook page "The People's Voice" even lost its verification checkmark according to a 2018 report from Media Matters For America.
The Terms of Use of the site (archived here) also make it clear they don't really stand behind the accuracy of any of their reporting:
NEWSPUNCH, LLC AND/OR ITS SUPPLIERS MAKE NO REPRESENTATIONS ABOUT THE SUITABILITY, RELIABILITY, AVAILABILITY, TIMELINESS, AND ACCURACY OF THE INFORMATION, SOFTWARE, PRODUCTS, SERVICES AND RELATED GRAPHICS CONTAINED ON THE SITE FOR ANY PURPOSE.
RationalWiki described it as:
YourNewsWire (styled as YourNewsWire.com) is an Los Angeles-based clickbait fake news website known for disseminating conspiracy theories and misleading information, contrary to its claimed motto ('News. Truth. Unfiltered').