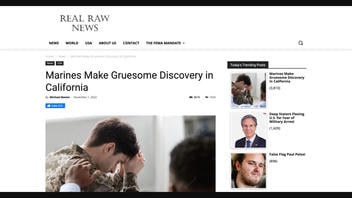 Did the U.S. Marines find a warehouse in Chatsworth, California full of human organs "excised from adolescent children"? No, that's not true: The Los Angeles County Sheriff's Department and the Los Angeles Police Department (LAPD) told Lead Stories that they are not aware of such a discovery. Real Raw News has a history of creating false claims about real people and places. A disclaimer in their About Us section says the website contains humor, parody and satire.
The claim appeared in an article published by Real Raw News on November 1, 2022, titled "Marines Make Gruesome Discovery in California" (archived here). It opens:
White Hats searching for an alleged Adrenochrome stockpile in southern California got the shock of their lives when they breached an industrial warehouse in Chatsworth, in the San Fernando Valley, only miles from some of the wealthiest zip codes in the United States.
Users on social media only saw this title, description and thumbnail:
The article added that instead of finding an adrenochrome stockpile, they found human organs from "adolescent children" in coolers housed in this warehouse. Lead Stories has previously debunked the claim that adrenochrome is harvested from children's organs.
In a November 3, 2022, phone call, Deputy Graciela Medrano from the Los Angeles County Sheriff's Department's Information Bureau told Lead Stories that the department is "not aware" of the claim about human organs found in a warehouse. Medrano added that if this were a real situation, the LAPD's Homicide Division would have notified the Information Bureau already.
There have been no other news articles about this claim either in local media or national media.
Lead Stories has contacted the Pentagon and the U.S. Marine Corps about the claim, and will update this story when we receive a relevant response.
Real Raw News has a long history of publishing false claims in mock news stories, many of them about convictions and executions of various public figures at Naval Station Guantanamo Bay in Cuba. For example, the site reported former Secretary of State Hillary Clinton was hanged (she wasn't); former White House Chief of Staff John Podesta was executed (he wasn't); and that "the military" convicted former Attorney General William Barr on charges of treason (it didn't).
The website for Real Raw News includes a disclaimer that warns readers not to take its content too seriously. Specifically, it says:
Information on this website is for informational and educational and entertainment purposes. This website contains humor, parody, and satire. We have included this disclaimer for our protection, on the advice on legal counsel.

(Source: RealRawNews.com screenshot taken Tue Aug 3 16:39:48 UTC 2021)
Previous Lead Stories fact checks of Real Raw News items can be found here.