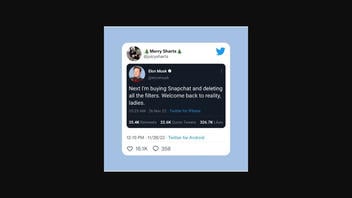 Did Twitter CEO Elon Musk announce in a tweet that he is "buying Snapchat and deleting all the filters"? No, that's not true: There is no publicly available evidence to suggest that Musk said or tweeted such a statement. The "tweet" in this post is a digitally manipulated screenshot that originated from a meme Twitter account and was reposted on Instagram as a joke.
The claim appeared in an Instagram post on November 29, 2022. It has an image of what seems to be a tweet attributed to Elon Musk. The poster's accompanying comment read:
🚨The fact checkers need you to know this is a joke

Timely since I did an unfiltered live on Rocky's page today 💅🏼

#freedomofspeech #elonmusk #truebeauty #conspiracytheory #libertarianmemes #conservativememes #liberal #1stamendment #1a
The meme read:
Next I'm buying Snapchat and deleting all the filters. Welcome back to reality, ladies.
This is what the post looked like on Instagram at the time of the writing of this fact check: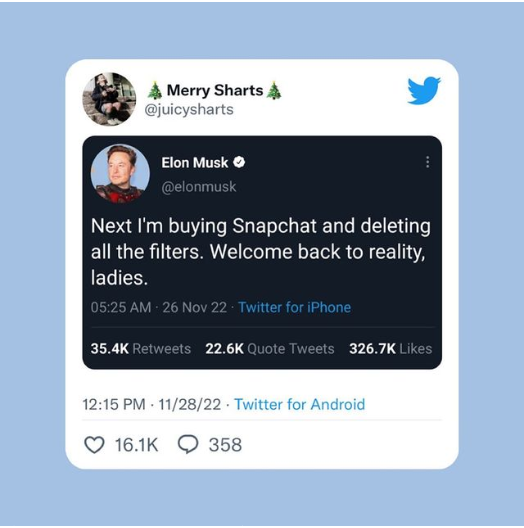 (Source: Instagram screenshot taken on Wed Nov 30 17:12:04 2022 UTC)
Not only did the Instagram user mention in the caption that this was posted as a joke, but the "tweet" was most likely created via an application like Photoshop, as it does not reflect an accurate timestamp as all official tweets do. The image originated from this tweet, where the "@juicysharts" account implies in its bio that it exclusively shares memes.
A Twitter search of Musk's verified Twitter account, using the parameters "from:@elonmusk since:2022-11-26 until:2022-11-27src=typed_queryf=top", produced his actual Twitter posts from November 26, 2022. The tweets touched on topics such as the FIFA World Cup, "Simpsons" episodes predicting he would buy Twitter, replies to novelist Stephen King and a post pondering human extinction. None of these tweets were about a purchase of Snapchat.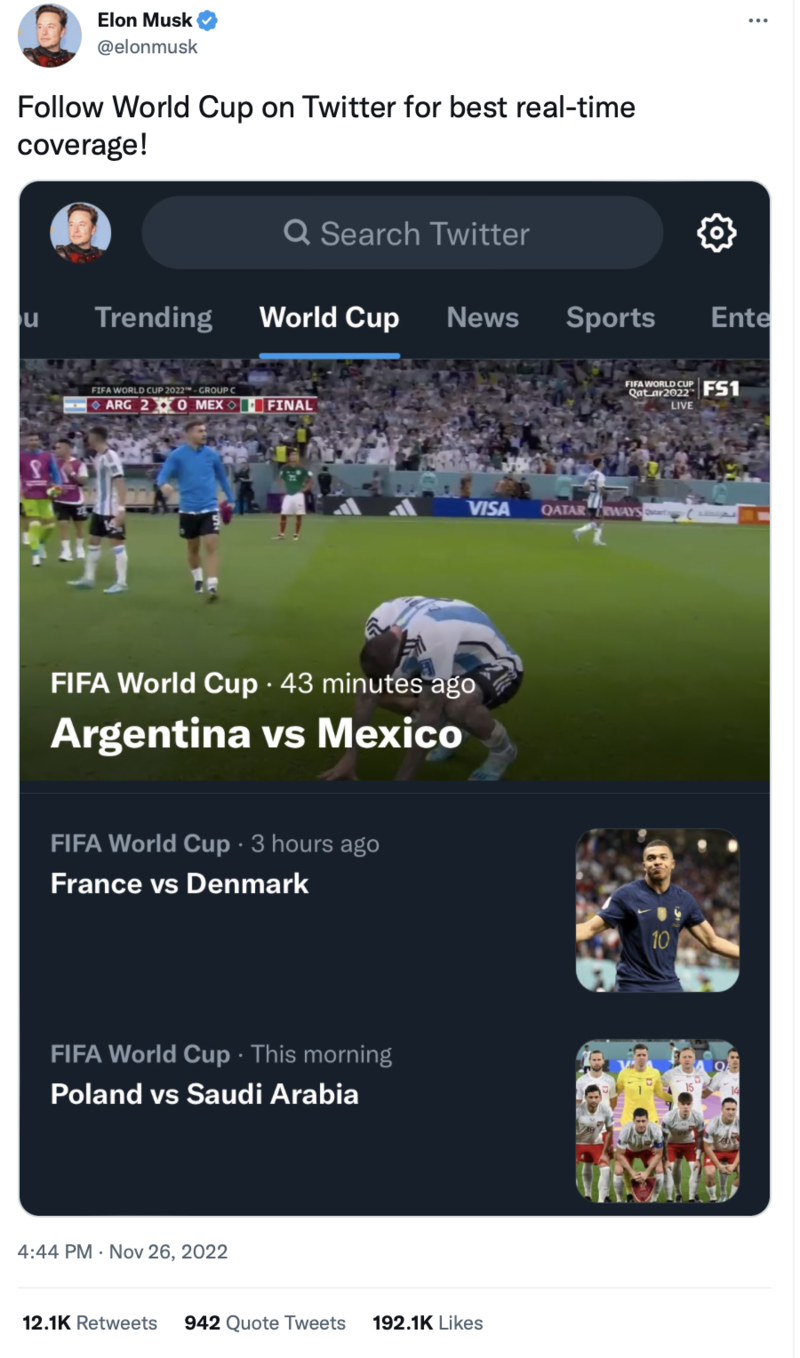 (Source: Twitter screenshot taken Wed Nov 30 at 18:21:03 2022 UTC)
An archive search, using the parameters "Elon musk," "Tweet," "Twitter," "26 Nov 2022," "Snapchat," "05:25 AM") AND date:2022-11-26," produced no results to substantiate this claim.

If the claim were true, it would be a significant news event. But a Google News search, using the keywords "Elon Musk Tweeted He Is Buying Snapchat," also led to no results.
Previously, Lead Stories debunked the claim that "Elon Musk tweeted he would buy the Bidens, but the Chinese wouldn't sell them." That fact check can be read here.
Other Lead Stories fact checks of claims that mention Twitter and Elon Musk can be found here.