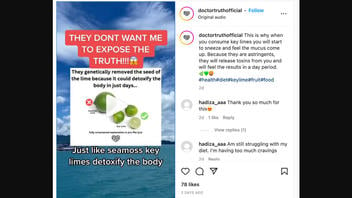 Are seedless limes a product of bioengineering that involves technology to alter plants' DNA? No, that's not true: Seedlessness occurs in nature, and farmers may use traditional breeding techniques to maintain this quality. That does not turn seedless limes into bioengineered food, also commonly known as GMOs (genetically modified organisms).
The claim appeared in a post on Instagram on November 1, 2022. Superimposed text on the image reads:
THEY DON'T WANT ME TO EXPOSE THE TRUTH!!!

They genetically removed the seed of the lime...

Here is what the post looked like at the time of this fact check's writing: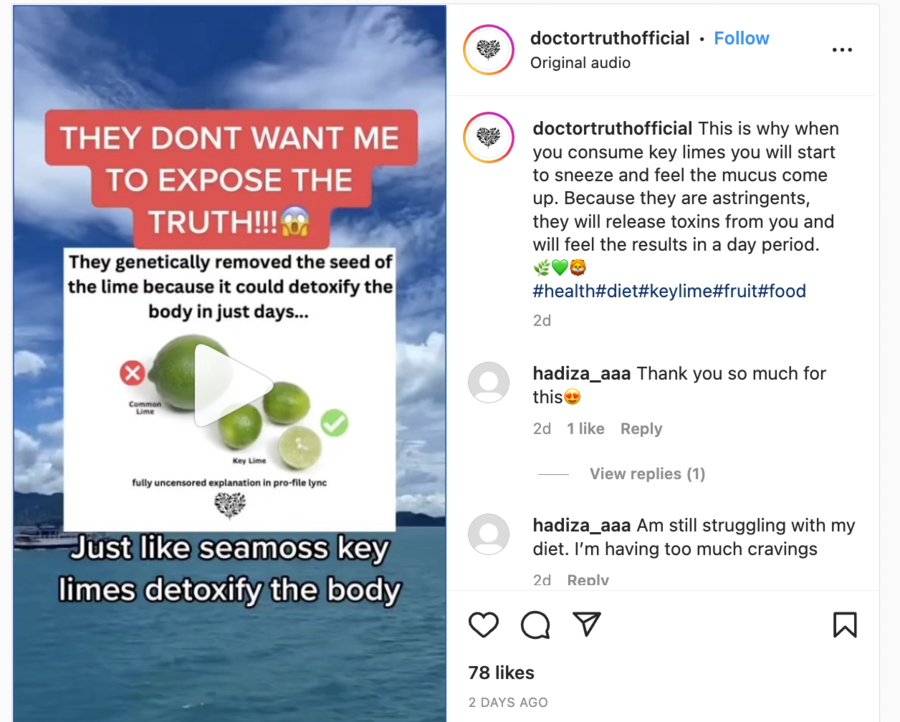 (Source: Instagram screenshot taken on Thu Nov 3 15:41:46 2022 UTC)
According to the Food and Drug Administration (FDA), a GMO is "a plant, animal, or microorganism that has had its genetic material (DNA) changed using technology." The agency also describes such products as "bioengineered foods." However, limes are currently not included in the FDA list of such crops.
Seedlessness is a naturally occurring phenomenon, says a Michigan State University article:
No current seedless plants are genetically modified organisms (GMOs).
Scientific American magazine explains:
The most frequent reasons for lack of seed development are pollination failure, or nonfunctional eggs or sperm. In many plants, self-incompatibility genes limit successful fertilization to cross-pollination between genetically different male and female parents. ... Another frequent reason for lack of successful fertilization is chromosomal imbalance. For example, the common banana is triploid. In other words, it has three sets of chromosomes. Instead of having one set of chromosomes from each parent, it has two sets from one parent and one set from the other parent.
The latter appears to be the case for Tahiti or Persian limes, which, unlike smaller varieties, tend not to have seeds, The Los Angeles Times writes:
Unlike most kinds of citrus, which have two sets of chromosomes, large-fruited limes have three, and this genetic peculiarity causes them to be sterile and therefore seedless.
It is not scientifically impossible, however, that at some point nature may produce a large lime with seeds. Thus, to preserve the quality of seedlessness, farmers use cuttings or grafting to ensure the propagation of trees that produce seedless fruits. Neither of the two techniques qualifies as bioengineering.