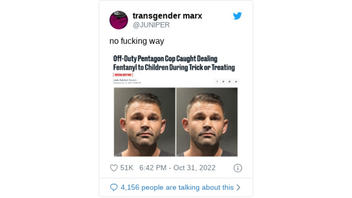 Was an off-duty Pentagon police officer caught dealing fentanyl to children during trick-or-treating? No, that's not true: Officer Eric Welch was arrested, but the arrest was on charges related to cocaine, not fentanyl, and the arrest took place three days prior to Halloween, according to the Arlington County, Virginia, police department. A headline claiming the arrest involved fentanyl and children is fake.
The claim appeared in a screenshot (archived here) of a purported headline published on Twitter on October 31, 2022. The fake headline read:
Off-Duty Pentagon Cop Caught Dealing Fentanyl to Children During Trick or Treating
This is what the post looked like on Twitter at the time of writing:
(Source: Twitter screenshot taken on Wed November 2 16:15:42 2022 UTC)
Lead Stories contacted the Arlington County Police Department about the Twitter post. Public Information Officer Ashley Savage responded by email on November 2, 2022, saying: "That information is not correct. Mr. Welch has been in police custody since his arrest on 10/28 and his charges are not related to fentanyl."
The fake headline in the Twitter post appears on the story of Welch's arrest as published in the Daily Beast on October 31, 2022.
The authentic headline said:
Off-Duty Pentagon Cop Caught Dealing Cocaine, Police Say
An image of the Daily Beast story with the authentic headline is below: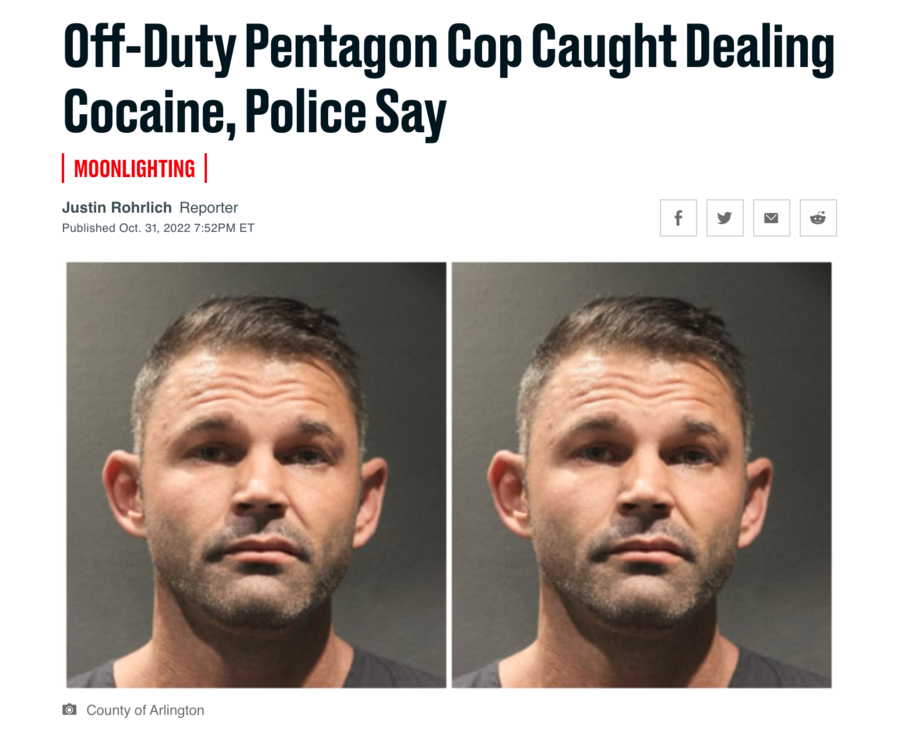 (Source: Daily Beast screenshot taken on Wed November 2 at 10:58:35 2022 UTC)
The Arlington County Police Department arrested and charged the off-duty Pentagon Force Protection Agency police officer with possession with intent to distribute a controlled substance and possession with intent to distribute a controlled substance while armed.
Contrary to the fake headline's claim that fentanyl was being sold to trick-or-treating children, the arrest came three days before Halloween, and a press release from the Arlington County police department made no mention of fentanyl or drug sales to children.
The press release from October 31, 2022, said:
Organized Crime Section detectives initiated a narcotics investigation after receiving information regarding a suspect possibly distributing cocaine in Arlington County ... He was taken into custody on the afternoon of October 28 in the 1300 block of S. Scott Street after detectives observed him purchase narcotics for distribution.
Fentanyl, first developed as a painkiller for cancer patients, is a synthetic opioid that is 50 to 100 times stronger than morphine. In recent years, it has started to make its way into other illegal drugs such as heroin, which has led to an increase in overdose deaths in the U.S.