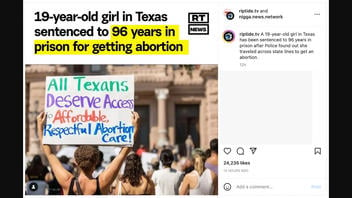 Was a 19-year-old girl in Texas sentenced to "96 years in prison" after traveling across state lines to gain access to an abortion procedure? No, that's not true: The social media account that shared this post is a satirical one. Furthermore, Texas law enforcement officials did not publicly announce such an arrest and conviction, and no reputable media outlet covered such events.
The claim originated in a post on Instagram on February 23, 2023, that claimed "19-year-old girl in Texas sentenced to 96 years in prison for getting abortion." Text with the post read:

A 19-year-old girl in Texas has been sentenced to 96 years in prison after Police found out she traveled across state lines to get an abortion.
This is how the post appeared at the time of the publication of this fact check: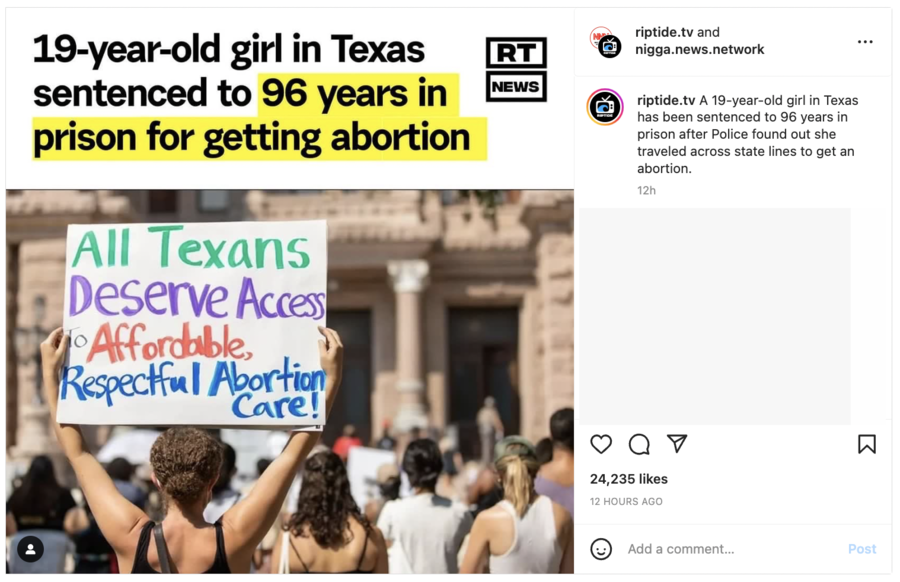 (Source: Instagram screenshot taken Fri Feb 24 09:05:10 UTC 2023)
The account that shared the above post, @riptide.tv,, is satirical. Its bio includes the disclaimer:
Realist looking fake news source on IG. 👨‍💻

Share our posts to trick your friends 🤝
On riptide.tv Instagram Stories was a reshare of the above post with a caption that read,"Errybody getting tricked 💀":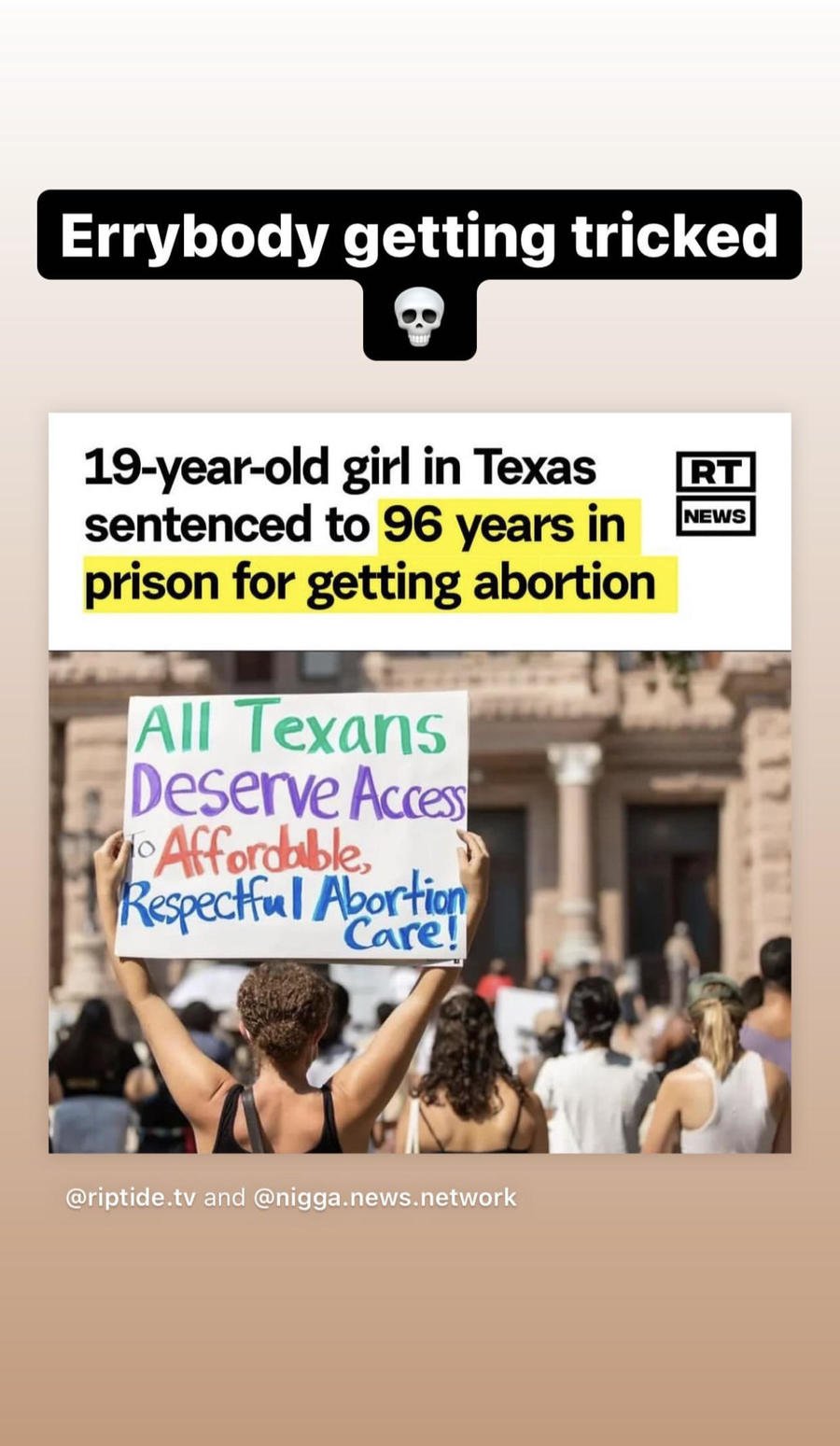 (Source: Instagram Stories screenshot taken Fri Feb 24 14:50:00 UTC 2023)
At the time of writing, over 214,000 Instagram users followed @riptide.tv, a new account that included just three posts made on February 23, 2023. Besides the abortion post, the other two posts shared similarly polarizing content, including "Tech companies may look to rename the 'Power' button because it closely resembles name of Kanye West song" and "They/Them users to be charged $16 instead of $8 for Twitter verification."
In an email to Lead Stories received on February 24, 2023, Robert Hurst, communications officer for the Texas Department of Criminal Justice, confirmed that he was not aware of the events described in the Instagram post.
"Texas law contains several criminal penalties related to providing abortions," notes the Texas State Law Library. However, a "patient who obtains an abortion is rarely at risk of criminal penalties under Texas's statutes. More often, the criminal penalties apply to the person performing the abortion."
The nonprofit project Abortion Finder writes that abortion currently is "completely banned" in Texas unless a person qualifies for an exception. It is legal for an individual to leave Texas to receive an abortion out of state.
Lastly, no reputable media outlet reported that a 19-year-old girl had been sentenced to 96 years in prison nor had law enforcement officials announced that such criminal charges had been pressed.
Lead Stories has a long track record of addressing claims about abortion: We previously debunked a claim that New Zealand allows abortions "on demand for any reason up to birth;" confirmed that a GOP Texas lawmaker did not introduce a bill to allow the death penalty for women who have abortions; and demonstrated that rape was not a factor in the 1973 Roe v. Wade Supreme Court decision on abortion rights.