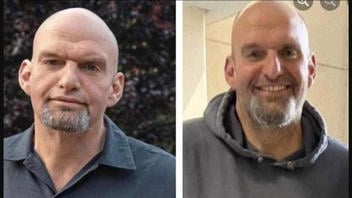 Do recently released photos show some inexplicable changes to John Fetterman's appearance -- evidence that a clone has been substituted for the real senator from Pennsylvania? No, that's not true: Fetterman has been out of the public eye in recent weeks since he checked himself into Walter Reed National Military Medical Center for treatment of depression on February 15, 2023. There have been some recent photos from the medical center, showing Fetterman working and visiting with family, but the photo circulating of the purported body double is not a recent photo -- it dates back to May 22, 2022, when Fetterman left the Penn Medicine Lancaster General Hospital after suffering a stroke on May 13, 2022, while campaigning for senate.
Rumors that a clone had been substituted for Fetterman have been circulating on social media. One example was posted on March 24, 2023. The tweet published by "Catturd ™" (archived here) featured two photos and was captioned:
It's a miracle ... In only 3 weeks, John Fetterman got a total head replacement. Man, he has some good doctors.
This is what the post looked like on Twitter at the time of writing: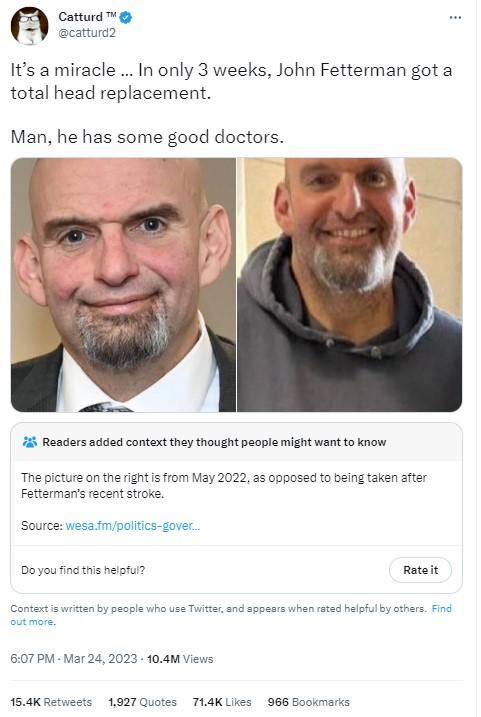 (Source: Twitter screenshot taken on Mon Mar 27 19:08:06 2023 UTC)
The photo with Fetterman in a suit, on the left in the tweet pictured above, is a cropped portion of a photo posted on the senator's verified twitter account (below) on February 7, 2023. Fetterman is pictured standing next to his guest, Dennis Horton, in the original photo taken before the president's State of the Union address.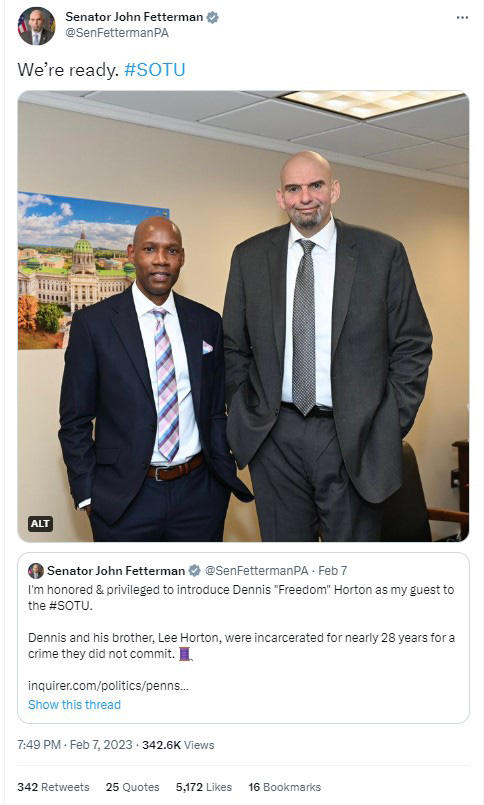 (Image source: Twitter screenshot taken on Mon Mar 27 20:28:06 2023 UTC)
This image was not the only picture used to represent the "real" John Fetterman in conspiracy tweets. In some instances Fetterman's official government Senate portrait was used, and others used a cropped portion of a photo of Fetterman, who was then the lieutenant governor of Pennsylvania, in a black casual shirt, posing with his wife, Gisele Barreto Fetterman. This photo appeared in the Philadelphia Inquirer (archived here) on June 7, 2019.
The conspiracy that a six-foot-nine-inch-tall senator could be swapped out for a stand-in is implausible enough, but the image of the "fake Fetterman" is not even a recent photo. It did not just surface during this recent hospitalization -- this picture provided by the Fetterman campaign, was published during Fetterman's campaign for Senate on the website of the WESA, Pittsburgh's NPR News Station in a May 22, 2022, article titled, "John Fetterman leaves Lancaster hospital for Braddock to recover from stroke."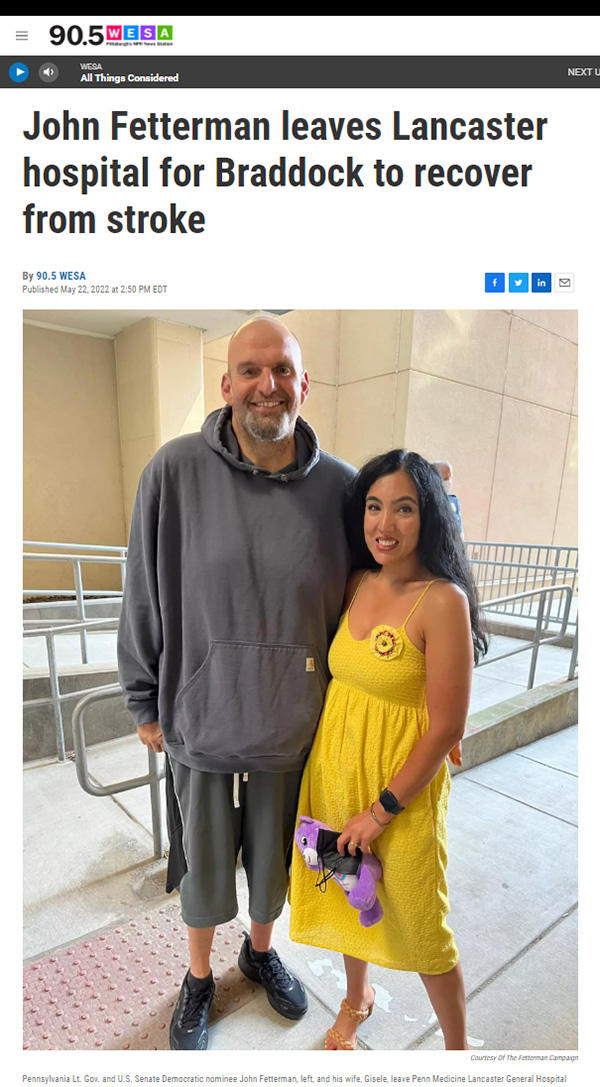 Comparing these photos there are some apparent differences in Fetterman's appearance, including the width of his face, the shape of his skull and how much his ears protrude. These differences are in the photos but are not a mystery, nor are they proof of a body double -- they can be explained by varying focal lengths of the lenses of the respective cameras. There are technical articles and videos online showing portrait photography tips on what lenses to use, and how that lens choice can change the appearance of the subject and the background.
The metadata regarding the focal length of the Fetterman images is not available but smaller focal lengths make faces look long and thin, makes noses more prominent and frequently the subject's ears are not seen at all, or appear very close to the head. As the focal length steps back, the subject's face appears wider and more natural and more of their ears show. In the photo above it is clear that the focal length is rather short because the camera angle is looking down at the tops of Fetterman's feet.
The three images below are from an illustration at DIYPhotography and were part of a GIF that illustrates how focal length affects the face of a person in photographs.

(Image source: Screenshot from diyphotography.net taken on Mon Mar 27 21:58:00 2023 UTC)