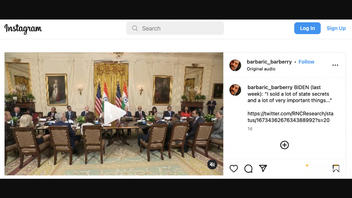 Did President Joe Biden confess in public that he "sold a lot of state secrets and a lot of very important things"? No, that's not true: He was kidding members of the White House press corps, and he said that in his own words, as confirmed by the White House transcript of the speech.
The claim appeared in a post on Instagram on June 27, 2023. The caption said:
BIDEN (last week): "I sold a lot of state secrets and a lot of very important things..."

https://twitter.com/RNCResearch/status/1673436267634388992?s=20
Here is how it appeared on Instagram as of this writing: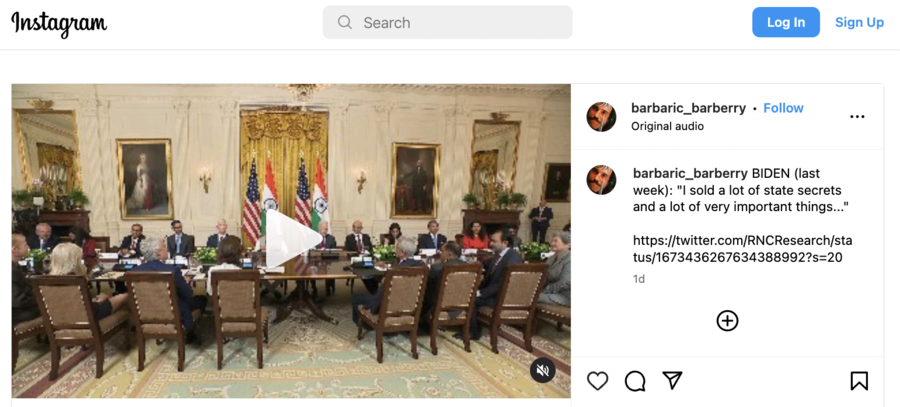 (Source: Instagram screenshot taken on Wed Jun 28 17:42:48 2023 UTC)
The post contained a link to a tweet (archived here) that shared the same claim.
In the attached video, Biden is seen saying the words attributed to him. However, his remark was taken out of context.
The recording showed Biden speaking at a meeting with technology companies, accompanied by Narendra Modi, the prime minister of India. It took place at the White House on June 23, 2023.
The official transcript provides important pieces of context: It was a joke likely aimed at reporters as they entered the room, and Biden indicated that he was not serious: Switching to the topic of the meeting, he suggested putting "all kidding aside."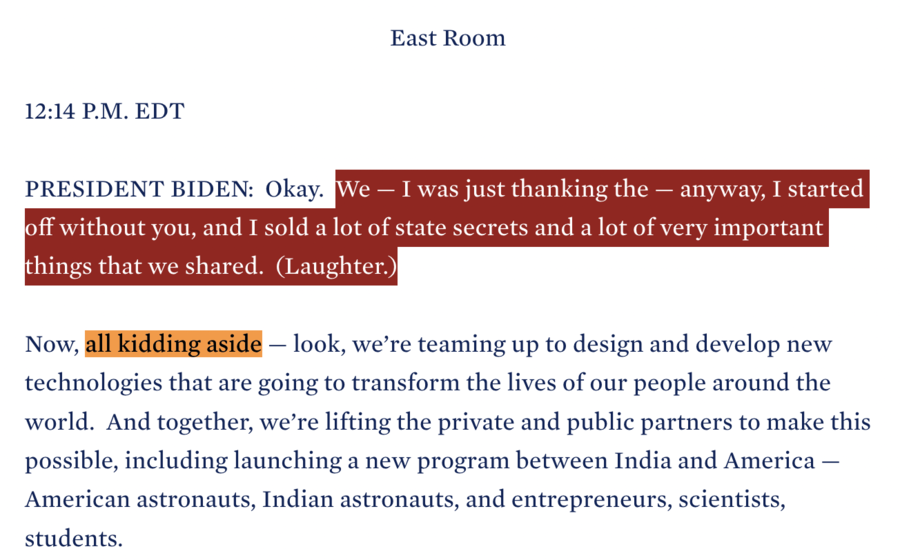 (Source: White House screenshot taken on Wed 28 17:30:40 2023 UTC)
According to the Associated Press reporter who was present at the event, the joke was made as the members of the press started to enter the room when Biden and the Indian prime minister were already seated.
A longer video of the same meeting captured this moment, too.
The short clip distorting the intended meaning of the president's words was shared on social media by several politicians, including Rep. Marjorie Taylor Greene and former Arizona Republican gubernatorial candidate Kari Lake, who suggested that the recording showed that "Joe Biden admitted to actual treason."
It is not the first instance when a public figure's joke was taken out of context. In 2020, for example, Lead Stories wrote that Donald Trump said "I'll have to leave the country" -- while discussing a scenario in which he loses re-election. He was joking, and it was self-evident from the context captured on the video, even though then-President Trump did not additionally spell out that he was kidding.