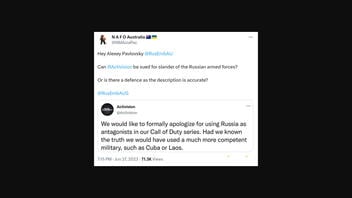 Did "Call of Duty" game maker Activision post a tweet mocking the Russian military, apologizing to gamers for using Russia as an antagonist and saying it should have built games around a more competent army, such as that of Cuba or Laos? No, that's not true: There is no evidence that Activision ever posted such a tweet.
The claim appeared in a tweet (archived here) published on June 27, 2023. The tweet's text, which mentioned the official Twitter accounts of the Russian Embassy of Australia, Activision and the parody account RusEmbAUS 🐦 🇺🇦 , read:
Hey Alexey Pavlovsky
@RusEmbAU

Can
@Activision
be sued for slander of the Russian armed forces?

Or is there a defence as the description is accurate?

@RusEmbAUS
The screenshot included in the tweet was attributed to Activision's official Twitter account. It showed an alleged tweet from the video game company that read "We would like to formally apologize for using Russia as antagonists in our Call of Duty series. Had we known the truth we would have used a much more competent military, such as Cuba or Laos."
This is what the tweet looked like on Twitter at the time of writing: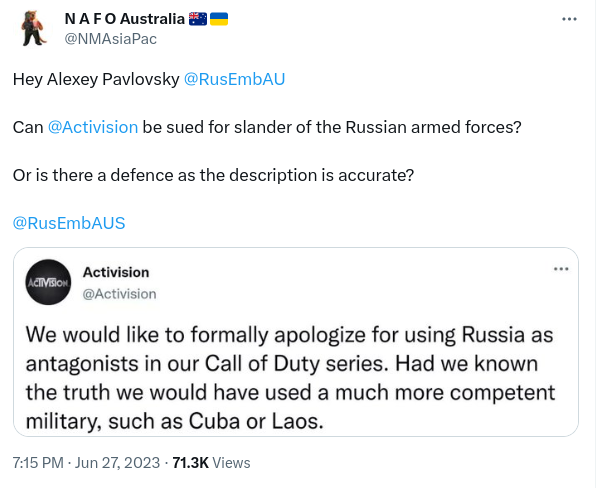 (Source: Twitter screenshot taken on Wed Jun 28 14:03:40 2023 UTC)
Not an Activision tweet
Activision Blizzard is a holding company consisting of video game companies Activision Publishing, Blizzard Entertainment and King Digital Entertainment. The video game companies publish popular video game series such as Call of Duty and Tony Hawk's (Activision), Warcraft and Diablo (Blizzard) and Candy Crush Saga and Farm Heroes Saga (King). Lead Stories previously debunked a claim that stills from a Call of Duty video game were authentic images of Kabul, Afghanistan, after the Taliban took control of the city in 2021.
Lead Stories reached out to Activision Blizzard for comment on the supposed Activision tweet but the company declined to comment on the record.
Lead Stories searched for the word "Russia" in Activision's tweets using Twitter's search feature. The search did not generate any results. We also used Google search to look for content posted on Twitter using the words in the supposed Activision tweet. None of the search results proved that Activision actually tweeted about Russia and Call of Duty.
NAFO Asia Pacific Regiment
The fake Activision tweet has been posted elsewhere on Twitter and on websites. In this case, however, the Twitter account that posted the claim is "N A F O Australia 🇦🇺🇺🇦" (@NMAsiaPac), which states in its Twitter bio that it is a member of the "NAFO Asia Pacific Regiment." Lead Stories searched for more information about the "regiment" and found the group's website. Its homepage leads with "Want to help Ukraine online? Join NAFO! The Asia Pacific Regiment of the NAFO (North Atlantic Fella Organization) invites you to join our ranks!" A section further down on the page ("Who are we?") explains the purpose of the group, which includes "trolling of Russian officials and official Russian organizations."
Other Twitter users questioned whether the so-called Activision tweet is legitimate. @NMAsiaPac answered with some ambiguity. Those exchanges (here and here) are screenshotted below: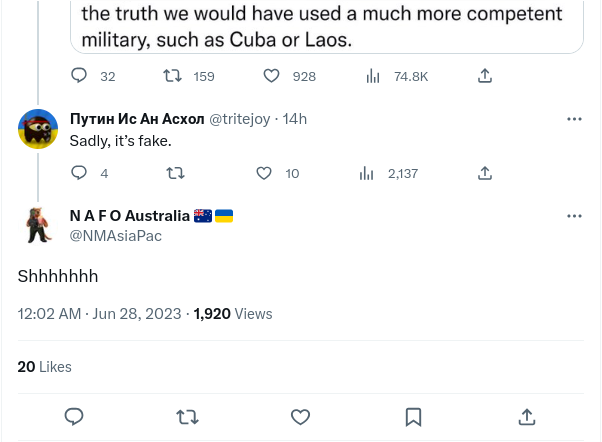 (Source: Twitter screenshot taken on Wed Jun 28 16:15:24 2023 UTC)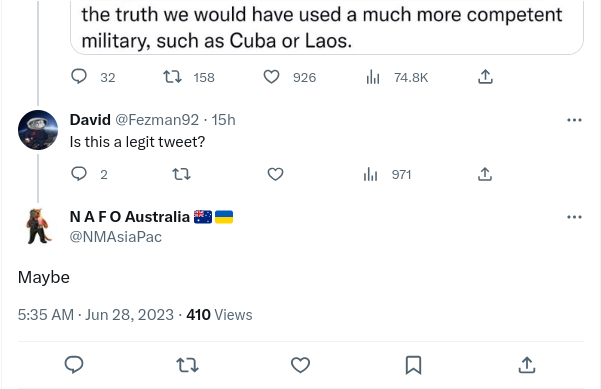 (Source: Twitter screenshot taken on Wed Jun 28 16:16:53 2023 UTC)