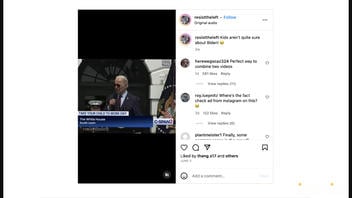 Did a child yell, "Shut the fuck up!" while President Joe Biden was speaking at an event? No, that's not true: The shouting child's voice was edited into this footage of Biden speaking at a Take Your Child To Work Day event at the White House on April 27, 2023. The original C-SPAN footage of the event does not have that audio, which comes from an unrelated 2019 YouTube video of a child in a classroom.
The claim appeared on Instagram on June 3, 2023, with the caption:
Kids aren't quite sure about Biden! 😂
Here is what the Instagram post looked like at the time of writing: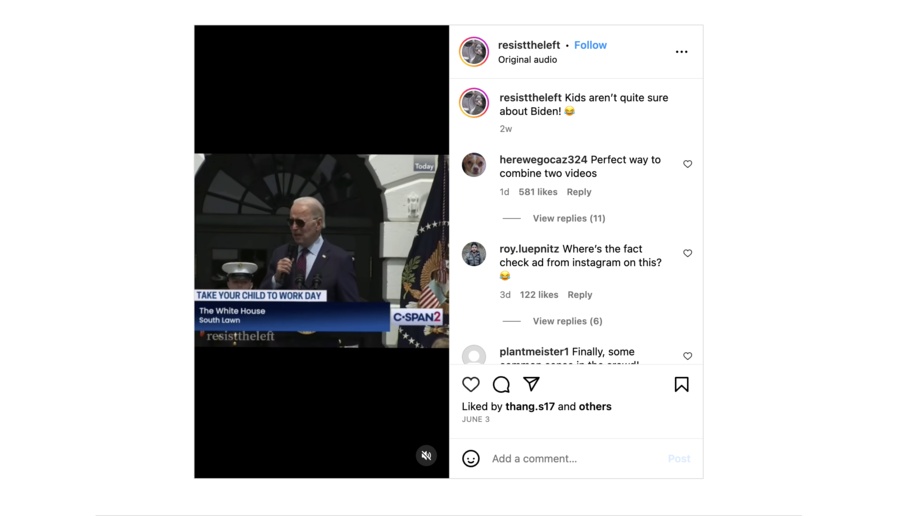 (Source: Instagram screenshot taken on Tue Jun 20 14:46:11 2023 UTC)
The audio, with Biden speaking, opens: "I want to thank you all, all you kids for bringing your parents to work."
In the audio on the Instagram post, an unknown childish voice shouts, "Shut the fuck up!" and unseen adults quickly reprimand the child for the outburst. The camera stays on Biden the whole time while this purportedly happens, and there is no visible reaction from Biden.
The actual event can be seen on C-SPAN. Biden was hosting a Take Your Child To Work Day event at the White House on April 27, 2023. He spoke for about 25 minutes to children, their parents and journalists. The moment seen in the Instagram post starts at 1:05 in the C-SPAN broadcast.
(Source: C-SPAN video taken on Tue Jun 20 15:28:29 2023 UTC)
There are no children yelling or profanity heard in the C-SPAN video.
The audio was taken from a YouTube video that was uploaded in 2019. In it, a young child in a classroom tells an instructor to "shut the fuck up." That video is here.
More Lead Stories fact checks on Biden are here.