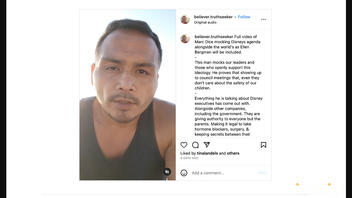 Does this video prove The Walt Disney Company plans to open "Disney-themed pediatric transgender clinics"? No, that's not true: There is no evidence that Disney has announced such a plan. The man who makes the claim admitted to posing as a Disney executive under the guise of "satire" in his YouTube video's description. There is nothing aside from that satirical video to substantiate the claim.
The claim appeared on Instagram (archived here) where it was published on July 11, 2023. It opened with an unidentified man saying:
The link to the full Alan Bergman video will be provided. This is so sick and demonic on every level ...
Here is what the Instagram post looked like at the time of writing: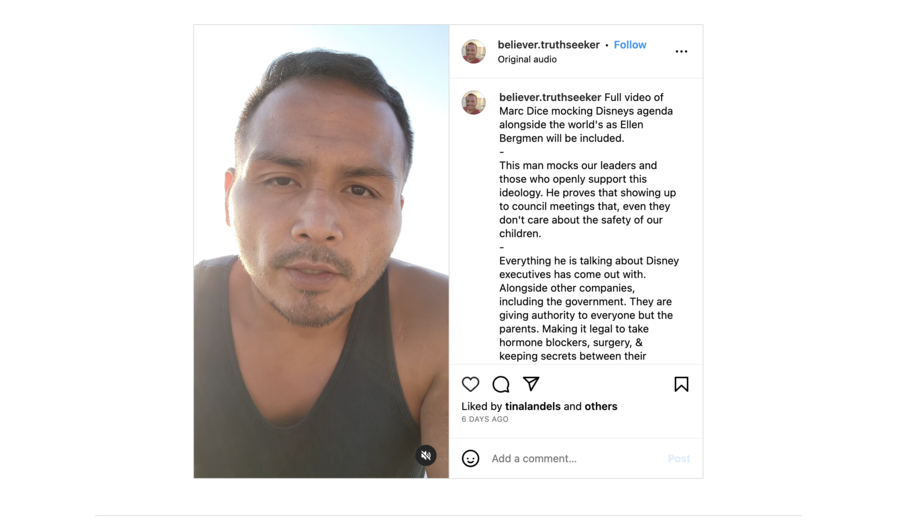 (Source: Instagram screenshot taken on Mon Jul 17 15:04:28 2023 UTC)
The narrator plays a video that shows a man announcing opening "pediatric transgender clinics." The man opens his announcement with the claim that Disney has been "covertly ... inserting queerness" into their movies and TV shows. This coupled with Disney's "perfect DEI score" (DEI stands for diversity, equity and inclusion) has led them to open "Disney-themed pediatric transgender clinics," the man says.
The video within the Instagram video shows that man speaking in front of what appears to be some governmental body. The speaker, location and audience are not identified in the Instagram audio, but the narrator and the caption on the post imply that the man speaking is Alan Bergman, co-chairman of The Walt Disney Company.
That is not Alan Bergman speaking.
The beginning of the caption on the video reads, "Full video of Marc Dice mocking Disneys agenda alongside the world's as Ellen Bergman will be included." Ellen Bergman is most likely referring to Alan Bergman. There is no listing for a Disney executive named Ellen Bergman.
"Marc Dice" is possibly an incorrect spelling of the name of conservative YouTuber Mark Dice. On June 28, 2023, Dice uploaded a video on his channel of him posing as Alan Bergman at what appears to be a city council meeting in California. The description under the video reads:
At a California city council meeting posing as Disney executive Alan Bergman, YouTuber Mark Dice gives a satirical speech about what the company is planning next. While it's "just" satire, is it really that far from the actual truth?
The same video from Dice's channel is featured in this Instagram post.
Google News does not show any credible media reports of Disney announcing a pediatric transgender clinic. There are also no reports of the real Alan Bergman speaking at a city council meeting recently.
We have contacted The Walt Disney Company and will update this article once a relevant response is received.
Other Lead Stories articles on The Walt Disney company are here, here and here.