STORY UPDATED: check for updates below.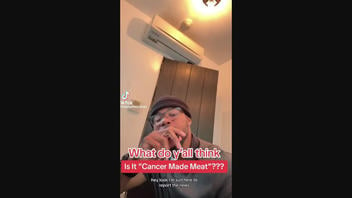 Is lab-grown meat cultivated using cancerous or pre-cancerous animal cells? No, that's not true: Cell-cultured meat is cultivated using animal cells that have been modified to replicate indefinitely. Cell-cultured or lab-grown meat is regulated in the U.S. under the same stipulations as conventionally grown and slaughtered meat, poultry, and seafood. Furthermore, regulatory agencies do not allow for cancerous animal meat -- whether cultivated in a lab or conventionally slaughtered -- to enter the U.S. food chain. In June 2023, the U.S. Food and Drug Administration (FDA) and the U.S. Department of Agriculture Food and Safety Inspection Service (USDA-FSIS) deemed meat produced by cultivated poultry cells as safe to eat. An FDA spokesperson told Lead Stories that "the claim that cancer or pre-cancerous cells are used in the process of cell-cultivated food is false."
The claim originated in a 1:52-minute video posted on TikTok on June 25, 2023, (archived here), with a text overlay that read, "What do y'all think Is It "Cancer Made Meat"??" A caption that accompanied the video read:
Replying to @Ressiecup921 #greenscreen #greenscreenvideo @KENNY THE TRAINER #manmademeat #fakemeat #whatdoyouthink #foodietiktok
Below is how the post appeared on TikTok at the time of this publication: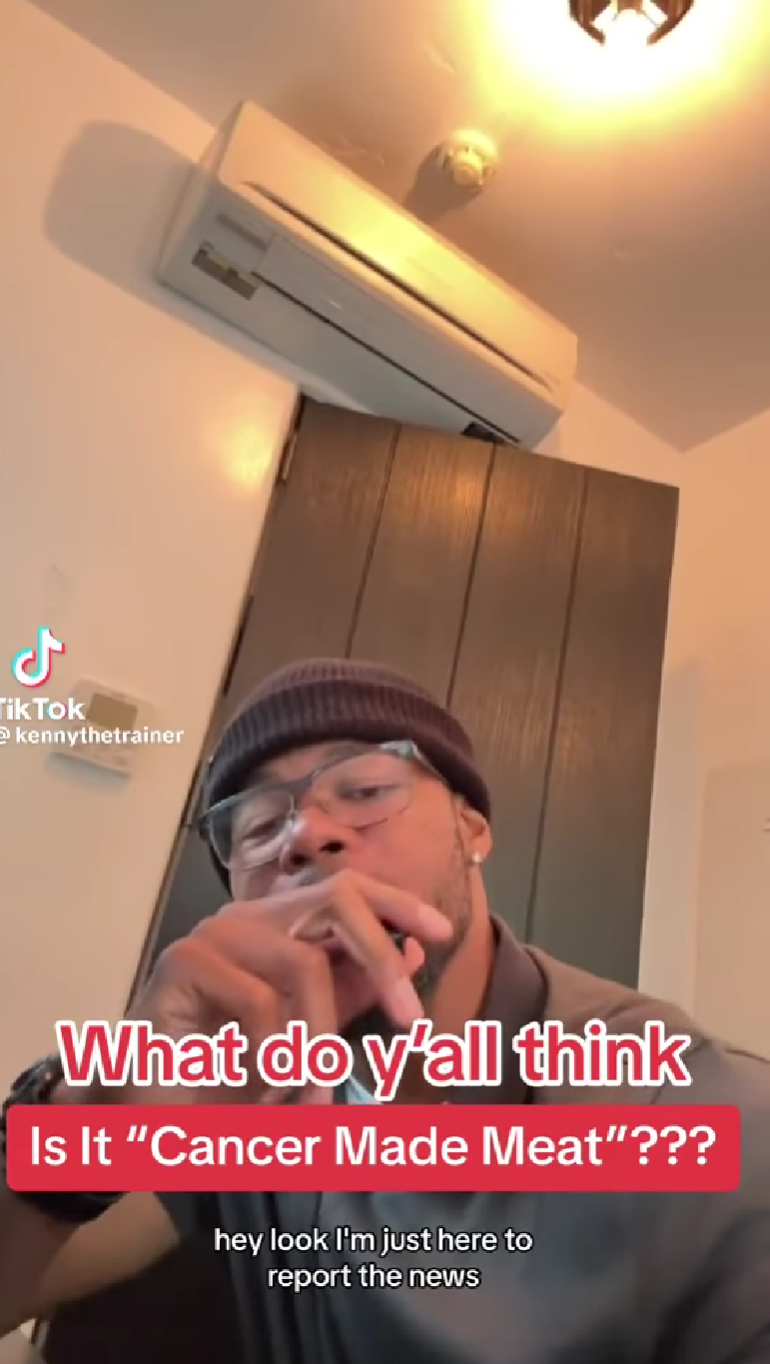 (Source: TikTok Screenshot taken Tues June 28 20:32:00 UTC 2023)
The logic presented in the video falsely suggests that because lab-grown meat uses fast-multiplying cells -- and cancer cells multiply quickly -- that lab-grown meat must be produced from cancer cells.
"The claim that cancer or pre-cancerous cells are used in the process of cell-cultivated food is false. The cells used in cell culture technology are selected for enhanced proliferative capacity in a bioreactor, and are not derived from or selected for the ability to form tumors in animals or humans," an FDA spokesperson told Lead Stories in an email received July 5, 2023.
Cell-cultured or lab-grown meat is produced with immortal animal cells that have been modified to repeatedly replicate. Furthermore, animal meat containing cancerous cells is not allowed to enter the U.S. food chain and lab-grown meat is "subject to the same statutory requirements, [and] regulations" as conventionally grown meat derived from slaughter.
The video shared to TikTok included authentic clips from a reel published to Instagram by The Associated Press on June 24, 2023, that described the process of lab-grown meat as cells that:
...come from a biopsy of a living animal, a fertilized egg, or a special bank of stored cells. Companies choose the cells most likely to reproduce quickly. Then, they're placed in tanks in a bath of cell food designed to give them everything they need to grow. Inside these bioreactors the cell can change into types we normally eat, including those that make muscle, connective tissue and fat.

And the cells multiply over and over and over. After several days or weeks, the meat is removed from the tanks to be shaped into cutlets, hot dogs, nuggets and sausages. Then, it's ready to be cooked, served and eaten.
Cultivated cells are not made from cancerous or tumorigenic animal cells
The Guide to Research Techniques in Neuroscience reports that immortalized cells replicate indefinitely in one of two ways, either spontaneously (such as cancer cells) or by artificial manipulation.
In a memorandum released by the FDA on November 14, 2022, the agency described in a public document that cell material is comprised of cultured chicken cell lines from the Gallus gallus species that are originally isolated from either adult chickens or mid-stage fertilized chicken eggs. These cell lines are adapted to suspension culture, which allows cells to function and multiply, and then immortalized to proliferate indefinitely through either a selection in culture or through the introduction of chicken telomerase reverse transcriptase (TERT), a gene manipulation that enables the cell to continue replicating.
Cells are then harvested in the form of sheets of cells washed from the surface of the culture vessel into a collection basin. These sheets undergo subsequent washing and are adjusted for moisture in a temperature-controlled environment. Harvested material is a coherent tissue of chicken cells "similar in composition and nutritional characteristics to conventional poultry products."
The FDA describes this process in more detail:
Step 1: Manufacturers typically start with a sample of cells from the tissue of an animal, a process that does not require harm to or death of the animal. Some cells from the sample are selected, screened, and grown to make a "bank" of cells to store for later use.

Step 2: A small number of cells are taken from the cell bank and placed in a tightly controlled and monitored environment (typically, a number of sealed sterile vessels of increasing size) that supports growth and cellular multiplication by supplying appropriate nutrients and other factors.

Step 3: After the cells have multiplied many times over into billions or trillions of cells, additional substances (for example, protein growth factors, new surfaces for cell attachment, additional nutrients) are added to the controlled environment to enable the cells to differentiate into various cell types and assume characteristics of muscle, fat, or connective tissue cells.

Step 4: Once the cells have differentiated into the desired type, the cellular material can be harvested from the controlled environment and prepared using conventional food processing and packaging methods.
Immortalized chicken lines produced for food consumption are not known to contain cancer cells, according to a study published in the peer-reviewed journal Nature Food in December 2022. A consultation conducted by the FDA concluded that the above production process was safe. Lead Stories contacted the FDA for further comment and will update this article accordingly.
Animal products known to contain cancer cells or tumors are not allowed to enter the U.S. food chain
Meat cultivated from animal cells is subject to the same statutory requirements and regulations as conventionally grown meat, poultry, and seafood that is derived from slaughter. Meat with evidence of cancerous lesions or tumors is not allowed to be sold for human consumption and must be disposed of.
A formal agreement designates that the FDA oversees live animals and "cell collection, cell banks, and cell growth and differentiation" and that regulatory responsibilities transition to the USDA-FSIS during the harvesting stage, which includes the production and labeling of the products
In an email to Lead Stories received on June 28, 2023, a USDA-FSIS spokesperson told Lead Stories that the agency approves applications for food production using a rigorous process that includes assessing a firm's food safety system.
Based on this review, FSIS has issued the first three grants of inspection to establishments producing FSIS-regulated products derived from animal cells. FSIS has also reviewed and approved the labels for their product to ensure that they are truthful and not misleading. After an establishment receives a grant of inspection, FSIS conducts inspection activities at the facility at least once per shift to verify the production of safe and properly labeled products.
Links to relevant FSIS directives can be found here, here, and here.
Similarly, the FDA considered whether a hypothetical hazard could be associated in some way with the consumption of cells that have been enhanced to proliferate, the agency told Lead Stories. The FDA discussed these concerns in an agency memo and in an expert consultation reported in the Food and Agriculture Organization/World Health Organization publication, Food Safety Aspects of Cell-Based Food.
"Once removed from the protected and controlled environment of the bioreactor, the cells will lose their proliferative capacity and will die. Subsequent food processing (such as cooking) would further break down cellular structures and contents. Digestion after consuming food made from this cell material would also break down any residual cellular structure," the spokesperson told Lead Stories.
As of this publication, FSIS issued grants to begin the production of "cultivated chicken" to the California-based companies Upside Foods and Good Meat, which both successfully completed the FDA pre-market consultation process for cell-cultured food products. FSIS also issued a grant of inspection to Joinn Biologics, a production facility affiliated with Good Meat.
In an email to Lead Stories received on June 29, 2023, an UPSIDE Foods spokesman said that cultivated meat is shown to be as safe for consumption as conventional meat and that there is long-term evidence that "consuming immortalized cells is safe.":
We use best practices in both production and monitoring to establish the rigorous controls and processes to help ensure the safety of our products. This includes ensuring that our cells are growing at normal and expected rates. Many of the inputs and processes we use have been used for decades or even centuries in food production, and there is a wealth of safety data about them.
A GOOD Meat spokesperson also confirmed in an email received on June 28, 2023, that the company does not use genetic engineering to immortalize chicken cell lines approved in the U.S.:
The chicken cells we used for production of cultivated chicken became immortal by continuous culture and selection of cells with long-term proliferation capacity. Immortal cell lines share common traits and properties with other healthy cell types such as embryonic stem cells. Some of these properties are also often observed in cancer cells; however, one should not assume an immortalized cell line is transformed and tumorigenic. These chicken cells used in GOOD Meat cultivated chicken have been confirmed to be non-tumorigenic as documented in our FDA submission.

GOOD Meat cultivated chicken will always be derived from established and well-characterized Master Cell Banks with these selected animal cells. This ensures that each batch is produced in a consistent manner. This process also provides unlimited potential to run productions without needing to establish new immortal cell lines. This process has been used in the biopharma industry for decades to ensure the consistency and longevity of products. One could argue that this stable, monitored, and controlled process enables us to produce meat with much more well-characterized and predictable properties.
Lead Stories has also reported that swollen plastic packaging does not indicate that chicken meat is unsafe for human consumption, that a report assessing the safety of a plant-based meat product does not prove that meat grown in a laboratory causes cancer in humans, and that a ballot initiative proposed in Oregon would ban all animal meat and replace it with "synthetic meat."
2023-07-05T16:15:06Z

2023-07-05T16:15:06Z

Comments from an FDA spokesperson to Lead Stories were added to the fact check.