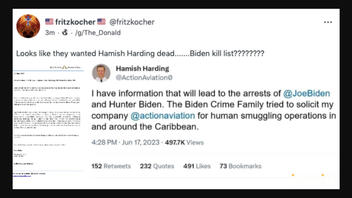 Did Hamish Harding, an aviation businessman and aircraft pilot who died in the OceanGate Titan submersible disaster, tweet on June 17, 2023, that the Biden family tried to hire his aviation company for human smuggling? No, that's not true: No credible evidence exists that Harding ever published any such tweet, and his company tells Lead Stories this claim is false. The social media platform where this claim appeared, Gab, includes a disclaimer that it does not guarantee it publishes accurate information.
The claim appeared in a post published on Gab Social on June 21, 2023 (archived here). Above the screenshot of a purported tweet and a press release, the caption opened:
Looks like they wanted Hamish Harding dead.......Biden kill list????????
The screenshot of the purported tweet, found in this post, that Harding allegedly published on June 17, 2023, reads:
I have information that will lead to the arrests of @JoeBiden and Hunter Biden. The Biden Crime Family tried to solicit my company @actionaviation for human smuggling operations in and around the Caribbean.
This is what the post looked like on the social media site at the time of writing: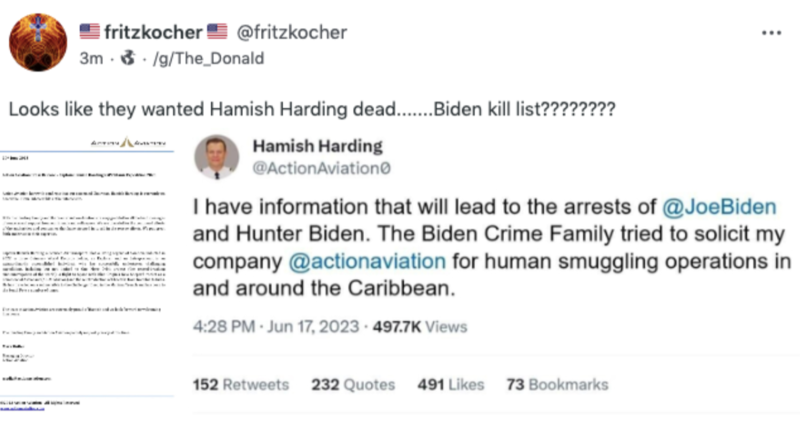 (Source: Gab screenshot taken on Fri Jun 30 16:32:49 2023 UTC)
The tweet screenshot in this post was fabricated, as there is no evidence of such a tweet on the Twitter platform currently.
A Google News search using keywords central to the screenshot of the tweet in this post yielded no results to substantiate its claim. If Harding had made such a statement, even before he was a passenger on the Titan submersible, it would have been considered a significant news event and shown up on major news media as well as Twitter, and that did not happen.
The last tweet published on Harding's Twitter account on June 17, 2023, instead announced his plan to go on the "RMS TITANIC EXPEDITION":
(Source: Twitter screenshot taken on Fri Jun 30 16:32:49 2023 UTC)
Also, the statement attached to the post, which was purportedly published by Harding's company Action Aviation, does not corroborate any of the information in the caption of the post or the fabricated tweet. A search of the Action Aviation website did not produce the statement seen in this post or anything like it.
In an email to Lead Stories received on July 4, 2023, Angelica Vartanyan, marketing director of Action Aviation, told Lead Stories that this claim was false:
The Gab Social post you are referring to is false and fake.
Gab Social is an "open-source" social network that is self-described as "the home of free speech and the parallel economy." Underneath the "Reliance on Information Posted" section on its Terms of Service page, it reads:
We do not warrant the accuracy, completeness, or usefulness of this information. Any reliance you place on such information is strictly at your own risk. We disclaim all liability and responsibility arising from any reliance placed on such materials by you or any other visitor to the Website, or by anyone who may be informed of any of its contents.

All statements and/or opinions expressed in these materials, and all articles and responses to questions and other content, other than the content provided by the Company, are solely the opinions and the responsibility of the person or entity providing those materials. These materials do not necessarily reflect the opinion of the Company. We are not responsible, or liable to you or any third party, for the content or accuracy of any materials provided by any third parties.
Other Lead Stories fact checks about the Titan submersible can be read here.