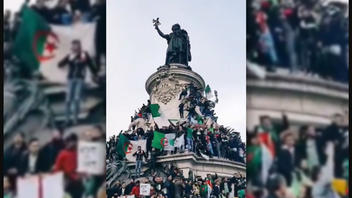 Does a video show that Algerians have taken over France in the summer of 2023? No, that's not true: The video was filmed in Paris in 2019 at a time when there were protests in Algeria. Peaceful protests were attended in cities around the world by the Algerian diaspora who objected to Algerian President Abdelaziz Bouteflika announcing that after 20 years in power, he would seek a fifth term in office. In Paris, there was a protest at the Place de la République on February 24, 2019, with protesters returning to the plaza for several consecutive Sundays through the month of March 2019. Bouteflika resigned from office on April 2, 2019. This video does not show a protest in Paris in 2023.
The eight-second video was posted on Twitter on July 5, 2023. An audio track of Algeria's national anthem sung by a crowd was dubbed over the video. The video was captioned:
Paris, Republic Square. France has fallen.
This is what the post looked like on Twitter at the time of writing: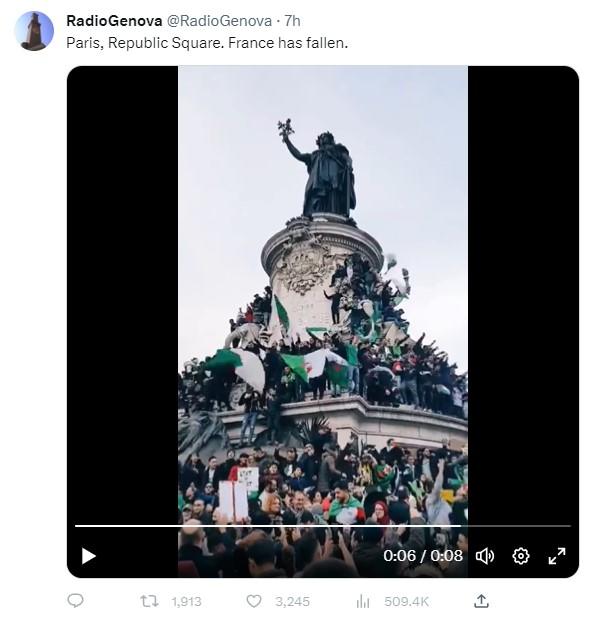 (Source: Twitter screenshot taken on Wed Jul 5 17:06:08 2023 UTC)
This video was posted on Twitter just a week after Nahel Merzouk, a 17-year-old boy of Algerian descent, was shot by police during a traffic stop in the Paris suburb of Nanterre. For several nights after the June 27, 2023 killing, there were protests, riots, and looting. On July 2, 2023, Merzouk's grandmother asked for the rioters to stop.
The timing of the posting of this video on Twitter implies the depicted protest, with Algerian flags and dubbed-in singing of the Algerian national anthem, is related to the rioting that happened in France after the death of Merzouk. The caption says there has been an Algerian takeover of Paris, France. That is not the case: this video shows a non-violent 2019 pro-democracy protest concerned with the elections in Algeria.
Lead Stories has not been able to locate the original source of this specific video or any copy of this video posted online in 2019 -- an older timestamp on a posted video can serve as solid evidence that a video is at least as old as the timestamp. The peaceful protest shown in the video was attended by thousands of people and the protest occurred on the Place de la République over several Sundays in February and March, with different protestors in attendance, different signs and slightly different weather conditions. The video does not seem to have come from a press source, and there are an uncountable number of cameras, on multiple days which filmed the protest from many angles.
Reviewing protest pictures from March 2019, it seems likely that this video was filmed on either March 3 or 10, 2019. Examples of verified videos filmed by the AFP News Agency are pictured below. On the left is a March 3, 2023, video posted on Getty Images, and on the right, a March 10, 2023, video posted on YouTube. Both show similar overcast skies and crowds dressed in similar warm clothing.

The statue did not always have people climbing on it at all moments of the protest, and sometimes there were people with flares or green and red colored smoke bombs. The people in the video posted to Twitter are dressed for cold weather, wearing jackets and scarves. There is some Ruptly.TV footage from March 3, 2019, of the protestors singing the Algerian national anthem (at 02:40 minutes in) and French law enforcement officers helping people get down off the statue (at 02:50 minutes in).
This video is clearly not depicting the protests following the shooting of Nahel Merzouk, which were attended by people dressed for warm summer weather. Some of the nighttime rioters were dressed in black long-sleeved shirts with their faces covered.